In Search Of Insight Podcast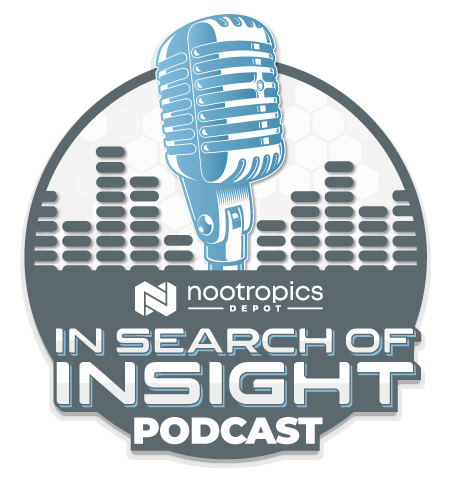 INTRODUCING THE NOOTROPICS DEPOT PODCAST
INTRODUCING THE NOOTROPICS DEPOT PODCAST
Click To Listen On Your Favorite Streaming Platform
---
---
#013 | Ganoderma Lucidum (Lingzhi) | Creating the World's Most Potent Reishi Mushroom Extract
On this exciting episode of In Search of Insight (episode #13) we explore the fascinating world of Ganoderma lucidum, better known as red reishi. This mushroom has a very rich history of use, and is perhaps one of the longest used medicinal mushrooms. Historically reserved just for royalty due to its rarity, widespread use of this mushroom actually is somewhat recent since wild specimens are in short supply. However, in China and Japan, unique cultivation methods were developed which allowed for the cultivation of large amounts of reishi, making it more accessible to a wider audience. This method involves steaming logs of wood, cooling them, and then inoculating them with Ganoderma lucidum spores or mycelium. These logs are then left to inoculate for several months, after which they are moved to an outdoor grow chamber, where the logs are buried under soil. The soil then helps to hydrate the logs and the reishi fruiting bodies eventually start to grow out of the ground. It then takes several months for the fruiting bodies to become fully mature. All in all, this process can take up to a year, and this is where the story gets complicated!
While in China and Japan, reishi mushrooms have been grown in this painstaking manner, many Western and North America growers tend to take shortcuts. During the podcast, we cover what these shortcuts are and how they do not produce ganoderic acids, the main bioactives. We back this up with lab testing data, to show that in fact, many reishi products on the market are of very poor quality. In China, you would never get away with this, because reishi is consumed in its whole form, and is judged based on its color (uniform deep dark red) and patterning (rams horn pattern) which only occurs in high quality mature reishi. However, in the Western world, most reishi is consumed in powdered form, which gives opportunistic mushroom vendors a unique opportunity to sell immature reishi fruiting bodies, or worse yet, just reishi mycelium to uneducated customers. These lack the ganoderic acids, and thus, all the purported reishi benefits will be lacking.
Speaking of ganoderic acids, we recently worked together with expert Chinese reishi cultivators and extractors to make possibly one of the highest ganoderic acid reishi extracts currently available on the market. Clocking in at a whopping 9% ganoderic acids, this reishi extract will make you evaluate what you know about reishi. At least, it did for us, and we gained a whole new level of respect for this mighty mushroom! We hope that at the end of this podcast, you too will walk away with a sense of awe and respect for this phenomenal mushroom!
Where To Listen Elsewhere
---
#012 | Saffron | Shining Light on the Benefits of the World's Most Expensive Spice
On our special 1-year anniversary edition of the In Search of Insight Podcast (#12), we dive into the wonderful world of the most expensive spice, saffron! Crocus sativus, which is the plant from which saffron is derived, is a unique perennial plant that produces three tiny little stigmas. These stigmas are painstakingly isolated from the delicate Crocus sativus flowers, and gently dried to produce the spice saffron. It takes thousands of Crocus sativus flowers and many acres of specialized land, to produce very low yields of this precious spice. This is why it is so expensive, not only is it difficult and laborious to cultivate and process, but the yields are extremely low when compared to other spices.
A very fascinating aspect of saffron is that Crocus sativus does not grow in the wild and is entirely dependent on human intervention. Thus it is no surprise that the earliest mentions of saffron cultivation date back to at least 3,500 years ago! This also speaks volumes for saffron's unique array of benefits, because why go through the trouble of cultivating this finicky spice for thousands of years if it doesn't provide bountiful rewards?
Saffron contains a collection of highly unique compounds which only appear to occur in significant quantities in saffron and is not found in appreciable amounts in any other plants. These compounds are the crocins, which provide the beautiful crimson red color of saffron, crocetin, picrocrocin which provides saffron's unique bitter taste, and safranal which provides the unique sweet honey/tobacco aroma notes in saffron. These compounds are all considered to be carotenoids and are derived from the carotenoid zeaxanthin. As the stigma's mature, the zeaxanthin serves as the precursor for crocetin and 3-OH-cyclocitral. Crocetin then turns into the crocins and 3-OH-cyclocitral turns into picrocrocin. After harvesting the stigmas, the stigmas are dried and safranal is produced from picrocrocin during this drying stage.
Since the bioactives in saffron are all derivatives of the carotenoid zeaxanthin, it perhaps does not come as a surprise that they are very beneficial for eye health! In fact, saffron has been used traditionally for centuries as a way to enhance eye health. One of the most common traditional uses for saffron is as a mood modulator however, and based on its pharmacological profile this makes perfect sense! The bioactives in saffron can act as NMDA receptor antagonists and GABA receptor agonists, which provides a unique calming and mood boosting effect. In addition to this, saffron bioactives act as serotonin reuptake inhibitors, which will lead to higher levels of serotonin in the CNS. In addition to this, the saffron bioactives may block serotonin 5-HT2C receptors, which will lead to enhanced dopamine and norepinephrine release. Another mechanism by which saffron can enhance monoamine tone, is by non-competitively blocking both monoamine oxidase A and B. As the cherry on top, the saffron bioactives also help enhance neuroplasticity. No wonder one of its most prized traditional uses is as a mood brightener!
Dive into episode #12 of In Search of Insight, if you want to explore saffron cultivation, processing, bioactives, traditional uses, pharmacodynamics and saffron stacks in more depth!
Where To Listen Elsewhere
---
#011 | Maca | Can We Unlock The Secrets of this Ancient Traditional Medicine?
In episode #11 of in 'In Search of Insight' we dive into the fascinating world of Lepidium meyenii, which we all know and love as maca! Maca is a very unique brassica species, meaning it is related to plants like radishes, broccoli, horseradish, and even kale. If you take a look at what maca looks like, you will even see that it looks quite a lot like a radish! So what sets maca apart from the rest of the Brassica's? Altitude!
Maca grows at extremely high altitudes of around 3500-4000 meters above sea level. At this extreme elevation, temperature swings between day and night are drastic, solar radiation is much more intense, oxygen levels are much lower and soils don't function the same. What makes maca unique then, is that this is one of the only plants on the planet that can successfully be cultivated at these extreme altitudes. More interestingly, maca even helps the locals adapt to these extreme altitudes. Due to this reason, maca has enjoyed thousands of years of use!
In terms of the effects of maca, we see very unique modulation of the endocannabinoid system. The star effect here is inhibition of the fatty acid amide hydrolase (FAAH) enzyme. This enzyme is responsible for breaking down endocannabinoids such as anandamide and 2-AG. By blocking FAAH with maca we can increase the levels of these highly important endocannabinoids which can increase our overall endocannabinoid tone. In addition to this, maca can also block the reuptake of anandamide, while also directly activating CB1 receptors. In short, it is quite an endocannabinoid powerhouse! Most of these effects are mediated through a class of compounds called the macamides. These are very fascinating compounds, because they actually get created during the drying and processing stage of maca! This is why it is absolutely crucial to avoid raw maca.
Maca also produces a very interesting physical and mental stimulation that can revitalize a tired body and mind. This is likely one of the reasons it has seen such a long history of use at extreme elevations! Maca also contains glucosinolates and isothiocyanates, compounds that are found in other brassica species. These compounds may also contribute to the unique fertility promoting effects of maca!
So, if you want to learn more about the fascinating world of maca, then dive into this podcast, and let us take you on an adventure back in time at extreme altitudes!
Where To Listen Elsewhere
---
#010 | The Science Behind Pain | Can Supplements Really Help?
On episode # 10 of In Search of Insight, we got a little sensual! In this episode about pain, we talk about our senses, how we interpret the world around us and how when we dial up the intensity of these senses, we have a subjective experience of pain. We explore where pain comes from, how we interpret pain and how this interpretation influences our perception of pain, how neuroplasticity plays a role sensitizing us to pain and different strategies on how to dampen pain.
Throughout the podcast, a solid understanding of where pain comes from starts to materialize. One thing that becomes clear right away, is that pain doesn't necessarily exist, pain is simply our own interpretation of nociceptive signals that are traveling at breakneck speeds along our peripheral and central nervous systems. Only when these signals reach the brain, do we start to ascribe meaning to them. This is also where our perception of pain becomes quite complicated, because our mental state has a huge effect on how much pain we experience.
A big focus of this podcast is also on the dark side of neuroplasticity. Within our nootropic pursuits, we always are chasing more neuroplasticity for better mood, memory and overall cognitive function. However, this neuroplastic mechanism is also a massive regulator of pain. When we get injured, nociceptive neurons become more plastic, and by doing so can become sensitized which leads to stronger nociceptive signals, which then leads to stronger subjective pain experiences.
Another big topic that we cover on this episode is how to influence our perception of pain by utilizing different lifestyle factors. For example, exposing ourselves to cold water or warm-hot water, stretching, acupuncture, nail beds, electrical stimulation and even chemical stimulation of nociceptive neurons and receptors. Once we understand that our sensory systems are incredibly intertwined with our perception of pain, we can manipulate the sensory system in ways that allow us to better handle nociceptive signals.
Last but not least, we of course cover different supplementation strategies for dealing with pain. From simple inflammation regulating supplements, to complex endocannabinoid mechanisms, there is something here for everyone!
Where To Listen Elsewhere
---
#009 | Longevity | Is NAD+ the Secret to Longevity?
In this episode of 'In Search of Insight' we take an incredibly deep dive into the fascinating world of NAD+, sirtuins and AMPK! NAD+, also known as nicotinamide adenine dinucleotide, is a coenzyme that is used by hundreds of different enzymes throughout the body and is central to energy production and hormesis. The levels of NAD+ also tend to decline quite swiftly as we age, and it is thought that declining NAD+ levels underlie some of the negative effects of aging. With this in mind, NAD+ is also often seen as a holy grail longevity molecule, and we discuss this longevity topic at great length in this episode!
A big portion of episode 9 of 'In Search of Insight' is about the best strategies for raising NAD+ levels. We talk about lifestyle factors such as calorie restriction, fasting and sleeping according to a consistent schedule, and supplementation with direct NAD+ precursors like nicotinamide mononucleotide (NMN) and nicotinamide riboside (NR). We also discuss strategies of optimizing NAD+ levels by inhibiting an enzyme called CD38 which breaks down NAD+. By blocking CD38 with compounds such as apigenin and quercetin, NAD+ levels can increase even further!
Sirtuins also play a massive role in the effects of NAD+. In fact, without NAD+ the sirtuins cannot function, as they need to consume NAD+ in order to exert their beneficial actions throughout the body. With this in mind, increased sirtuin activity is one of the goals when raising NAD+ levels. This is why individuals often try to raise sirtuin activity while they are supplementing with NMN or NR. The most popular choice here is often resveratrol, made famous by David Sinclair, one of the foremost researchers on NAD+ and sirtuin activity. That being said, resveratrol supplementation faces some challenges and interestingly enough is not the only sirtuin activator and upregulator around. We discuss alternative activators and upregulators of sirtuins in great length in this episode!
Last but not least, we discuss in lots of detail what the positive effects of raising NAD+ levels can be. These effects include increased cellular energy, regulation of appetite, neuroprotection, mood enhancement and longevity.
Where To Listen Elsewhere
---
#008 | Horny Goat Weed | More Than Just A Libido Supplement
In episode #008 of the In Search of Insight podcast, we dive deep into the world of Horny Goat Weed extracts! We talk about different extraction techniques, the different species of Horny Goat Weed that exist, and we go in depth about the seemingly infinite list of benefits that Horny Goat Weed can produce!
In terms of the different extracts that were discussed, we took a look at our 10% icariin and 50% icariin extracts. Even though these extracts are both from the same plant, they both feel distinctly different. The 10% icariin extract is more mood elevating while the 50% icariin extract presents with a cleaner and more selective effects profile.
We also take a look at some of the earliest recorded uses of Horny Goat Weed, which are found in Shennong's Materia Medica. Horny Goat Weed has been used for at least 2,000 years and early traditional uses still are very representative of modern uses. This indicates a vast history of human use and knowledge surrounding this fascinating plant!
Horny Goat Weed, as the name my already suggest, is also often utilized exclusively as a sexual enhancer. This is a shame, because the benefits of Horny Goat Weed supplementation go far beyond the sexual health effects! We discuss some of these other effects throughout the podcast, which includes:
PDE-5 inhibition effects

Libido enhancement through a surprising estrogenic pathway

Blood flow enhancement

Enhancement of gut health, which has surprising longevity benefits

Sleep enhancement through novel mechanisms like PDE-5 mediated circadian rhythm regulation and elevation of IGF-1

Mood enhancement through novel flavones and hormonal mechanisms

Neuroprotective effects due to hormonal mechanisms

Cardiovascular enhancement via PDE-5 inhibition and estrogenic mechanisms

Hormone optimization effects that encompass testosterone, estrogen and IGF-1

Surprising estrogen mediated muscle hypertrophy effects
One of the more surprising findings that we discuss at length in episode #008 of In Search of Insight, is how the bulk of the effects of Horny Goat Weed, for both men and women, actually appears to be regulated via positive estrogenic mechanisms. This was quite a surprise to us, but the pieces fit together very nicely and it has drastically changed our perception of estrogen and all of the positive effects that it can exert!
We also chatted about some of our newest product releases, which covers DL-phenylalanine, L-carnosine and the full Availom line up. If any of these sound interesting to you, and you would like to learn more about them, then check out the beginning of episode #008 of In Search of Insight, where we take a deep dive into the benefits of these newcomers!
Where To Listen Elsewhere
---
#007 | Are Men and Women Different? Should Men and Women Treat Supplements Differently?
In Search Of Insight Episode #007
On this episode of In search of Insight, we dive into the fascinating world of hormones. We pay particular attention to female hormones, and how women can use their hormonal fluctuations throughout the month to their advantage! If you would like to get a brief summary of what Erika and Emiel discuss in this episode, then keep reading because we've condensed the podcast down into a brief summary.
Estrogens
A big portion of this podcast is about estrogens, a class of hormones which is abundantly present in both men and women. There are four different types of estrogens, however, in this episode we pay particular attention to one of the main estrogens, estradiol.
Estrogens have major effects on multiple critical systems throughout the body and brain. For example, estrogens control bone remineralization, blood flow, neurotransmitter balances and overall cognitive function.
The importance of the estrogens is further highlighted during menopause and in post-menopausal women. This is due to the fact that women loose most of the granulosa cells in their ovaries during menopause. The granulosa cells are highly important as they contain a large amount of aromatase, an enzyme which converts testosterone to estrogen. Since the majority of estrogen in women is derived from testosterone, it means a loss in granulosa cells leads to a massive decrease in estrogen production. In a lot of women, this estrogen deficiency then leads to issues with mood, blood flow, bone health and overall cognitive function.
One of the reasons a reduction in estrogens can cause these negative effects, is because under normal circumstances, estrogen is a major neuromodulator. For example, estrogen can upregulate tyrosine hydroxylase, increase dopamine receptor density, decrease dopamine reuptake, upregulate tryptophan hydroxylase and increase overall serotonin levels. These important cognitive effects of estrogen are clearly visible during the menstrual cycle.
The Menstrual Cycle
In the podcast, we discuss the following image of the menstrual cycle in great detail: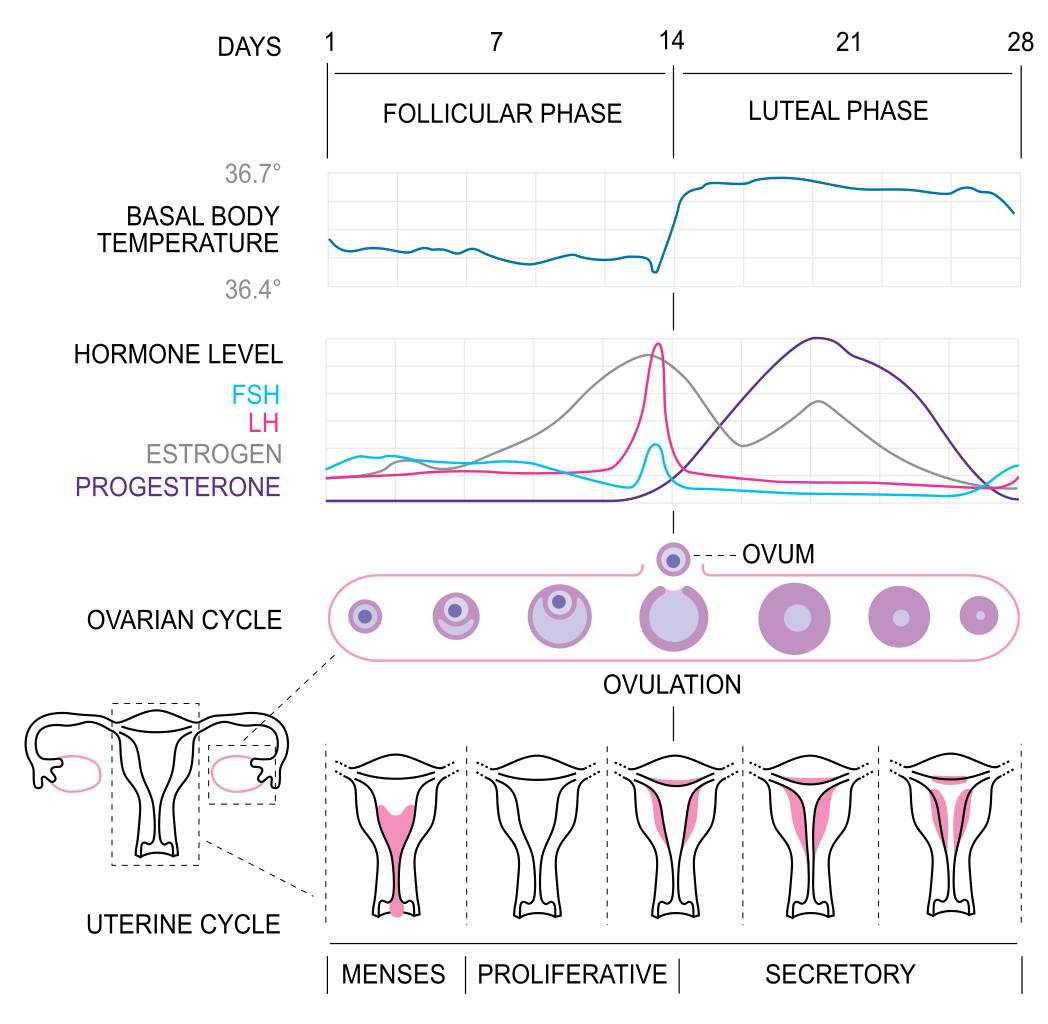 Figure 1. The Menstrual Cycle
While looking at the above image, it can be seen that estrogen levels spike in the late follicular phase. This peak in estrogen levels also often results in a peak in mood and cognitive function. This can be traced back to estrogen's neuromodulatory function.
It's also clear that progesterone levels peak significantly during the luteal phase. This brings with it quite a few problems. Progesterone is rapidly converted into allopregnanolone, which is a powerful neurosteroid. Allopregnenolone binds to the benzodiazepine site of the GABA-A receptor and through this pathway, causes an initial bout of pleasant relaxation. However, allopregnanolone also increases alpha-4 GABA subunit density, which does not respond to benzodiazepine site stimulation. The net result is that after 24 hours of allopregnanolone exposure, the relaxing effects fade and directly opposing effects take its place. This can lead to a short period of irritability.
The irritability then reverses, as long term exposure to allopregnanolone regains the relaxing effects. However, this also causes a big problem in the late luteal phase when progesterone levels plummet. This then causes a withdrawal type effect from the allopregnanolone, which can lead to major negative mood effects.
The Aging Hormone System
We also go quite in depth about how the hormonal landscape changes as we age. This hormonal aging can cause major issues for both men and women. For men, testosterone levels gradually decrease as we age, which can lead to issues with mood, energy levels, physical strength and libido.
For women, the changes in hormonal landscape are a little bit more extreme as age advances, leading to major reductions in both estrogen and testosterone levels. Interestingly enough though, due to the reductions seen in estrogen levels, the male and female hormonal profile actually starts to converge as we age.
Fertility
Another topic we cover on this podcast is female fertility and the aging ovaries. As we experience major socio-economic changes, and we finally see more equal opportunities for women in education and the workplace, many women are choosing to have children later in life. This can be somewhat problematic as fertility gradually declines in our 30's. However, we discuss some strategies of how to ensure healthier ovarian aging, which may help prolong fertility.
Where To Listen Elsewhere
---
#006 | Joe Rogan's Favorite Testosterone Supplements | Does Tongkat Ali Work? Is Fadogia Agrestis Toxic?
Erika
Hi, and welcome to In Search of Insight, Nootropics Depot's monthly podcast. I'm your host, Erika or u/NootropicsDepotGuru on Reddit. And sitting next to me is our product specialist, Emiel.
Emiel
Hey, everyone. And you might know me as u/Pretty-Chill on Reddit.
Erika
So today, Emiel and I are diving into an exciting conversation all about testosterone supplements. We're going to be talking about tongkat ali. We're going to be talking about cistanche tubulosa and fadogia agrestis. And for those of you who are interested in testosterone supplementation, you have already heard these names floating around on the Internet, on bodybuilding websites, tips for your workouts, and how to promote mood and endurance. And so we're going to get really, really deep into the science behind these testosterone supplements, why you should consider taking some of them, and why you should think twice before taking others of them. Hint, hint. It's fadogia agrestis.
Emiel
And on that note, we'll be talking about some controversial topics on this podcast, one of those being testosterone supplementation in women and other controversial topic, of course, being Joe Rogan, who's in the title of this podcast. And boy, that really stirred up some controversy even before we released it.
Erika
Ruffled some feathers, shall we say?
Emiel
Yeah. Seems like a lot of you guys don't really like Joe Rogan, which is completely understandable. He's a very controversial person. He has recently said some stuff that is, frankly, flat-out dangerous. But he also has one of the biggest platforms where we can learn for free about supplements. And I think because of Joe Rogan's podcast, we are all a lot more aware of supplements and what they can do. And he's brought on some really important people like Andrew Huberman, Rhonda Patrick, and a whole host of other giants in our industry. So it's a really good platform, and we feel like we should be interacting with it a little bit because in this podcast with Andrew Huberman and Joe Rogan, some very interesting things were said, but some controversial and maybe not entirely safe recommendations were made. So we'll be touching on that a little bit as well.
Erika
We also wanted to let you know that to set the record straight, we're not associated with Joe Rogan in any way, personally or professionally. But we did want to basically open up the conversation about what other people in the supplement industry are talking about when it comes to testosterone supplementation. And we wanted to give you the valuable and essential information, scientifically-backed information, so that you're informed about the best way to approach testosterone supplementation for yourself and to consider what to look out for when shopping for testosterone supplements on the market in general. But specifically, what Nootropics Depots testosterone supplements might be able to do for you.
Emiel
Yeah. And that will really be the focus here. So we want to keep it on that. Joe Rogan is coming in here because we just have to address it.
Erika
Coming in here in topic, but not physically coming into the podcast. So don't worry.
Emiel
Yeah, it's just going to be us like it always is. But we'll be talking a little bit about Joe Rogan and Andrew Huberman more specifically actually, because he is the one who made some of these recommendations. And actually we were selling tongkat ali long before this podcast happened. And it's always been on our radar. I've actually been taking tongkat ali probably for about seven years or so on and off here and there. So I was really excited for us to get a tongkat ali supplement. And when we got it a few months or maybe even a year or two later, this podcast came out and our sales just shot through the roof, like 900% increase on sales for tongkat ali. And we had no idea what was causing this. When something like that happens oftentimes, you can trace it to a single event. When such a big increase happens, it doesn't feel very organic. So we looked around and we found this podcast, and it's a really interesting podcast. So this is also a bit of a response to that podcast and maybe a continuation and going a little bit deeper because the podcast, it's a three hour long podcast, and the part about tongkat ali is really only like a five-minute section of it. The rest is interesting and entertaining to listen to. But we want to go a little bit more in depth about what exactly tongkat ali is, what exactly fadogia agrestis is, and why you probably don't really actually want to be taking fadogia agrestis. And I have to say, Andrew Huberman, if you are listening, I respect your work, but I don't really understand your fadogia agrestis recommendation because you are very strong on human clinical research and all of the things you recommend. Like recently, you recommended Apigenin for sleep, Magnesium Threonate for sleep, and theanine for sleep. And there's a lot of human research on these things and human research on these things for these purposes. Fadogia agrestis though as far as I can tell, there are no human clinical trials on it. And that's a big problem because we're not entirely sure of it's safety profile.
Erika
And this brings us to a really important point in general that I feel I need to share right now in the podcast, which is that a lot of you who are listening to the podcast have been following Nootropics Depot for years, and maybe some of you are new to our brand. But what we want you to know and we want to say to you directly is that the quality control standards of the supplement industry are quite horrible. And we at Nootropics Depot believe that this needs to change. And so though there aren't a ton of issues in the world that we can directly change, in effect, as individuals, we at Nootropics Depot feel very strongly about providing safe and effective supplements and making that change every single day. And this is a part of the reason why we're addressing fadogia agrestis specifically because of this lack of research and also lack of safety.
Emiel
Absolutely. And really honestly, a lack of evidence for any sort of effects that are being discussed on this on the Joe Rogan podcast. And the interesting thing is there are some other things like fadogia agrestis that do the same thing, but actually have human clinical trials done on them, some human evidence for safety and just a much longer history of use. And one of those things is cistanche. So we'll talk about that.
Erika
So, Emiel, what is tongkat ali?
Emiel
Okay, so a little bit of background here. I grew up in Malaysia, and tongkat ali is a Malaysian root. The plant is actually called Eurycoma longifolia. It's also known as long Jack or tongkat ali. And it's really popular in Malaysia. I remember as a little kid driving around and seeing these billboards with old men on them with canes and these little sachets of tongkat ali-infused coffee. I was always curious what it was later in life, I got into this and now I'm very aware of what it was. So that's kind of a fascinating thing for me. And tongkat ali has always been really interesting. And this is something Andrew Huberman actually mentioned on the Joe Rogan Experience podcast, is that other countries are much more advanced at hormonal regulation using plant substances. It's something we are way behind in the Western world. And clearly, if you look at something like tongkat ali, which has been used for maybe hundreds of years in Malaysia or in Southeast Asia in general, we are a little bit behind because we've only really started to discover tongkat ali in the last decade, maybe two decades, and especially in the last year or two, tongkat ali has become really famous. But anyways, the plant Eurycoma longifolia, the roots of it contain a plethora of different compounds, different peptides, and proteins and carbohydrates and starches, and things like that. But what we're really interested in is eurycomanone, and that's the compound we'll be talking about extensively during this podcast.
Erika
And that's also the compound that we standardize our Nootropics Depot, tongkat ali extracts for, right?
Emiel
Absolutely. So we have two different tongkat alis. We have a 2% eurycomanone, and then a 10% eurycomanone extract. So two different purposes. And I guess we can get into the differences between those real quick here, too.
Erika
Absolutely. I personally have been taking both the 2% and the 10 % tongkat ali extracts because I was really curious for myself, as a woman, to take these extracts because I know that they're supposed to support testosterone. Right. And testosterone in women can sound like "OOH controversial" and maybe even a scary conversation to even start. But because I'm interested and I'm open and I'm excited to try out some different supplements for myself, and I also have experienced a lot of benefits from some testosterone supporting supplements, prior to taking these, I was like, I'm game, let's go. I'm curious to see how these two different extracts compare. And in my experience, the 2% extract was really interesting. I took this one first and just by itself in the morning on an empty stomach, no other supplements, no caffeine interactions, just 2% tongkat ali extract all by itself. One thing I noticed is it took about 30, 35 minutes to start to kick in for me to start to feel those perceptible benefits. And then once it did, there was maybe about ten to 15 minutes of slight nausea. And I felt really tired for about 15 to 20 minutes along with that nausea. I was thinking, this is interesting. Okay. And then at that 20 minutes mark or so, the nausea went away and the tiredness went away. And then I felt this kind of sense of general calm. There was somewhat of a nootropic-like cognition supporting element to it, but kind of hard to put my finger on.
Emiel
And I would say this is a similar experience for me with the 2%. And something I hear from a lot of you guys, too is that the 2% is a little bit more calming, it's a little bit more cognitively noticeable and perceptible. And it still has some of those testosterone effects and confidence effects and muscle building effects overall. But it's an interesting one. And it's interesting because when we standardize for different compounds in an extract, we basically delete other stuff and concentrate the main active compound. In this case, eurycomanone. So what we're doing is we are stripping away other compounds slowly and concentrating eurycomanone. And you can imagine with the 2%, when we concentrate for the eurycomanone there, we don't have to delete as much other stuff. So it's 2% eurycomanone likely in a matrix of other supporting bioactive compounds that drastically changes the effects.
Erika
And one way to describe this, which I've learned from Emiel, is that the 2% has a more full-spectrum effect.
Emiel
Correct, absolutely. And when you move up to the 10%, it becomes more selective. So with the 10%, you get more of those effects of eurycomanone without some of the other stuff in tongkat ali. So, Erika, what did you experience on the 10%?
Erika
Well, it's pretty funny because after taking the 2%, I was like, this is kind of cool, but I'm not sure if it's that much of a standout product that I would want to take every day unless I really wanted it for the longer term testosterone benefits. On the other hand, when I took the 10% tongkat ali extract, oh, boy, I was really excited by this. I was not only excited by it, I was motivated by it. I was inspired by it. I felt honestly way more sarcastic and aggressive and sort of, I don't know, would antagonistic be the right word to describe it?
Emiel
I would say masculine energy because...
Erika
If masculine energy exists, that is what I felt from the tongkat ali 10% extract. And it was significant and it was really noticeable. And that effect lasted actually throughout the day. I couldn't necessarily feel the onset like I did with the 2% because I find the 10% has less physical, like, sensation effects. But the attitude and sort of the mood effects were very, very obvious to me as soon as it started kicking in. I would say probably about 45 minutes after taking it, but I didn't feel it come up. It was just all of a sudden I was like, boom, this is what's happening. This is what I need to do. Get out of my way. Let's go.
Emiel
And this is honestly why I say a little bit of masculine energy, because I spend a lot of time with Erika working on these podcasts, and she hadn't told me that she took 10%. And I was thinking something is a little bit off with Erika. She's so much more.
Erika
No, not off, on!
Emiel
Yeah, on. But for me, at first it was a little bit I had to get used to. You were so much more direct and confident in telling me what to do, and this is what you don't do, and we got to do this. It was actually a nice experience once I warmed up to it because you were so much more confident. And I noticed the same thing for myself. I recently jumped on a meeting right after taking some tongkat ali, and I was fired up. I really had to tone things down because I just had so much more confidence. And I think this is something that everyone experiences with tongkat ali.
Erika
And it's specifically the 10% extract that we have.
Emiel
Yes. And this is actually why I personally like the 2% more, because the 2%, I get that similar aggressive kind of mindset and more confidence and more in your face attitude, but it's toned down and it's nice and relaxed, like what you were saying. It mellows you out a little bit more, but you can still notice that confidence, whereas with the 10% you have much less of that calming effect. So the aggression and the confidence comes through a lot more. An interesting thing to note, though, and this is where we immediately jumped into some controversial material, because you just heard a woman talk about taking a testosterone supplement and having a very great experience with it. And if I look over at Erika right now, she's not standing next to me with a giant beard or a mustache. There is no facial hair. She doesn't have an Adam's Apple. This is not how testosterone works in women. And women need testosterone as well. And I think Erika can probably attest to that fact.
Erika
Sure. I've taken a handful of supplements from Nootropics Depot that are testosterone-supporting supplements.
Emiel
Which ones, by the way?
Erika
The one that I've been taking for a while is cistanche, the cistanche tablets which I really, really like. I find that to be particularly calming, and I really like the cognitive benefits of that. I'm now taking and probably will continue to take the tongkat ali 10% because I just can't get over how much more effective I feel in general.
Emiel
And both of us took it before this podcast, by the way. So if you do notice actually in our voices and in our demeanor that we're a little bit more confident than direct, it probably actually is the tongkat ali, and it has a pretty profound effect. I do have a theory, though, because Erika and I both take cistanche daily, but we don't take tongkat ali daily. So I've had a little bit more of an experiment with tongkat ali. I took just tongkat ali by itself, and then I took tongkat ali and cistanche by itself. And then one time I even took cistanche, tongkat ali, DHEA and pregnenalone, Shilajit and zinc, creatine as well. I felt great on that.
Erika
That's like the motherload or perhaps the father-load.
Emiel
Yeah, maybe that was a little bit too intense. But what I've noticed now is I'm just taking cistanche every day. And now when I add some tongkat ali, it's like hitting the boost button. Everything is working fine and I'm nice and confident. And now when I add tongkat ali on top of my chronically supplemented cistanche, it just rocks it up to another level. So we'll talk about this a little bit more, but I think this is a really interesting way in which to utilize tongkat ali.
Erika
Absolutely. So before we get into all that juicy information about what to stack with tongkat ali or how you can incorporate tongkat ali into your everyday testosterone supplementation, I'm really curious to learn a little bit more about what eurycomanone does specifically because I know there are some of you out there who want that nitty-gritty mechanism information. So what is eurycomanone doing? What systems in the body does it act on and what are the pathways of its actions?
Emiel
It acts through a pretty complex set of pathways originating in the brain and kind of ending in the testes for men. And for women, it actually ends in the ovaries and in the adrenal glands. So for men, most testosterone is synthesized in the testes, and it's synthesized by cells called Ledig cells. These Ledig cells respond to signals that you get from the hypothalamus. So in the hypothalamus, you have a hormone called gonadotropin-releasing hormone GNRH that stimulates the production of luteinizing hormone LH and FSH, which I always forget exactly what that stands for. Yeah. Follicle stimulating hormone. So luteinizing hormone and follicle stimulating hormone get induced by the release of Gonadotropin releasing hormone from hypothalamus. And the FSH and LH increases happen in the pituitary. Then this LH and FSH from the pituitary stimulates the testes to produce testosterone in these ledig cells. But then there is a negative feedback loop when a lot of testosterone gets produced, there is an enzyme that aromatizes this testosterone, which then turns testosterone into estrogen. And then that estrogen can act on estradiol receptors that are in the hypothalamus and pituitary, and they actually kind of regulate how much testosterone can be produced. So it's a bit of a self-regulating system. We're going in with tongkat ali and we are dysregulating the system allowing more testosterone to be produced kind of overriding that self-regulating off signal. So by that we can achieve in people with normal testosterone levels, we can achieve higher than normal testosterone levels. And in people with slightly lower testosterone levels, we can see a normalization of testosterone levels and maybe even a little bit of an increase. And Andrew Huberman in the Joe Rogan Experience podcast, actually, and I'm not sure if it can get that significant because Andrew Huberman is saying that tongkat ali has been shown to increase testosterone levels by 100 to 200 points, which is a quite large increase. It's not a crazy increase that you might see with other illicit things, but it is quite a big increase. And actually, we have seen some blood tests of people on Reddit and we have seen such large increases, I wouldn't expect such a large increase to happen for everyone. But the takeaway point here is that tongkat ali causes quite a significant increase in testosterone production. And this is where fadogia agrestis also comes in because as you can see, luteinizing hormone is an essential part of the step of increasing testosterone production. And Andrew Huberman is suggesting fadogia agrestis because it significantly upregulates luteinizing hormone levels, which luteinizing hormone levels also control the amount and density of ledig cells and it controls the activity of these ledig cells. So luteinizing hormone is a really important part of the equation here.
Erika
So in theory, the idea of suggesting fadogia agrestis makes sense because it's helping support luteinizing hormone levels, right?
Emiel
Correct. So fadogia agrestis, one of its main effects is that it enhances luteinizing hormone levels. And because the effects of tongkat ali depend quite a bit on this luteinizing hormone upping the luteinizing hormone levels a little bit more with fadogia agrestis causes a synergistic effect between tongkat ali and fadogia agrestis. And the combined effect should in theory, and this hasn't really been verified with human clinical trials or anything, but in theory, it should further enhance the testosterone increases that we see from tongkat ali. So this is why fadogia agrestis is being promoted for this by Andrew Huberman. The interesting thing, though, is there are no human clinical trials on Fadogia. And the animal trials that exist are a little bit conflicting in their safety reports. So one thing on the Joe Rogan experience that is talked about is that fadogia agrestis makes your testicles big. And like Joe Rogan said, who doesn't want big testicles? Well, for one, I don't necessarily want big testicles because it would make sitting a little bit harder but on the other hand, when your testicles are growing that much, it might not be a very good thing. And in these studies, actually, that seems to be the thing that is a little bit questionable. So the increase in testicular size could certainly increase because of this extra luteinizing hormone. And this seems to be the case to a certain degree.
Erika
But I'm curious, is it doing anything effective for testosterone?
Emiel
For sure. It's very effective for testosterone. There is absolutely no question about that. And in these studies, you see massive increases in testosterone, and it's good. Okay. So for that effect, great. The thing that is a little bit concerning is that it also affects a lot of different enzymes and processes within the testes, and it seems to be transiently toxic to the testes and testicular cells.
Erika
Can you be a little more specific? What do you mean by transiently?
Emiel
It means that it isn't permanent. There's no permanent damage that they can see. But after 30 days, there is minor damage and a decrease in function of the testes, which is not good.
Erika
No.
Emiel
After seizing supplementation, this does seem to correct itself, but this is after 30 days in an animal model, and we're not really sure what would happen after a year in the human model. And if your testicular function is down during this year, how good or bad is that?
Erika
So at this point, we're saying not worth the risk.
Emiel
We are saying not worth the risk, and a lot of people are saying not worth the risk. Another thing with fadogia agrestis is, and it was an interesting part of the Joe Rogan experience, too, is that this is a Nigerian shrub. And in our experience, a lot of supplements that are coming from the African continent are much less well understood than their Southeast Asian counterparts or Asian counterparts from China and India, where there's well documented historical use and thousands of years of use and very well documented. And lots of people who are still practicing this and who have brought this knowledge over to the Western world, translated a lot of these texts into English so we can understand it. And then there's a lot of Western studies and studies from all over the world that have proven how these things work and their safety profiles. And there's a lot of human clinical trials. I mean, just think about things like ginseng and ashwagandha and a lot of those types of herbs, very popular ones, very well understood. The herbs from the African continent are extremely interesting, and I really want to dive into those a lot more. One of those is Kanna, something we have carried in the past and will hopefully carry again in the future. A very interesting plant from South Africa. But fadogia agrestis is also from the African continent. The main sources seem to be South Africa, and like Kanna, it's very hard to source high-quality materials in good amounts outside of South Africa or maybe Nigeria. So the stuff we are getting here, we don't really know is it fadogia agrestis? There's been a really large uptick in interest for it. So it probably means some people are slinging some fake Fadogia. So when we consider the full picture, questionable safety and questionable availability and questionable knowledge about how to grow Fadogia, how to properly process Fadogia and those sort of things on a more commercial scale makes it a very tricky product to look into, to source, to sell.
Erika
And to standardize for, I can imagine.
Emiel
And to standardize for it. Yeah. There will be likely issues getting reference standards and things like that. So this is one of the reasons why we are looking into Fadogia, but we've kind of put it on the back burner because it just doesn't seem worth it, especially when there are other options.
Erika
Of course, and tongkat ali being one of the standby options that people have been familiar with and
Emiel
Moreso an option that synergizes with tongkat ali, because that's what fadogia agrestis is for.
Erika
Okay.
Emiel
So tongkat ali will always be there. It's solid. It works really well by itself.
Erika
But we're trying to get to this segue, which I think you were hinting at earlier, which is that there are alternatives to Fadogia that will synergize with tongkat ali, and the one we're going to talk about is cistanche tubulosa.
Emiel
Yes. Because cistanche tubulosa does the exact same thing. It enhances luteinizing hormone levels, but furthermore, it also upregulates all of the testosterone synthesis enzymes that exist in the testes. And some of these are the CYP enzymes. And a lot of these enzymes get upregulated by cistanche. And this is why cistanche is actually a really good standing option for Fadogia. The first reason being that cistanche tubulosa has a very long history of human use in traditional Chinese practices. So we have a lot of evidence that it works, how it works, that it's safe. Furthermore, in the last year or two, there's actually been a few clinical trials, human clinical trials, high quality ones on cistanche, where they also evaluate its safety. And it's safe. So we know it's safe. There's a long history of its use. There's a long history of its cultivation practices and extraction practices and things like that. And there are well-established sourcing options and trade routes and stuff for cistanche. So this makes it a really good option to have when you compare to fadogia agrestis. We have human data, it does pretty much the same thing. It's easy to get and reference standards exist so we can actually test for it and we can standardize it properly and we can be assured of its safety and efficacy, which is always what we want.
Erika
Absolutely. So I'm curious, then, what's the benefit of stacking cistanche and tongkat ali, like, if you were to compare just tongkat ali by itself, versus tongkat ali with cistanche, what else do you gain from cistanche?
Emiel
So what you gain from cistanche is the same thing that you would gain from fadogia agrestis, which is enhanced luteinizing hormone expression. And when you have enhanced luteinizing hormone expression in the context of tongkat ali supplementation, then the testosterone-increasing effects of tongkat ali should go further, which is why Andrew Huberman recommends that you take fadogia agrestis together with tongkat ali. But in our opinion, as we've talked about in-depth now, cistanche is actually the better option here. And in my opinion, it's also the better option because cistanche has a trick up its sleeve. And this trick is that it enhances growth hormone secretions, too. So not only are you getting the muscle building and anabolic effects from the enhanced testosterone levels that you might get from tongkat ali and cistanche in combination, and even just tongkat ali by itself or cistanche by itself, but furthermore, you are getting testosterone and growth hormone. Growth hormone also being very important for muscle building. So in my opinion, this makes cistanche the superior option when compared to Fadogia.
Erika
Well, that's a pretty strong statement. So I think now that we have a really good understanding of the mechanisms and where cistanche and tongkat ali are from and the concerns and the issues with fadogia agrestis, I have a much better understanding of just the benefits of this kind of testosterone supplementation. But I also want to know for everybody out there who's wondering what's going to happen, what would happen if I'm making changes or taking supplements that are affecting my hormones? If I'm a man, how are they going to affect my testosterone versus my estrogen levels? If I'm a woman, how are they going to affect testosterone and estrogen? Are there any other hormones in the mix here that we should be thinking about when it comes to the effects of tongkat ali and cistanche?
Emiel
Yeah, and this is where the whole hormone thing gets very complex. And I would actually recommend some of you go and listen to some of Andrew Huberman's fantastic podcasts that go very in-depth about hormones. Andrew Huberman is a fantastic researcher when it comes to hormones. And he has a lab at Stanford. And actually, in college, I learned a lot about brain development surrounding testosterone. And a lot of this research was from Andrew Huberman. So if you are interested in diving really deep into the hormone thing, look at some of his podcasts, too. But within this podcast, I can go into depth a little bit too. When we are enhancing luteinizing hormone levels, we're actually also enhancing our estrogen levels a little bit too, which is a good thing. We need estrogen. Men need estrogen. Women need estrogen. We don't just want to tank estrogen levels. Tongkat ali does have a slight aromatization effect, so it will prevent some of the testosterone from turning into estrogen, which is part of how it also enhances testosterone production. In addition to actually blocking some of these estradiol receptors that turn off testosterone synthesis. So there is also a strong estrogenic part to this, which is good. We need it. This is part of the process. And when we're looking at that too, a big one is actually prolactin. And we've heard a lot of concerns about "If I'm taking something that enhances testosterone levels, then that must mean I'm also getting more estrogen levels. And because of that, if I'm a man, I might start developing breast tissue." This is actually not something that's super related to estrogen or testosterone. It's actually related to prolactin.
Erika
That comes as a surprise to me because I think I can only speak for myself. But as a person with less knowledge of the hormone systems, I always assumed that estrogen, more estrogen or changing estrogen would have these, quote, estrogenic effects, which I might associate with growing breasts or gaining weight in different places.
Emiel
And estrogen definitely does that. But in men, it seems like prolactin is actually the bigger stimulator of breast tissue.
Erika
So what is prolactin exactly?
Emiel
Well, if you consider the name pro, what?
Erika
Oh, lact, lactose, lactate,
Emiel
Yeah. So what do you think it's mostly doing in women?
Erika
Oh, it's a lactation hormone.
Emiel
Yeah.
Erika
Got you. That makes sense.
Emiel
But it also plays a role in men. And part of it is the ability to ejaculate and to achieve orgasm is related to prolactin. And people with very high prolactin levels may have issues in this area. So dampening prolactin levels can be positive for libido, it can be positive for preventing some of the breast tissue growth in men. And this seems to be the one thing that's often overlooked and especially overlooked in testosterone supplementation. So some people might actually have some issues related to prolactin and tongkat ali might exacerbate this. So I wanted to find a good option for this. And one very common option in some different worlds is that you block or actually, sorry, you don't block. You activate dopamine D2 receptors. And this activation of dopamine D2 receptors blocks prolactin production. So we want something that activates dopamine D2.
Erika
Okay, that makes sense. And this is reminding me of something we spoke about in a previous podcast. I can't remember which one it is, but we were talking about the hormonal changes that women experience throughout their menstrual cycle and the fact that right before the menstrual cycle actually begins, dopamine D2 receptors are activated, which causes mood changes and physical changes and basically prepares the body for menstruation.
Emiel
Correct, yeah. I can't remember what podcast that was in either. But we were talking a little bit about some exotic dancers in that.
Erika
Yeah, definitely. So if you're curious about that, go search on YouTube. It's going to be tagged in our chapters that we have, so exotic dancers related to dopamine D2. Fun facts, but we'll let you do the searching.
Emiel
But let's keep talking about this Dopamine D2, because it's really interesting. And it's interesting. A lot of you are interested in it from a nootropic standpoint, because it will help with motivation and overall cognitive function and things like that. And it helps drop prolactin levels, which can be positive, especially when we are trying to enhance testosterone levels. And we're trying to build muscle and we're trying to build muscle while not growing like flabby, fluffy breast tissue. So one thing you can actually take it looks like is apigenin, which we recently just released, which seems to be one pretty significant Dopamine D2 agonist, which actually is a bit of a surprise to me. I noticed that there is like a smooth, stimulating, relaxing thing going on with apigenin. This seems to kind of be why it acts as a Dopamine D2 agonist. And there's actually a study that is showing chamomile syrup that has some level of apigenin in it is quite effective at lowering prolactin levels. And these researchers thought that this is likely from apigenin because apigenin is a dopamine D2 agonist. So this would be a really interesting compound to actually add to the overall stack. So if you're taking tongkat ali and you're taking cistanche, then maybe also consider adding some apigenin.
Erika
And apigenin would be added specifically to address the prolactin issues that you might experience when taking tongkat ali and cistanche together, so that you get the best benefits for supporting your testosterone levels from tongkat ali and cistanche. And you get less of the maybe the unwanted effects or the less than desirable effects by managing prolactin.
Emiel
Yeah. And in addition to that, testosterone, and we haven't really touched on this yet. Testosterone is also an important one for libido. It's important for male and female libido, and especially later in age. It seems to be very important for female libido.
Erika
Especially around menopause and perimenopause.
Emiel
Absolutely. So actually a new strategy for post menopausal women who are having libido issues is actually to increase testosterone levels slightly. But prolactin is also important for overall libido and achieving orgasm and ejaculation in men. So lowering prolactin levels, in addition to increasing testosterone levels, could have a very broad spectrum libido enhancing effect.
Erika
Wink, wink, if you get our drift.
Emiel
Yes. And actually prolactin is one of the things that prevents men from achieving multiple orgasms. So prolactin increases after an orgasm. So lowering prolactin might prevent some of that from happening, too, for anyone who is really going for the endurance thing.
Erika
Okay, so let me get this straight. Lowering prolactin may have benefits for male orgasms with the potential to increase the chance that you could have multiple orgasms, is that correct?
Emiel
Yes. And actually, I have heard through some of my research that I've been doing that in porn stars, taking a very strong Dopamine D2 agonist is a very popular thing to take before shoots for this exact reason.
Erika
Okay, this makes sense. And now we really have to implore you to go back and find that podcast about exotic dancers because we just touched on the exotic dancers and the benefits of this increase in Dopamine D2 receptor activity right before their menstruation, because it was basically allowing them to reach new heights with their performances. So this makes so much sense now that we're just diving head first into this hormonal conversation why porn stars would be taking these kinds of hormone supplements, because it helps you perform.
Emiel
Absolutely. And for someone who has to be on set for however many hours, this is an important thing to be able to maintain that ability.
Erika
Yeah. The endurance demands are quite extreme.
Emiel
Yes. prolactin. And that's a very extreme case. And they are taking very strong things that lower prolactin, and that's a whole other topic. But when we're looking at it in a more preventative or more supportive thing with supplements, then...
Erika
For all you out there who aren't porn stars.
Emiel
Yeah. And if you are, great, maybe this will work well. So take some Tongkat, cistanche and apigenin because you'll get increases in the good sex hormones like testosterone, and you'll get lower levels of prolactin, which might get in the way there. prolactin, by the way, also seems to underlie some of the effects of PMS symptoms and some of the pain symptoms that women experience during menstruation and some of the mood issues that women experience during menstruation. So in that context, it is also beneficial to lower overall prolactin levels. So Apigenin could work well, there.
Erika
That's exciting and I think now that we're having this conversation, I'm going to put a little mental note for myself just to explore and bioassay apigenin specifically for its benefits surrounding PMS, because I think this is something that we definitely want to talk about in some future podcasts. And I know for women out there who are curious, this is such an important and I think under-explored topic just in general, especially with nootropics and supplements. But I'm excited about it. So I just had to add that in there.
Emiel
Yeah. It's actually a really good one. It's one I've been taking daily since we came out with it. And I took it a lot during beta testing, too, of course, to make sure that the dosage was correct. And we did go for quite a high dosage, which should actually make those prolactin effects much more pronounced as well. But Apigenin actually also has some mild pain management effects and is slightly muscle relaxing. So it would likely be a really good one to take during menstruation and during periods where you have mood issues.
Erika
Okay. This is good to know. But we've been talking a lot about sort of the sexual and the erotic aspect of hormones and addressing hormones and changing and working with your hormones. But I know that there's a lot of people out there who are really curious about the benefits for your workouts and endurance just when it comes to muscle building and this world. So are there any other points to touch on when it comes to the benefits that people can experience in their workouts from taking this stack of tongkat ali and cistanche and Apigenin.
Emiel
Yes. So when you increase testosterone levels, you increase protein synthesis. And when you increase protein synthesis, you get more muscle growth and you get stronger and your muscles look bigger and more toned. So this is one big aspect of testosterone supplements that people are often after. If you take them, you'll likely become stronger and more effective at the gym and you can reach your goals a little bit faster. Or maybe you can reach your goals in a more sustainable way. Or, and this is an interesting thing, actually, that was discussed on the Joe Rogan podcast, too, is you have longevity just like your age longevity, but then you also have performance longevity. So even though you might live to 80, 90 years old, it might mean that you stop if you are a pro athlete, that maybe around age 70 or something, you become much less effective at being that athlete. And that's kind of the performance longevity. And the idea being if you supplement with testosterone a little bit, you can extend your performance longevity. So that's an interesting thing, too, for some of our older listeners, too, is maintaining that performance longevity could be a very interesting thing with testosterone enhancing supplements. But the main takeaway here being testosterone makes you stronger, but it also increases your drive. So it actually makes painful things feel more enjoyable and you want to do it. And it's why young men oftentimes also participate a lot in extreme sports. And I know I'm...
Erika
High-risk behavior, we would say.
Emiel
Yeah, and I have lots of injuries from skating back in the day, likely because I really wanted to push myself super hard. And then when I got into college, I started lifting weights and I got into powerlifting and Olympic lifting and really brutal stuff and really fun. And it felt really nice. And this is likely also from testosterone. And the more you have, the more drive, the more aggression you have, the higher you will likely perform in the gym. So this is a really good one.
Erika
And this makes sense because we all know that testosterone levels get lower with age in both men and women. But obviously the results and the examples in men are a little more obvious. So for those of you who are interested in continuing to maintain your testosterone levels as you age, supplementing with tongkat ali, cistanche, and Apigenan could be really effective for addressing this aspect of aging.
Emiel
Yeah. And actually to get to this aspect of aging a little bit deeper and also some other aspects of testosterone. One other thing that the older we get, the worse our sleep gets. And sleep is also very important for testosterone production and it's important for muscle protein synthesis and just overall recovery. And this is where Apigenin comes in, so you can definitely take tongkat ali, cistanche and and Apigenin at the same time, and it will have great effects and the prolactin effect will be there. But another thing you could do is taking tongkat ali and cistanche during the day and then taking Apigenin at night because apigenin actually helps enhance sleep. And this is another thing Andrew Huberman talks about. He's actually a big fan of Apigenin for the sleep-promoting effects, and he stacks it together with magnesium threonate, magnesium actually being a mineral that is important for overall testosterone synthesis as well. So taking some extra magnesium at night and some Apigenin, and then he also recommends L theanine. Taking all of these together would have an additive effect to the increases in testosterone you will see with tongkat ali and cistanche because you're also helping enhance sleep. But you also have these prolactin lowering effects from Apigenin. So that's very positive. But helping to enhance sleep is a good strategy. So as we go along in this podcast, we're actually putting together a bit of a stack. So we started with tongkat ali. Now we're adding cistanche to it. cistanche also increases growth hormone. And growth hormone can also help with sleep and recovery, so it's all starting to flow into each other now. So we have tongkat ali, we have cistanche. Now we have Apigenin, which you're taking at night. Now let's add some magnesium to that, because magnesium helps you sleep a little bit better. And magnesium is important for testosterone synthesis, too. And now let's add one more factor. Let's add zinc. Zinc is another important mineral for testosterone production. So we want some extra zinc. And zinc also for most people, helps you sleep better. Not everyone, as we found out with our sleep support formula, which contained zinc. And this zinc actually kept some people up. So be careful there, maybe beta test it once or twice and see how it impacts your sleep. And if it impacts your sleep positively, you could have a testosterone-increasing sleep stack, which would be Apigenin, Magnesium, any of our magnesiums. For me, for sleep, magnesium bisclycinate is actually one of my favorites, and then adding some Apigenin to that.
Erika
So this is really exciting and fascinating because I never thought about the fact that sleep supplements would have benefits for hormonal levels and just balance in general. But you can increase the effectiveness of your testosterone supplementation while you sleep with things that are just addressing other systems in the body. And I guess this is the part of stacking that's always so exciting and fascinating to me, is that these individual botanicals or these products, they don't just have one singular effect. They have a multitude of effects. And when you put them together, when they work synergistically, and when you take them at specific times of day, you can get even more benefits out of them that are going to help you during the daytime, during the nighttime for your workouts, maybe in your relationships and just in general.
Emiel
Yeah, and I would like to call this intelligence supplementation. Paying attention to what's happening, taking supplements at different times. And we're making blanket recommendations here for the average population. But you might find that Apigenin works so much better for you during the day, which actually is the case for me. I love taking Apigenin during the day. So I have a different sleep stack that I use, actually, just our sleep stack, which I helped formulate. So that's the one I use. And that may actually also help enhance testosterone levels because it contains Shilajit.
Erika
This is something I wanted to touch on because a couple of you in your Reddit questions were asking about testosterone supplementation outside of tongkat ali and cistanche and Fadogia. And Shilajit was one that I saw coming up quite often. And Shilajit, just in and of itself as a raw material, is pretty fascinating because they call it Rock Sweat, which is, like the coolest and strangest name I've ever heard. And from my research, it's organic material and fulvic acid. But I'm curious what kinds of benefits it has for testosterone. Emiel, you're definitely going to have to give me the lowdown on this one.
Emiel
Yeah. And the Rock Sweat name is very apt because you have to go quite high into the Himalayan mountains. And there's also, I think, the Russian Caucus Mountains. There's some Shilajit there, too, under a different name. But Shilajit, if you're looking kind of in Himalayas, you have to go up quite high. And then when you're walking around and there's no sunshine, you won't necessarily find any Shilajit. But when the sun is hitting the rocks and especially in the summer, when it's nice and hot, then the rock starts sweating and it starts sweating. This black tar-y ooze. And that ooze is what we call Shilajit. And the interesting thing is we don't really know what Shilajit is. It's likely just fossilized plants that have been pressed under immense pressure under these rocks and heat over many, many years, thousands of years, maybe even millions of years, and it just oozes out. And, yeah, it contains high levels of fulvic acid, of humic acid and dibenzo alpha pyrones. And all of these kind of work together to do a lot of things, one of which is to increase cellular energy. It helps enhance Coq10 levels. But then another thing it does is it acts on some of these similar testosterone production enzymes. And by working on those enzymes, it can help support overall testosterone synthesis. It doesn't necessarily help increase testosterone like tongkat ali or cistanche does, but it helps support testosterone synthesis. So it is another good one, actually, to add into the overall stack with cistanche and tongkat ali.
Erika
And if you were to add Shilajit along with this stack, what would be other benefits that you would experience from this, like, beyond just the specific benefit of increasing these enzymes that help with testosterone production? What, like perceptible mood or physical or cognitive benefits would you experience?
Emiel
Well, you may get some more of those classic testosterone-like effects, because hopefully if you are taking Shilajit in this context, then it would further help enhance testosterone production. But another thing that I personally really like about Shilajit is that it has a nice recovery benefit when you're exercising because it has a good oxidation and inflammation balancing effects. And furthermore, it helps enhance ATP synthesis because it helps enhance CoQ 10 levels. It helps the recycling of CoQ 10 and CoQ 10 is a very important compound for enhancing ATP synthesis. And the more ATP we have, the more stronger the stronger our muscles can contract, the more cellular energy we have. So in the context of a performance-enhancing stack, this would be beneficial. And actually, if we're talking about ATP and also going back to some of these androgens we should definitely talk about Creatine, because Creatine is one of the most highly studied, has a ton of high quality human clinical data, and it, similar to Shilajit, enhances cellular energy by enhancing ATP levels. This is a fantastic way of increasing strength. But another thing that Creatine does, it enhances dihydrotestosterone levels.
Erika
What's dihydrotestosterone?
Emiel
It's a different version, I guess, of testosterone with two hydroxyl groups. But what happens is that the binding affinity for the androgen receptors that it acts on, similar to testosterone, goes up significantly. So dihydrotestosterone is a lot more potent than testosterone in terms of anabolism-building muscle and things like that. Creatine doesn't cause an enormous rise in DHT, but it causes a measurable rise in DHT. And this has been replicated in many different studies. So mostly the benefits you're getting from Creatine are going to be the ATP synthesis effects. It's just going to give you more cellular energy to contract those muscles. And that's what helps enhance the strength and things like that.
Erika
Okay.
Emiel
But the DHT component of it then further enhances that anabolism effect that you're getting with tongkat ali boosting testosterone levels, and then you get a little bit of dihydrotestosterone in there as well. And actually, there's an enzyme called 5-Alpha reductase, which takes or it converts testosterone into dihydrotestosterone. So this is an enzyme that comes up from time to time as well, because a lot of the mushrooms that we have actually inhibit this 5-AR enzyme.
Erika
Which one in particular or which ones in particular?
Emiel
Lions Mane, for example, does this a lot of just culinary mushrooms do it like brown mushrooms that you eat from the store. Those are actually-
Erika
Shiitakes?
Emiel
Shiitake? I'm not sure if it's a 5-Alpha reductase inhibitor, but a lot of the different mushrooms are. And for some people, this is a bit of a cause for concern because they want some more of these DHT levels around. So they want more of this conversion to take place. So they don't want to inhibit five offer reductase. But that's how we produce most of our dihydrotestosterone. It's through this enzyme and on the flip side, dihydrotestosterone can act on androgen receptors by our hair follicles. And when they get stimulated, it actually stimulates some hair loss, so.
Erika
I was just going to say, we see this question comes up sometimes on Reddit and in emails about whether certain testosterone boosting products will actually prevent DHT from being produced. Or I'm getting that mixed up - testosterone boosting supplements will increase DHT production, which could cause some hair loss. Am I getting that right?
Emiel
Yeah. If you have more testosterone around, then there is more conversion happening to dihydrotestosterone because we need testosterone in that step. So the more testosterone is available technically, the more DHT we can have around. But honestly, the increases we're seeing with Tongat and cistanche are likely not enough to cause massive increases in DHT, which could then lend to balding.
Erika
Got you. How about with Creatine?
Emiel
With Creatine, it's the same thing. If you look at the IFBB pro, I think that's what it's called, the pro league bodybuilding, the Mr. Universe guys. They're all huge and they're all bald. And there's a good reason for that, which we can't really get into here. But it's related to DHT. We're not seeing those kind of DHT increases with things like Creatine. And if we're enhancing testosterone levels, we're not necessarily seeing them. So that's not something I would necessarily be worried about. But having that extra little bit of DHT production in there from Creatine together with something like tongkat ali could really help just dial in that last little bit of extra performance. And there's a lot of human data that shows that it's really effective. Plus it's an interesting nootropic. And we can get into Creatine at some point because,
Erika
Maybe on a future podcast.
Emiel
Yeah, it's always overlooked and it's one of the most highly researched compounds around. So it would be really cool to dive into that a little bit more because I just recently started taking Creatine again. I kind of forgotten about it for a while. And then I realized, hey, I should be taking Creatine again once we started working on this podcast, and I really do like the effects of it.
Erika
What do you find are the most standout effects of Creatine?
Emiel
For me, I seem to have a bit of an issue, maybe maintaining ATP levels consistently. So things that help enhance ADP production are really beneficial to me, which is part of the reason why I take CoQ-10 every day. When taking Creatine, I get a little bit more of those effects. I have a little bit more energy overall, and I seem to be less prone to getting headaches, which is something that CoQ-10 helps me with as well. And I think my headaches are related to ATP production. So taking Creatine really helps me there, and it helps me cognitively, but it also just helps me with overall physical energy. And a really interesting thing is, and this is something that's often taken out of context because people are mega-dosing Creatine and then cycling it. So when you do that and you take like 25 grams of Creatine a day at the start of the cycle, you start to maintain a lot of water in your cells. But this is a really positive thing, actually, that Creatine does. And in normal doses, it allows your cells to stay better hydrated, which for us living in the desert and especially with the summer approaching, Creatine is a really nice one that I take during the summer because it helps my cells retain more water.
Emiel
So I drink a little bit more water, and then my cells can retain some more of that water too, which might help with electrolyte balance and things like that, too.
Erika
I never even considered the benefit of Creatine just in terms of maintaining hydration, because when I was first introduced to Creatine, it was around the time that I was in college, and some guys I knew were super, super into Creatine. That was like the first supplement they were taking because they were really into weightlifting and going to the gym every day. And I remember them complaining about how they were putting on so much water weight with this Creatine. And, oh, it was such a big issue, even though it was really helping them with their workouts. And I never really understood why that was. But I remember that was like a big topic of conversation was the water weight related to Creatine. But at this point now, thinking about it, in terms of the summer coming up in this super hot desert where we live, that's not a bad idea to start supplementing Creatine for hydration purposes.
Emiel
Absolutely. And honestly, with a lot of these young guys, they want steroid like effects, and they think, "I'm young, I've got a lot of testosterone. I'm a protein synthesis machine." I'm just going to take some large doses of Creatine and get really significant effects really quickly, which is why Creatine is often cycled, which I think is kind of inappropriate, given what it actually does in the body. So people will take maybe 25 grams a day, maybe even twice a day for the first week, and then they will drop down to a maintenance dose of 5 grams a day. But if you just take 5 grams a day, you don't get this crazy initial bloating stage where a lot of water is being retained in your cells. And if you just regularly take 5 grams, you will just help promote overall cellular hydration, which if you live in a hot and dry climate, is a really good thing during the summer.
Erika
Good to know. So it sounds like we have a pretty well rounded idea of what to stack with tongkat ali, tongkat ali being our centerpiece, so to speak, and then cistanche being a really great option to stack with tongkat ali. Shilajit also sounds like a great addition to this sort of daily testosterone supplementation as well as Creatine. So that sounds like a really nice, well-rounded way of approaching testosterone supplementation to benefit mood and motivation and energy, and hopefully, give you a little bit more of an edge and a little bit more drive when it comes to your time in the gym, perhaps your time and your special time and your relationships. And generally speaking, I've found such great results from taking tongkat ali the past couple of days. So I'm curious what it would be like to just stick with a simple, simplified testosterone supplementation stack just for myself.
Emiel
Yeah. And I've noticed very similar effects too, over the last couple of years, experimenting with some of these testosterone enhancing stacks. They're really beneficial. I feel like I recover a lot quicker. I have a lot more physical capabilities. I just feel stronger overall, which is really nice.
Erika
Probably a result of building strength, but also building confidence, too.
Emiel
Absolutely. Yeah.
Erika
So they all go together hand in hand. I think this is a perfect segue to one of our fun segments that we use to break up the In Search of Insight podcast, which is: new product releases. So every month In Search of Insight, we go over new products that new Tropics Depot has released since the last podcast episode. And this month we have a handful of super exciting products. The first one we're going to start with is a product that I really love, the taste and the feel and the effects of it's a new solution that we have out. It is our Holy Basil Supercritical CO2 solution. Emiel, tell us a little bit about the inspiration for the solution and who should consider adding this to their daily stack?
Emiel
Well, I actually think you are the inspiration for this one, at least for me. A few years ago you had given me a cup of Tulsi tea and I really liked the taste of it. And you were really excited about the taste of it, which is why you let me try some of it. And then we both noticed some interesting effects too. So then a few years went by and we were looking for some Holy basil products, but all of it seemed somewhat uninteresting. And then we crossed paths with this super critical CO2 Holy basil extract. And for those unfamiliar with what supercritical CO2 extraction is, basically CO2 can exist in a few different forms or phases. A gaseous phase, which we're quite familiar with, and we're quite familiar with that gaseous phase dissolved inside of beverages, sparkling water, sodas, and things like that. That's gaseous CO2 in there. Co2 can also exist as a solid dry ice, if you've ever played around with that. And then under very specific conditions of pressure and temperature, it can exist as a sort of liquid. And that's what we're working with here. So we take this liquid and it has really good properties for extracting certain botanicals. So we take this liquid, liquid CO2, and we force it through Holy basil leaves. And then what comes out is this really strong terpene-rich extract. So two of the things that we standardized for in the Holy basil extract are eugenol, which is a terpene, and Caryophyllene, which is a terpene and is actually also found in one of our other products, Rephyll, which is a beta-caryophyllene product.
Erika
And if I remember correctly, eugenol is also the property within cloves that causes a numbing feeling in your mouth.
Emiel
Correct. And you'll notice a bit of a numbing feeling if you do it sublingually with the solution, which is actually one of the ways I like taking it. So basically the solution, we take this really potent supercritical CO2 extract and we dilute it a little bit with olive oil. It Mellows out the taste a little bit too in the solution and makes it a little bit easier to dose out because of its potency. But this is a really interesting one if you're looking for calming effects that also have pain management effects. So similar to rephyll, rephyll, one of the main effects is for pain and it's achieving this through its caryophyllene content. So caryophyllene actually is a CB2 cannabinoid receptor agonist. And that's where it produces some of its pain management effects through. And the caryophyllene in Holy basil extract does a very similar thing. But Caryophyllene also has a nice mood-enhancing effect. It is good for controlling inflammation and things like that. So that's a really nice component to have in there. But when you link it up with eugenol, it further enhances the pain management effects of Caryophyllene. But in addition to this, eugenol also has a really interesting effect on balancing the HPA axis, which is part of the mechanism that controls stress levels and the effects that we experience from stress. So eugenol has a very nice stress management effect. And together with the pain management and mood-elevating effects of Caryophyllene, it makes a really nice combination. And one of the nice things about it is if you do use it sublingually, it kicks in really quickly. And I recently actually two days ago, I recommended it to a colleague who was having some issues with nervousness. And she was a little bit on edge. She was trying out the Holy basil and was really helping calm her down. But then she also told me that she was having some back pain and the back pain started to ebb away, which was a surprise for her and something I didn't necessarily tell her about because we were mostly focusing on the calming effects. But then I realized, yeah, it is a very good pain management effect. And even though I didn't tell my colleague exactly that it had a pain management effect, she noticed this effect herself and it was quite prominent.
Erika
That's really exciting. So you mentioned early on that the inspiration for the Holy basil super critical CO2 solution was from that cup of Holy basil Tulsi tea that I had. Trader Joe's was supplying it for some period of time. I just love the taste so much. But now it's really cool to see this product come to life. And I really love the taste of it. I think it's one of my favorite solutions and one of my favorite Nootropics Depot products, just because it just has so much character to it in the flavor, but also in the calming effects. And I noticed those, too. So thanks for giving us a really comprehensive understanding of what it's doing and where it comes from and what its intentions are. Moving on to our next new product release. Since the last podcast episode, we have released L pyroglutamic acid powder. And this is an exciting one for a lot of reasons. But Emiel, give us just a couple of reasons why this product was added to our offerings and what it's doing in the body.
Emiel
One of the main reasons why we started carrying this, I actually can't really talk about. But you guys figured it out on Reddit already. I'll just say that L pyroglutamic acid contains a Pyrrolidone base structure. And for those who've been around nootropics for a long time, you'll know exactly what that means. And you'll know exactly why we came out with this product. And it does exactly what it's intended as a very nice nootropic effect. But it is a naturally occurring amino acid, which is really interesting. And it's usually in our body, and we actually need quite a bit of it, too. But if you take it as a supplement, then you can further enhance these nootropic activities of this already endogenously existing amino acid. And you can get nootropic effects that are very similar to one of the most popular class of nootropics, which, again, we cannot mention the name of. But you're all probably smart enough to figure it out for yourself.
Erika
Thank you for that. Very well navigated. So moving on to our next new product release. We've released Nobiletin capsules. And I'm not super familiar with Nobiletin and what its effects are and where it comes from. So will you give me just kind of a background on Nobiletin, what it is and what it's doing?
Emiel
Yeah. Noble Eaten is found in various citrus fruits. And actually ours is extracted from citrus Aurantium, which is a bitter Orange. And in fact, a lot of our flavonoid-type products are extracted from citrus aurantium. So another new product that we'll touch on in a second, Apigenin, is also extracted from citrus aurantium and hesperidin, which we've had for a while, is also extracted from citrus aurantium. And then Nobiletin is just one of those other very interesting flavonoids. To get more into its effects, one of the most interesting effects is that it is an AMPA receptor agonist, which again, if you have been around nootropics for a while, you probably, this probably rings a bit of a bell. And enhancing AMPA activity is a really good way to enhance long-term potentiation. So LTP basically, memory formation. So, again, Nobiletin is a very interesting natural nootropic. In addition to that, though, and this is where it gathered a lot of attention recently, is that it may help enhance sleep, which has confused some people, because the AMPA effects also cause stimulating effects. And in my experience, and in a lot of people's experience Nobiletin is in fact, stimulating. So seems kind of odd that it would enhance sleep. Right. But the interesting thing is it helps enhance circadian rhythm, so it gets our circadian rhythms into a better groove, basically, which helps us sleep better. And it means that you can take this earlier on in the day, and it will help enhance your overall circadian rhythm over time, which will then help enhance sleep quality. And some customers have actually tried this strategy for a while, and it does seem to actually enhance sleep quality. And it would work in a somewhat similar way to Melatonin, because that's one of the things Melatonin does, too. It helps control our circadian rhythms. And Nobiletin does somewhat similar things through some different mechanisms. So very interesting if you're looking for Nootropic long-term potentiation type effects, but also interesting if you're looking to help enhance sleep quality through a really novel and different pathway.
Erika
I was just going to ask. It sounds like a different pathway than the pathways for sleep support from our sleep support stack. From Natrium Health.
Emiel
Yes, absolutely. Those real sleep stacks are more designed to kind of slow brain activity a little bit by increasing GABA activation. So GABA is one of the main inhibitory neurotransmitters, and it basically decreases neurological activity a little bit, which is nice for getting to sleep. So that's why a lot of sleep products contain GABA-ergic compounds like lemon balm or Magnolia bark or oleamide. And you'll find all of those actually in sleep support. But sleep support is really designed to help get you to sleep and keep you asleep. But it's not necessarily designed to help optimize your circadian rhythm unless you put in the, you can order a sidecar of little melatonin capsules with sleep support, and then it gets that circadian rhythm effect there a little bit more. But you could, for example, take sleep support at night and then Nobiletin during the day, help enhance your circadian rhythms, and then put yourself to sleep with sleep support. If you have difficulties with that.
Erika
That's really cool. Sometimes I just get on this train where I'm thinking, I want to stack for everything. And so I was thinking, okay, what could we stack with Nobiletin to get the best sleep benefits and sleep support was my first thought. So I like the idea that if you really want to take a very targeted and specific approach to improving sleep quality and working with supporting your circadian rhythms. Nobiletin might be a nice thing to add to take during the day that will help you throughout the day and throughout the sleeping night.
Emiel
And another interesting thing about it is one of my design goals for sleep support was that not only would it help you get to sleep and stay asleep and enhance sleep quality, it would also have certain nootropics in there like bacopa and uridine, which while you sleep, are enhancing neuroplasticity and enhancing memory function. So sleep support is really like an overall nootropic stack, helping you sleep better. But then also enhancing neuroplasticity. And Nobiletin, through its activity as an AMPA agonist, also has quite significant nootropic activity. So actually taking Nobiletin during the day and then sleep support at night, even if that was the only thing in your stack, would make for a really good foundation of enhancing overall cognitive function.
Erika
That's amazing. I love that. I'm actually really excited to try that. I might have to wait and space out my different tests with the sort of full-spectrum testosterone stack and then the extra optimized sleep stack. But let's move on to our next new product. We released a powder version of NMN or nicotinamide mononucleotide. Emiel, tell us a little bit about this powder. And maybe you can also answer some questions related to the concerns that people bring to us about the bioavailability of NMN in powder form, because previously we've carried this in tablet form. And there's a really specific reason why we came out with the powder. But this big question of how bioavailable is NMN comes up all the time, and I think it's important to address as we talk about this new product.
Emiel
Yeah, let's talk about these tablets first, then. So they're not just tablets. They are enteric-coated tablets, which means that the coating will not dissolve in your stomach acid. And then once it has passed your stomach acid and it's in your intestinal fluid and floating around in your intestines, then the coating starts to dissolve and then you get NMN release in the intestines. We did this for a variety of reasons when we first came out with NMN. The first being it was kind of unclear whether or not NMN would be stable at room temperature as a powder. One of the reasons for this was that our suppliers were stressing that we needed to store this material at -20 degrees Celsius, and there was no way we could get around this. So we kind of went along with this for a little while. We found some data that might indicate, yeah, maybe enemy isn't that stable. So we went along with it. But as time went on, we got more and more suspicious of this actually being the case. We looked around a little bit more and we looked at some of our older stock, and we realized the stability issue really doesn't seem to be that big of a deal actually. So that's one of the reasons why we finally cracked and said, okay, well, we can do the powder because we are more confident in the fact that it will stay stable even in powder form and not in an enteric-coated tablet.
Erika
So we do carry the NMN tablets that are enteric-coated. But now the new product that we've introduced and released is NMN powder.
Emiel
Yeah. And going a little bit further with the tablets still. So we pressed the tablets because that would allow less oxygen to get in, so it would be more stable. And then we put an enteric coating around it, which would then prevent even more oxygen from getting in and interacting with the NMN. So this was kind of one of our stability steps. And then another step in this was that there are specific transporters in your intestines that can transport NMN into your serum. So we didn't want to release the enemy in the stomach. We wanted it to release in the intestines so it would have a more targeted way of being taken up. So that's one of our ways in which to increase bioavailability. One issue there, though, is that not everyone seems to be able to digest this enteric coating. So some people were actually pooping out entire NMN tablets, which is not good because you do want them to dissolve before you poop them out. And people were finding enteric coated tablets in their stool, which is kind of interesting. We haven't really figured out exactly why. We have a method, actually, of testing whether a capsule or tablet is truly enteric coating. So we have a machine that simulates stomach fluid, and it simulates the temperature and the movements in the stomach. And we do that for about 4 hours. And then we take those tablets out, look at their integrity, and see are they still fully intact? And if they are, then that means it's passed our first test and it means there's an actual real enteric coating there. And then we take the tablet and we put it in simulated intestinal fluid. And again, similar movements and temperature and PH levels and enzymes and things like that. And then we put the tablets in there and see if once it hits the simulated intestinal fluid that it will immediately dissolve. And our enteric coated tablets always adhere to this. This is part of our testing, so we know that they work. But some individuals don't seem to have this normal activity of their stomach acid and gastric or intestinal fluid to strip off the enteric coating and have it dissolved. There were quite a few people with this issue. So that's one of the reasons why we consider the capsules as well, because then these individuals could take a different form that would actually dissolve and give them some NMN, even though it's not entirely optimized.
Erika
So let's move on now to the powder. Why should people take the powder even with this concern of bioavailability?
Emiel
And this is something we've talked about a few times on Reddit now. We get the question often about how bioavailable is something which you can put a nice number on that and say oh, it's 20% bioavailable or whatever. But at the end of the day we can account for this bioavailability issue in a few different ways, one of which is an enteric coating as we've just discussed. Another way is just to dose it higher if the raw material cost allows for it. So some raw materials are just so expensive you can't really dose them high enough and then you have to figure out different ways to make them more bioavailable. For NMN, we're kind of in a sweet spot where it's not the cheapest material on the planet, but it's still cheap enough where you can take a higher dose. So basically our first solution was an enteric coating. Our second solution is just a higher dose of NMN powder and of the capsules. Because the same NMN powder is in the capsules, there's absolutely no difference between the capsules and the powder except for the dosage form. So when we're talking about the powder in the capsules, we can just talk about them in the same breath.
Erika
Sure.
Emiel
So the dosage on the NMN and enteric coated tablets is 125 milligrams and the dosage on the capsules in the powder is 250 mg. And putting something in a capsule or in a tablet costs us money, which means that we have to charge more money for these products. A powder, we don't have to do that. So powders are always going to be cheaper.
Erika
Makes sense.
Emiel
For people who have scales and who want to experiment with higher doses of NMN. The powder is perfect because it is the cheapest way you can get NMN from us, properly lab tested and everything. It's super high quality, but then you can choose your own dose and if you want to say take 500 milligrams with the enteric coated tablets, this would have been too expensive and really wouldn't have been necessary because you are getting so much better absorption with this enteric coating or, we don't have specific data for it, but theoretically it should give you much better absorption because it's releasing around specific NMN transporters which when it releases in the stomach you don't necessarily get the specificity and stomach acid might degrade some of the NMN before it can get into the intestines. But again, it's so much cheaper that taking a higher dose just works a lot better. And this is where the powder is for people who don't want to necessarily take an enteric coated tablet or can take an enteric coated tablet or just want to try out something different or higher doses. The NMN powder is perfect in addition to the capsules.
Erika
Cool. Thanks for that. I think it's really helpful for everybody to hear just the details and the process and the reason why we came out with this powder, especially because this has been a big question for us on Reddit and in emails. So hopefully that answered some of your questions and also got you thinking about potentially trying out NMN powder instead of tablets if perhaps you pass them quickly. So now we're going to move on to two of my favorite new releases of the last month, the first one being ginger extract capsules. I really love ginger extract capsules. I find that they really help with my morning jitters, just that I get naturally even without taking caffeine. I can be very chipper in the morning, but sometimes the chipperness turns into feelings of nausea. And I find that ginger capsules really helped me to maintain a sense of calm and feel a little more grounded, especially when I take them first thing in the morning.
Emiel
I have a very similar experience with them because sometimes my stomach is not entirely happy when I wake up. Whether that is some slight jitteryness that I experience in the morning.
Erika
Maybe you ate too many peppers the night before.
Emiel
Maybe I did some crazy culinary experiments the night before. Whatever it is, I like taking ginger pretty much as soon as I wake up because it helps. My stomach just feels a little bit better. Even though I don't necessarily have any stomach issues, my stomach just feels soothed when I take ginger. In addition, too, I do think it has some interesting cognitive and mood effects, and it's good for inflammation, and it also seems to be helping with some of my seasonal allergies. So that's something I'm very excited about.
Erika
Absolutely. And then last but very not least is Apigenin capsules and powder, which there's a lot of hype about right now on the internet. Andrew Huberman has talked about Apigenin, and a lot of other people in the Nootropics community are talking about Apigenin and its benefits. So Emiel, tell us what it is, where it comes from, and why we should all be really excited about this new product release.
Emiel
Yeah, Apigenin is one of the main active compounds in chamomile, so if you've ever had chamomile tea, and you like the relaxing effects, part of this is likely because of Apigenin. Of course, there's also some other terpenes in there which have calming effects, but Apigenin seems to be a bit of a star player there. We have taken Apigenin and purified it to a very high level, so pretty much just pure Apigenin. And we were going through a lot of different research. And Andrew Huberman, actually, he suggests 50 mg, which I think is a good dose as well, and a lot of different people seem to be doing 50 mg. But when we were crawling through the research, it seemed like higher doses were actually a lot more beneficial and have been studied in animal and some human trials as well. So we decided to just go with the slightly higher does well, slightly higher, four times higher. We went with 200 mg for our capsules. And when you take this 200 mg, you get fairly significant calming effects coupled with some mild muscle relaxation, which is really nice. But as we talked about a little bit earlier in the podcast, Apigenin is also a good dopamine D2 agonist. So it actually gives you a little bit of focus and a little bit more executive function. You're a little bit more focused and motivated in addition to having this strong, relaxing effect. So in a sense, it's somewhat similar to caffeine L-theanine capsules, where you have this stimulating component and then this calming component that are working really well hand in hand.
Erika
Except this is doing that same or similar effect, but just from one bioactive compound.
Emiel
Yes, absolutely. And I've been testing it out on myself, and I really like it. I've been taking it every week for the last two weeks or every day for the last two weeks. I think, Erika, you've been taking it pretty regularly, too.
Erika
I have. And I've been including it in my daily stack. So to be honest, I am feeling a lot more calm. But I do take a lot of different supplements on a daily basis.
Emiel
It doesn't make you tired.
Erika
No, definitely doesn't make me tired.
Emiel
And that's a really good thing.
Erika
I really like the addition. Yeah, I really like the addition with the other sort of stress management supplements that I take in my daily stack. If I were asked to give a really specific description of the effects in terms of the sensation or how it feels, I would want to take it just by itself, with no other supplements interacting, which is something that I'll probably do maybe on an off day coming up. But I really like the addition with my whole stack and with ginger, it's like a double punch in the face of a freak out or a nauseous or a jittery moment. And I think it's a really great addition for anyone who loves Panamax or anybody who likes caffeine. Although I like Camille was saying, this could be a funding product to try. Maybe you want to combine it with your stress management stack. Or perhaps you might want to try something new just for fun to see.
Emiel
And Interestingly enough, one of the reasons why Andrew Huberman recommends Apigenin is because of its sleep benefits. And even though we're calling it stimulating, it's not necessarily stimulating. It's more focus-enhancing. It's not necessarily a wakefulness-type effect. So you can actually take this before bed as well, and it will help enhance sleep quality. And one way in which I actually like taking Apigenin and one reason why I asked Erika earlier, does it make you tired? Is a lot of calming supplements also have sometimes it's desired and sometimes not, but it can make you tired. And I'm always a big fan of calming things that have a mood-enhancing component and that don't produce much lethargy. And Apigenin is one of those. And with those kind of compounds, I like to take it after work to relax instead of drinking a beer or something. After work, I'll just take some Apigenin and have this nice, relaxed yet uplifted feeling that allows me to really relax and read a book or watch a movie or play a game or something and just really relax and prepare myself for the next day and prepare myself for bed. Something like Apigenin is really nice.
Erika
This makes me think that I want to compare my favorite calming supplements, Sibelius Sage with Apigenin to see what the difference is, because I definitely don't feel particularly stimulated by Sage, although it's certainly a mood booster, for sure. But I'd be curious to just compare them side by side because I have a feeling that I might notice some interesting effects and differences between the two, because Sage is kind of my go-to when it comes to time to wind down or time to relax, time to let go, even though Apigenin sounds like it's offering some of these similar effects, maybe a little bit more stimulation. Not quite as intensely calming as Sibelius Sage.
Emiel
Yeah. For me, I might actually compare it or might even stack it. And that's something you can consider, too, stacking Apigenin and Sibelius Sage. And for me, I would want to compare the Apigenin versus the Kava, which is one of my other favorite after work relaxing, read a book type of supplements is kava. And I actually think that combining Apigenin with Kava would further round out the effects and might actually be really nice. But I'm actually curious to compare them, too. And actually, another report of one of our colleagues taking one of these things. Yesterday, actually, I gave one of my colleagues some apigenin, and she took it this morning, and she reported really nice effects right around 45 minutes. It kicked in and it gave her a nice, focused feeling without making her jittery, which is something she often has issues with. So she can't really take caffeine, even something like caffeine L-theanine might be a little bit too much for her at times. But Apigenin was one of those things that gave her a nice boost in focus and relaxation that helped her really get into her work.
Erika
That's exciting. So maybe for people who are extra sensitive to caffeine or for all of you out there who are tea drinkers, you're probably familiar with chamomile tea, but perhaps Apigenin is a good option for you rather than caffeine on a daily basis, or maybe alongside your manageable caffeine doses from tea, take some Apigenin and it could have some nice kind of lifting effects early on in your day.
Emiel
Absolutely.
Erika
Very cool. Well, I'm really excited about all of these new products that we've released over the last month. So if you're curious to check them out, you can visit our website and go to new product releases. We have a tab in our menu with all of these products featured. And now we are going to move on into the absolute best part of the podcast, which is answering your questions from Reddit.
Emiel
You got a lot this time.
Erika
Absolutely. Every single month before we release our new podcast episode, we tell you what the topic is and we ask you for your questions because we want to know what you're curious about when it comes to testosterone, testosterone supplementation, testosterone management, stacking advice, dosing, cycling, the whole lot. And boy, you really delivered a lot of questions. So thank you so much for your participation. We're going to continue asking for your questions in all future episodes of In Search of Insight. So don't stop them from coming. Let's jump right into it. Let's start with questions about stacking for testosterone support. Our first question comes from u/rsodirteetoo, very interesting username. And I'm going to paraphrase this question a little bit. So the question is, "What supplements should I stack with tongkat ali for maximum testosterone support, for example, Shilajit, cistanche, et cetera? And how much of these other supplements should I add along with my tongkat ali for a great testosterone supplementing support stack?"
Emiel
I guess we've already kind of answered this question throughout the podcast. So one of them is Shilajit, which we talked about in depth a little bit more. Another one being cistanche, of course. So my ideal Tongat stack would be Tongat. For me, the 2%. I like the 2% more. I know there's a lot of division there. Erika likes the 10% more. I know most people in the office like the 10% more. For some reason, I like the 2%. So for my ideal stack, it would be the Tongat 2%, it would be the cistanche, it would be Apigenin, Shilajit, maybe Shoden if I'm having some issues with stress because Shoden can help with stress management. But it may also help with testosterone synthesis. Similar to Shilajit helps enhance some testosterone synthesis by enhancing the enzymes that produce testosterone. Then on top of that, I would also add some Creatine, like we talked about. Get some of those DHT benefits, some more ATP synthesis benefits. And I think that would make a very good strength stack. So to kind of summarize, tongkat ali, cistanche, Creatine, Apigenin, Shoden, perhaps. And in terms of doses, just follow our dosing recommendation. We spend a lot of time figuring out exactly what to dose it at. So this is the best information you're going to get. Just stick with our doses. And if you feel like you want to take a different dose, then you have to look at different dosage levels that will work with you and do some research on it and try it out yourself and see what doses work best. But for the general population, we feel that our dosing recommendations are very applicable to most people.
Erika
Awesome. And then our next question comes from u/ghjkpiuyn. I really don't know how to pronounce that, so I'm just going to spell it for you. And their question is "Not exactly testosterone-related, but can you talk about supplements that would stack well with those two," similar to our earlier question, but they're saying, "for example, Epicatechin, which is part of your strength and muscle mass stack. And that's not something we've talked about yet in this podcast.
Emiel
Epicatechin is a myostatin inhibitor, myostatin being something that may limit muscle growth. So if you inhibit myostatin, you potentially get more muscle growth. And some really famous examples of this happening genetically or with certain animals that have their myostatin knocked down.
Erika
I think I know what you're about to say.
Emiel
Yeah, the Belgian blue cows.
Erika
Yes, the super buff cows that have the most amazing-looking muscles, bodybuilding cows.
Emiel
Super jacked cows. And then I think I've maybe seen a dog that had a myostatin deficiency that was really just ripped to shreds. And then I think there's a type of horse as well that has low myostatin activity. And they're also super shredded. So ideally we would see some of these effects in humans too. And a lot of people do seem to have success with Epicatechin. So Epicatechin would stack well as an anabolic aid. So something that would help speed up muscle protein synthesis and help you get bigger and stronger without necessarily interacting with testosterone. And because of this, it will probably be synergistic with testosterone enhancement strategies. So that's actually a really cool one.
Erika
Great idea, in a question form.
Emiel
Yeah, exactly. And something like Creatine is not exactly elevating testosterone. It's elevating DHT to a certain degree. Fairly small degree, I think. But then the ATP effects, the phosphor Creatine to ATP effects would really help with overall strength and endurance and things like that. So that would be another good one to take alongside Tongat. I think Apigenin is a great one, like we've talked about because of its prolactin-lowering effects. And it may help a little bit with recovery and things like that. Speaking of recovery, we'll have to go back to our first podcast ever. Tongkat ali would also stack really well with tart cherry. And actually, tongkat ali helps excrete some uric acid as well, which is one of the main reasons why tart cherry has such good benefits overall on muscle recoveries because it lowers uric acid levels. So tongkat ali is doing a similar thing and they might stack well because of that for enhanced recovery.
Erika
Super cool. And then another question we have about stacking with tongkat ali. This comes from u/ZennZen. And the question is "Any reason not to combine tongkat ali and cistanche? If so, what kind of cycle would be best? And also curious about claims regarding fat loss with tongkat ali?"
Emiel
I honestly don't really see a reason not to combine the two. I think they go really well together. One thing to consider is maybe how you approach it. So the way I do it is I take cistanche every day. And then when I add tongkat ali on top of that daily stack, I notice a very profound impact from the tongkat ali, something that I didn't necessarily notice when I was just taking tongkat ali by itself long term. So it seems like taking cistanche is kind of priming my system for the effects of tongkat ali. Which makes sense because one of the things cistanche does is it elevates luteinizing hormone levels and luteinizing hormone levels then also likely increase the density of Leydig cells, which means there are more leydig cells available for testosterone production, which means that when I add tongkat ali in there, which stimulates these Leydig cells to actually make more testosterone, then because there are more leydig cells around, I get a greater response when I'm taking cistanche regularly. And then when I need like a little bit of a nitrous boost, like in those old car racing games, then I take some tongkat ali and really push my performance to the next level.
Erika
Nice. I like that example you used.
Emiel
Oh yeah, and then fat loss.
Erika
Yes.
Emiel
So let's talk about that a little bit too. I don't think tongkat ali necessarily would help specifically with fat loss. I think there are some metabolic health benefits to it, but it's not going to be a really strong fat loss agent. In fact, not a whole lot of things are really strong fat loss agents. You have to lose that fat through diet and exercise. But one thing, when you are limiting your calories, then you are also at risk of not only losing fat but also muscle. So that is where tongkat ali comes in. So if you want to lose fat weight or just overall weight, but you want to maintain your muscle mass, having some extra testosterone around is really good for that. So you can maintain that muscle mass because of the extra testosterone while you're losing weight. So it's not necessarily going to help you lose weight, but it's going to help how you lose weight.
Erika
I like that, a little bit more nuanced.
Emiel
Yeah.
Erika
And now another question about another product that we haven't mentioned to stack with tongkat ali. This question comes from u/chris106. And the question is, "Is Cordyceps on that list, the list of what to stack with tongkat ali, especially if the 1:1 or the 10:1 extract would be best suited in combination with tongkat ali and/or cistanche.
Emiel
Yeah. Cordyceps would be another really good one. It seems to have some maybe minor testosterone elevating effects. It definitely does seem to have libido enhancing effects, which would go well with the libido enhancing effects of tongkat ali. So for that purpose, it would be a good stack. But Cordyceps, of course, helps enhance physical endurance and physical strength, too. So for that aspect, if we're again going a little bit loose from the testosterone thing and seeing other things that would stack well with Tongkat, something like Cordyceps would be perfect because it's going to help enhance your stamina and your endurance, whether that's in the gym or even in the bedroom, it might help too. So that I think would be a really good one. And then in terms of 1:1 versus the 10:1, I personally really prefer the 10:1 Cordyceps because it has a lot more of an endurance enhancing, almost stimulating, mood enhancing feeling. And it's very distinct, whereas the 1:1 is nice, but it isn't as distinct and it's better as kind of a daily thing to help elevate your overall energy levels and get all of the immune promoting effects from the mushrooms, which Cordyceps does as well. But if you really want to go more for those physical energy, endurance kind of benefits, go with the 10:1, ideally, get both of them in smaller sizes so you can compare and contrast. Maybe you can even stack them together. But if you were to just go with one, get the 10:1 to stack with the tongkat ali, because I think it will be a very interesting effect. And I think actually if you were to take the 10% tongkat ali with the Cordyceps 10%, you would get a very, almost like aggressive energy, which would be really good for in the gym.
Erika
Nice. So almost like a stack that could mimic perhaps a pre workout feeling, even though it's not taking that same exact approach.
Emiel
Definitely
Erika
Super cool, okay. And now one more question. In the realm of stacking, u/ArcticPlatypus asks, "It would be great to see research-based and anecdotally based discussion of cycling protocols for both tongkat ali and cistanche, and maybe Shilajit as well. Like, if five days on and two days off is good for Tongkat and how many testosterone boosting supplements are safe to take simultaneously. Also, it would be cool to see a discussion on the importance of specific vitamins and minerals in the production of testosterone, such as vitamin D, magnesium, zinc, and maybe boron." Really great question.
Emiel
Yeah. And the cycling thing is difficult. So the cycling thing comes from more of these risk taking bodybuilders that are taking substances that if you don't cycle off of them, might literally kill you. So to me, it seems like they are kind of riding the line of what's possible. And to make sure that they have a somewhat longer lifespan, these people will cycle on and off of these really strong compounds that help enhance muscle growth and things like that. But basically, there isn't a serious need to cycle off of these things. But this same concept has kind of bled into the supplement and bodybuilding industry for people not going that route and going more with supplements and natural supplements. Natural supplements. And like we talked about earlier with Creatine, this is also a popular thing to do with Creatine, take these massive doses and then drop your levels and then stop it after a while because you think taking these huge doses of creatine might not be safe, but it's getting the maximum amount of benefits in the shortest amount of time. So let's just blast it and then cycle off to save ourselves.
Erika
So what you're getting at is, I think at a point in conversation that we talked about at length in our January podcast, which is about bioassaying and mindfulness, we had a long conversation about cycling. But I'm going to let you take it away and discuss why it's valuable to take a normal, more manageable dose of testosterone supplements on a daily basis long term, rather than taking these mega doses expecting crazy, super intense results right away and give us a little bit of a backstory on that in terms of testosterone supplementation, because I know that the hormone conversation and concerns about changing hormones and hormones being affected can get kind of sensitive. So it makes sense that you're asking this question. Take it away.
Emiel
Yeah. And we want to do things subtly, and that's the name of the game here. And that's what we do with supplements. We are trying to promote health in a long term vision. We are looking far into the future. We don't want results in a week. We want results ten years from now that are still the same as the time we started taking it. And this is something with Creatine. If you were to take 5 grams of Creatine every day, you could take it for the rest of your life and you would have these Creatine benefits always, not in these haphazard, maybe dangerous cycles. So my advice would be start low and slow, keep it nice and steady, and with something like tongkat ali, it is quite potent, but at the same time, it's helping enhance testosterone production in a fairly natural way. So with that in mind, you could take tongkat ali long-term and have these benefits. Maybe at certain points, you will get higher prolactin levels, which we talked about at length in the podcast. And you could take something like apigenin to help knock those prolactin levels down. Or you could then cycle off of the product for a little while, wait for your prolactin levels to drop again, and then start it back up when you feel like starting it back up. So my advice would be, take it as long term as possible. But if you notice bad effects starting to pop up, maybe cycle off, or maybe take something like apigenin to help balance some of those effects out. But pay attention to what is happening in your body and do what seems most natural. If you're getting a lot of bad effects, you should probably stop it. And if you weren't getting bad effects for the first month or two, maybe it is because you've been taking it long term now and you just need a little bit of a break from it. So keep that in mind. Be mindful of what you're doing and go there with that mindset into determining if you need to cycle on or off or not. For me personally, I don't really cycle things. I just take it all the time. Every once in a while I'll skip a Sunday or maybe even a Saturday. If I really don't have a whole lot going on, and I kind of just want to reassess my baseline state in a controlled, relaxed environment, then I'll do that. But other than that, I focus on the long-term effects.
Erika
Thank you for that response. I think it's really helpful for people who are listening that are concerned about the potential for what kinds of long term effects testosterone supplementation can have. But I think that's a really great answer and it really drives home the point that we make in every single podcast, which is at the end of the day, we want to provide the highest quality supplements to help you live your life better and to optimize your health and to support your health. So that's what we did with the tongkat ali 2% and 10%. And take it slow, take it easy and pay attention to what happens, the benefits, and trust yourself, listen to your body and keep doing research, because that's a really important part of this whole process. So now we're going to move on.
Emiel
Actually, we missed a part of this question, I'm realizing that. So the second part of the question was "Also would be cool to see a discussion on the importance of specific vitamins and minerals in the production of testosterone, such as vitamin D, magnesium, zinc, maybe Boron." And yes, you need zinc for proper testosterone production, so that is a cofactor you need. A lot of people, especially athletes, are deficient in zinc, so taking zinc is always a good idea, especially in the context of tongkat ali supplementation. And overall trying to enhance your testosterone production. Magnesium is involved there too. So it's no surprise that this ZMA stack was really popular for a long time, which was zinc, magnesium, aspartate. So people would take that before sleep, it would help them sleep a little bit better with the idea that would be enhancing testosterone production while they sleep. Honestly, I don't have a whole lot of trust in ZMA doing this, especially now that we have things like tongkat ali, readily available at high quality, those are much better options. But with that in mind, there was a reason for this. And zinc and magnesium and vitamin D are definitely important for our overall testosterone production. And this is why we also always say, and not just us, a lot of people in the industry say, the most important thing is to make sure that you're sleeping well, you're eating well, you're resting well, and you've got your basics covered. So magnesium, a lot of us are deficient in magnesium. If you don't have enough magnesium, it will impact a lot of things negatively. Cognitive function, muscle function, testosterone production, same exact thing for zinc, same exact thing for vitamin D and vitamin K2. So getting those basics covered first, making sure that you're getting enough of these essential micronutrients consistently on a daily basis is really important and is important not just for testosterone production. So you want to have adequate levels of these around at all times for all purposes, including testosterone production.
Erika
So now we're going to move on to another category of questions, and this I'm particularly interested in the responses for, because these questions are about testosterone in women. So we're going to start with u/juantoconero's question, which is "It would be interesting to hear about how these supplements affect women and older people of both sexes and any possible benefits, side effects or risks to consider in these groups."
Emiel
Yeah. Contrary to popular belief, women also need testosterone. And testosterone wouldn't necessarily give women facial hair and Adam's apples and stuff like that. In fact, the facial hair thing, we talked earlier about DHT playing a role in baldness, but it also plays a role in facial hair growth. So DHT is maybe something we want to look out for. But testosterone, women needed for libido, for building muscle, also for confidence, and for overall mood and things like that. So very important. And actually, since Erika has been looking into this herself and has been trying out some testosterone supplements for a while now, I'm actually going to let you answer the rest of this question.
Erika
Okay. So just to give a general overview, I started taking cistanche, I want to say, about four months ago daily. And the one thing I really noticed about cistanche when I first started taking it was the mood-boosting and the calming effects of it. It honestly felt like one of the most effective calming supplements I've ever taken. Even alongside of my favorite calming supplements like Sibelius Sage or lemon balm, for example. I take the cistanche tablets, and I find that it's really important in my daily stack to take cistanche, because it just gives me this seriously calming and grounded feeling. But it doesn't affect my energy levels. It doesn't make me feel super stimulated or particularly up or down. It's just like this nice kind of across the board calming mood boosting effect. And then when I started taking tongkat ali a few days ago, I really noticed a huge effect from the tongkat ali 10%, primarily with confidence and motivation. So, generally speaking, I can be somewhat of a fickle and picky person, and I really pay attention to details. And I can be very particular about certain situations, whether it's in my social life or in my creative endeavors. And I have found that since starting to take the tongkat ali 10%, I'm really able to address issues that would normally make me frustrated or normally feel somewhat emotionally or cognitively challenging. And rather than being stopped by those feelings or those obstacles, it's like I bulldoze straight through them. And as soon as the obstacle pops itself up or I become aware of it, I make it my point to be swift and direct in addressing that obstacle, which has meant that for the past couple of days I feel great. I feel confident. I feel like though tongkat ali 10%, it's not necessarily having this effect where I feel like I can speak better or more eloquently. I feel more confident in what I'm saying and how I'm communicating and the fact that there feels like there's more of a connection between my thoughts and my body sensations on the inside and how I'm able to translate that and put that out into the world.
Emiel
And speaking of your body, so we're covering the psychological effects now. What have you noticed physically?
Erika
Physically, I would say I notice more muscle tone. I think this is likely due to having taken cistanche for a couple of months. I noticed that I'm building muscle even though I'm not working out in the gym. But other exercises or other activities that I'm doing in my day to day life really require a lot of focus on posture and specifically like core strength and upper body strength. And I found that by taking cistanche for this extended period of time that I've been able to build strength in my core and in my posture, which is really helping me to just avoid repetitive stress injuries. But also I've noticed that I just have this feeling of calm. And so I have less issues with like nausea, less issues with certain digestive discomforts that I might have on a day to day basis. And just generally I just feel better physically.
Emiel
Perfect. And I think this is a thing a lot of women can experience if they open their minds to some extra testosterone, which I think through years of stigmatism, it's kind of like testosterone is for men. Women can't touch it. Similar to how estrogen is for women. Men should stay far, far away from it. And that's another common myth. Men need estrogen just as much as women need estrogen. So we should consider for all sexes supplementing with something like tongkat ali.
Erika
Absolutely.
Emiel
Have you noticed any negatives for yourself?
Erika
No, really the only thing that I've started to think about is the long-term effects and what kinds of effects testosterone supplementation has on things like fertility and my menstrual cycle and just these other cycles that I experience as a woman. And I think if I can use my personal experience related to my menstrual cycle, I would say that after starting some testosterone supplementation, I experience less intense PMS symptoms, specifically for mood. I think the physical symptoms of PMS, cramping, are also alleviated somewhat, although this varies depending on other environmental factors. But I would say in general, it does make my menstrual cycle less extreme and less intense.
Emiel
Perfect. Another kind of data point that testosterone is important for women and might underlie some of the negatives during menstrual cycles and could maybe help that.
Erika
Absolutely. And then to answer the second part of this question, which is how tongkat ali might benefit older people of both sexes, we've heard a really great array of reports from our coworkers and from some family members of coworkers who are older and who have been taking tongkat ali and really, really loving it for the motivation effects. It's helping performance in the gym, it's helping mood and just in general, really amazing and astounding to see just how effective the tongkat ali 10% in particular is for so many people. And Emiel definitely likes the 2% more. But we find that a lot of people, a lot of our coworkers really do love the 10%. And I think for older folks, the 10% seems to be really effective because it's a very direct and a very specific effect from that extract.
Emiel
And like I said earlier in the podcast, too, I grew up in Malaysia and would drive around and see these billboards with really old men on them with these Canes and then like a sachet of tongkat ali infused coffee next to them. And I was never able to read the Bahasa signs. But I'm pretty sure it would say something like, hey, if you're old and frail, take some tongkat ali and revitalize yourself, because that's kind of the imaging that was in the billboards. But interesting that in one of the countries where tongkat ali originated in Malaysia, it also exists in Thailand and some other Southeast Asian countries. But it seems that it is maybe marketed more towards older populations, especially older populations who have issues with libido and overall vitality.
Erika
Yeah, absolutely. So this leads us perfectly into the next question, which is from u/shiny_milf, which they ask, "I'd love to hear if these supplements could be beneficial for women AFAB," which is assigned female at birth, for anyone who's wondering. "I feel like we are so neglected when it comes to supplements that can boost our libido, energy, et cetera." And I'm going to go out and say, yes, I hear you and I agree. However, there are so many supplements out there, so many supplements that I have taken and tried that I've found have been really beneficial for energy and also for libido. And I would say that even though I haven't noticed the libido-enhancing effect specifically from tongkat ali, I think over the last couple of months of taking cistanche, I've definitely noticed some of these benefits. And then the energy aspect of taking cistanche and tongkat ali is really prominent and really noticeable even upon like the first day of taking these products. So if you're curious and these are two areas that you're really looking to support in your life and in your health, libido and energy, definitely give tongkat ali a try and try out cistanche, too because you might like one or the other better, or perhaps even both.
Erika
So our last question related to testosterone in women comes from u/PennyLaneKitty, and the question is, "Would love to hear more details for women. Please address any data or experiences for women. What considerations should we have? Appreciate our hormones are pretty tricky and change as we age, but so many women in perimenopause stage are looking for energy, building muscle keeping libido, and seeking any edge that they can get to keep up with everything on their plates."
Emiel
And actually, one of the main things that women in menopause or perimenopause or postmenopausal women experience is decreases in testosterone levels. So this is definitely a good thing for menopausal women or postmenopausal women to think about as well. Helping to enhance testosterone levels a little bit.
Erika
Absolutely. And from everything that I had discussed in the previous question, I would say try out tongkat ali, see how it works for you. Take note of the benefits and in terms of what considerations you should have, you should have the same considerations as any other person taking Tangata Lee, which is, are you getting the benefits that you seek from it? Does the dose feel right for you? Does it feel right for you to be taking it on a daily basis? And do you have enough research for yourself and information to feel confident and comfortable taking this? Because this is a really important sort of system to go through as you're trying new supplements. And I think what you refer to seeking any edge to keep up with everything on your plate. In my experience, taking tongkat ali the past couple of days, I feel like this has a really significant benefit for exactly this. So I would highly recommend and encourage you to give it a try yourself. Now we're going to switch into questions about the mechanisms of action related to testosterone, how testosterone is synthesized, and how tongkat ali itself works. So the first question comes from u/Delightfooll, nice name. And the question is, "Can I increase testosterone by lowering cortisol? What supplements can you suggest for this specifically?"
Emiel
Not really. Cortisol definitely impacts muscle protein synthesis and metabolism and actually can cause some catabolism. So lowering cortisol is a good way to enhance overall muscle strength and muscle building and things like that. Interestingly enough, though, tongkat ali is great at lowering cortisol, so you are literally getting both. When you take down a leak, you're getting testosterone synthesis benefits and you're getting cortisol lowering benefits.
Erika
Cool. And our next question related to mechanisms is coming from u/blyatboy. And this question is, "Does Tonga or any of the other natural testosterone supplements present the risk of down regulation of their respective receptors? In Tongat's case, I presume it would be Leydig cell, LH receptor, but possibly other receptors involved in its MOA from long term or high dose.
Emiel
Mode of Action, by the way.
Erika
Thank you for that.
Emiel
Yeah. So anything can cause some level of down regulation. That's just how our body works. But again, we are looking at not insane increases here. So I wouldn't expect shut down or anything like that to happen. And over time, yes, maybe we'll get a little bit less effective. But at the same time, you are elevating those testosterone levels and you might not have the same benefit of it after a few months. But overall, it would help maintain those testosterone levels at a slightly higher level. Other than that, I think this is another reason why you should stay away from high doses like we talked about in the cycling questions, the higher the dose, the more there is going to be a need for cycling off of it because you're pushing the extremes. You're getting much larger effect sizes, which for short term benefits might be good. But for long term benefits, you actually want to prevent very drastic down regulation from happening. So this is another reason why we just suggest taking a normal low dose of tongkat ali and just taking it long term so you can maintain those testosterone levels and you're not see-sawing back and forth all the time.
Erika
Absolutely. All right. Our next question comes from u/xnxxnxxxxn, and the question is, "I have no real questions about testosterone, but rather estrogen. Some stuff supposedly affects estrogen, such as astoxanthin found in your krill oil, but lots of us take it separately. So my question would be how to balance estrogen and testosterone effectively, especially in men who lift who don't want gyno or testicle problems."
Emiel
Yes. And this is a good question. And some of this I'm not going to mention the exact name because it's a bit of a medical thing, but the enhanced breast tissue growth in men is likely not due to estrogen at all. Like we talked about earlier in the podcast.
Erika
It's due to prolactin.
Emiel
Yeah. So with that being said, though, helping to balance your estrogen levels is a good thing. And it seems like your question is hinting at lowering estrogen levels. But this is a bad thing because men need estrogen as well. For example, estrogen is really important for microvascularization in your brain. If you take away estrogen, this could cause issues. estrogen also plays a role in the optical system, your eyes, so it could impact eye health and optic nerve health. So we want estrogen to stay around. One of the ways in which tongkat ali does enhance testosterone is by blocking one of the estradiol receptors. It's not necessarily lowering estrogen levels, but it is basically overriding the system that would limit testosterone production by blocking one of these estradiol receptors. But when you enhance hormone, luteinizing hormone is also important for estrogen synthesis. So when we are looking at things that help enhance luteinizing hormone expression, like tongkat ali and cistanche and fadogia agrestis, which we talked about earlier, which is not a great idea to take that probably. But when you take these luteinizing hormone-increasing supplements, then you're also increasing estrogen production in a beneficial way. So one way to actually help enhance both and help balance them is actually by taking the supplements we're discussing in this podcast.
Erika
Awesome. All right. Our next question comes from u/amazeface, and the question is, what are the risks of interfering with the hormone system? This was always something I was wary of. Ultimately, my curiosity led me to try tongkat ali, and I'm glad I did. But I wonder if there's still some wisdom to that wariness of hormone-affecting substances. Certainly, children should probably stay away from them at a minimum. What about college student aged people? When is it safe? Besides that, I would also echo some other questions around cycling this substance. I took it for a few months without a break and ended up feeling run down, though maybe another nootropic contributed to that, so I can't pin it directly on Tongkat. I only take it like every three days now. I'd be curious if there's some good advice around this."
Emiel
Yeah. So the hormone system is a little bit trickier and not as well understood as other systems in the body. But another thing is the hormone system usually gets abused to no end. And this is something we don't necessarily see with a whole lot of other things other than when we're looking at drug abuse or something like that. But in some of these bodybuilding circles, the hormone stuff they're doing there is definitely really pushing the limits. And I think we base a lot of our public perception about hormones and that kind of stuff on things like birth control and some of this performance enhancing stuff. But we're not really in that area at all. And we're looking at more natural ways of just optimizing and enhancing testosterone synthesis. And by just elevating it a little bit to where it is at more normal levels. If your testosterone is low or if your testosterone is at a more normal level to kind of get you a little bit more testosterone, but it's not really getting massive, massive increases of levels of testosterone that your body would never see. We are more mimicking youthful levels of testosterone. And this kind of brings us to the children thing. And no children should be taking any supplements, to be honest, until the age of 18 or unless you have some very serious doctor supervision, which is also why it says that on our labels. But after the age of 18, you could potentially take something like tongkat ali, but again, at the age of 18 and below that, your testosterone levels are probably quite high and you are doing a lot of muscle protein synthesis. So is there really a need for it? Would it really do anything if your testosterone levels are already that high once you are past the age of 18? Maybe you're 22, 23, 24 or something in that age range and you're starting to get more stressed and your nutritional intake starts to degrade a little bit because you're in college and you're probably pounding beers all weekend long like I did, then taking something that helps enhance testosterone production is probably a good thing, especially as we start to get a little bit older. So that being said, you can try it if you're college aged, stay away from it as a kid. You don't want to take anything under 18 anyways and you probably really don't need it anyways.
Erika
Nice. I like that response. So moving nice and quickly onto our next question from u/nightwaif. "I'm interested in tongkat ali's ability to inhibit aromatase. I've seen people mention this a lot, but I wonder if there's any evidence to back that up or how strong the inhibition is. I haven't gotten blood work to support this, but I seem to get high estrogen sides when I use your 10% extract daily and I expected it to have the opposite effect." So Emiel, what say Ye?
Emiel
Again, we're not really talking about enormous increases in testosterone that you would never see in a normal human being. We're more optimizing overall testosterone. With that in mind, we're probably also not seeing a ton of testosterone being aromatized into estrogen and tongkat ali does seem to have some mild anti-aromatase activity which would help prevent some of this conversion of testosterone to estrogen. But like we've been touching on a lot, I think we are oftentimes misreading the negative effects we're getting or misattributing the negative effects we're getting with some of this hormone stuff to estrogen when it is really prolactin. So again, I think prolactin is the culprit here. So having something like apigenin which can lower prolactin levels might prevent some of those things from happening. And maybe some of the negative effects that you're experiencing is actually because of prolactin and not because of estrogen.
Erika
Good to know. Now another question from u/Delightfooll. "Echoing other comments, this is from your description of cistanche. Echinacosides support overall testosterone levels. Isn't free testosterone what matters, not overall levels? How do we finesse this, the role of aromatase inhibition? Does testosterone affect dopamine, motivation, mood, and if so, what's the general significance?"
Emiel
Yeah. So you have indeed bound testosterone to sex hormone binding globulin, SHBG, and then testosterone bound to albumin, and then you just have free testosterone. Free testosterone is what is interacting with the androgen receptors and is causing the effects that we want bound up testosterone isn't, but you need bound up testosterone to transport it around your body. So if you just have a bunch of free testosterone floating around, then it might not actually get to where it needs to. So we are actually concerned about elevating overall testosterone levels, not just free testosterone levels, because we want that testosterone to be able to get to where it wants to get. So enhancing overall testosterone while making sure that we don't have everything always bound up is the way to go. And this is kind of what tongkat ali seems to achieve. It seems to achieve a nice balance between bound and free testosterone.
Erika
Awesome. And now we're going to move on to a really interesting selection of questions about cholesterol and testosterone. So our first question comes from u/Hyrcane, and the question is, I would be interested in learning more about the relationship between cistanche and cholesterol intake as well as tongkat ali with iodine. I've read some people and u/MisterYouAreSoDumb talking about it on the subreddit.
Emiel
Yeah. So testosterone is synthesized at the end of the day from cholesterol, so you need cholesterol to help enhance testosterone synthesis. It doesn't necessarily mean eating more cholesterol-containing foods is going to help enhance testosterone synthesis.
Erika
That would be nice.
Emiel
It would be nice. And if anything, we usually have too much cholesterol floating around. And I would say we're probably never really in this situation where we just have such low cholesterol levels that we can't really make testosterone from it. So that's why when we're adding things like tongkat ali or cistanche in, we do get fairly good testosterone synthesis enhancing abilities from cholesterol without really messing with cholesterol too much. That being said, perhaps because more cholesterol is being turned into testosterone, potentially it could be seen as that is a cholesterol-lowering strategy, except we're not burning through grams of cholesterol to do this. We're burning through small amounts to produce relatively small amounts of testosterone because we're talking about testosterone in like 1020 30 milligram levels floating around. We're not talking about grams floating around, like we do see with some other endogenous compounds like glutathione and things like that, which are present in grams. But you won't see a huge drop in cholesterol levels, likely from enhancing testosterone synthesis. The iodine thing is interesting. I'm still not entirely sure why this helps, but it might have something to do with thyroid hormones and how this interacts with tongkat ali, so that's kind of, I think where we are looking at this, it does seem like taking some iodine with tongkat ali is nice. And actually, we could probably all take some more iodine because we are likely a little bit low in iodine, which is also why sometimes you see warnings on table salt that it says "This is not a good source of iodine." Or sometimes you see iodinized salt because it does seem like we are all a little bit low on iodine. So taking some extra iodine is not a bad idea, and especially if it seems to enhance the activity of tongkat ali.
Erika
Awesome. Our next question comes from a frequent question asker, u/solothesensei and this question is "If testosterone is ultimately made from cholesterol, then what part of the conversion process usually goes wrong that leads to low testosterone assuming adequate cholesterol intake? I know ND has a few products that help and would love to get a broad overview of how they fit into the picture, perhaps as cofactors or enzyme activators." Excellent question, as always.
Emiel
Yeah. So Cholesterol is being turned into testosterone by a bunch of different enzymes, actually, some CYP type enzymes, too, and tongkat ali and cistanche and even Shilajit, they help enhance what they call these steroidogenic enzymes. So these enzymes that are converting Cholesterol into testosterone. So maybe if something goes wrong here, we would see lower testosterone levels, and that definitely seems to be the case and especially as we age. So Shilajit specifically seems to enhance testosterone levels and aging individuals. And if we consider that these aging individuals have lower levels of these steroidogenic enzymes, then enhancing this enzyme activity with something like Shilajit, tongkat ali or cistanche is going to help there. That being said, when things go wrong, I think they might go wrong somewhere else, like tongkat ali blocks one of these estradiol receptors that kind of serves as a check. If it determines that there's too much testosterone floating around, then it will kind of shut off testosterone production. And I think this is more where the issue is. So the issue is probably much further upstream in the hypothalamus and the pituitary. And this is also where you see individuals who play extreme sports or in football, and they get certain head injuries. If they have injuries to their pituitary gland or the hypothalamus, then testosterone production can be impacted. So we want to enhance these things or prevent this from happening in athletes. So this is something Andrew Huberman talks about a lot on his podcast, too. And it's a really interesting topic that I think hasn't been researched enough yet. So we might figure out a lot better strategies of how to keep testosterone production and synthesis good in athletes and extreme sports, but also just aging individuals or individuals who have other sort of issues where they can't produce enough testosterone.
Erika
Nice way to flex on that question, Emiel. I'm impressed. All right, now we're going to go into another segment of questions, which is about side effects. And our first question comes from u/Savage545 which is "Will taking these supplements to increase testosterone, contribute to or speed up the process of hair loss or balding? If so, out of Tongkat, cistanche, Epicatechin, etc. Are some more prone to cause hair loss than others? Also, what is the ideal timing for taking these supplements for bodybuilding first thing in the morning, right before bed, pre workout, post workout, etc. With food or on an empty stomach? Lots of questions within that question. So we'll just go through them nice and efficiently for you.
Emiel
Yeah. Like we talked about a little bit earlier, DHT is really the thing that contributes to hair loss. So enhancing testosterone levels could in theory, enhance DHT levels, which then could in theory, enhance the process of hair loss. But that being said, with something like tongkat ali or cistanche, Epicatechin doesn't even really enhance testosterone levels so that's definitely not a concern there. And the level at which testosterone is being enhanced by things like tongkat ali and cistanche, I don't think you're going to get massive, massive increases in DHT, like some of these Mr. Universe type bodybuilders we see, which is why they're mainly all bald. We're likely not seeing that here, so I wouldn't really worry about that. It's another thing with creatine. Even though creatine enhances DHT levels, we don't see people suddenly losing their hair because of the extra little bit of DHT from creatine. There are some things you can do to help prevent some of this DHT from being formed, but at the end of the day, we need DHT. DHT also has an effect on our cognitive function and muscle growth, and it's an important compound to keep around. So that being said, I just really wouldn't worry that much about DHT in a supplementation setting.
Erika
Awesome. And now the second part of this question, which is "What's the ideal timing for taking these supplements for bodybuilding first thing in the morning, right before bed, pre-workout post-workout, et cetera, with food, or on an empty stomach?"
Emiel
In terms of timing. Really, honestly, take it whenever you want. We're more long term trying to optimize the synthesis of testosterone, and this is more of a long term thing. So whenever is most ideal for you, I will say, because tongkat ali does have a bit of a calming effect and it can knock down cortisol levels. This could be a really good thing to take post-workout, for example, because after your workouts, cortisol spikes. So you could help blunt some of this exercise-induced cortisol spike, which could be catabolic by taking some Tongkat. This is another reason why people like to take carbohydrates after a workout, because carbohydrates help blunt that cortisol response too. But taking something like tongkat ali after a workout might have the double benefit of knocking down that cortisol, enhancing anabolism and then also enhancing overall testosterone levels. Then in terms of with food or without food. If you can handle the tongkat ali on an empty stomach, which not everyone can, then just take it on an empty stomach because it will cause faster and more complete absorption, whereas taking it with food, you will have slower overall absorption. You won't reach as high of serum levels. But on the other hand, you will extend the effects a little bit because you're slowing down absorption, which also means you're slowing down excretion. So there are benefits to both. I always like taking my supplements on an empty stomach when I can, though.
Erika
Nice. All right. Our next question comes from u/12ealdeal, and the question is, why does tongkat ali make me feel sleepy, tired, unmotivated for a brief period after taking it?" And before you answer, Emiel, I do have to say, when I tried the 2%, after about 35 minutes or so, I had a period of 15 minutes where I felt really sleepy and really relaxed and then all of a sudden it kind of went away.
Emiel
Cortisol reduction.
Erika
Makes sense.
Emiel
Yeah. So tongkat ali does a really good job of knocking down cortisol. If you were to take it first thing in the morning, especially right around like ten or eleven, then your cortisol levels are usually the highest, which also helps you stay alert in those early hours of the day. So if you're knocking down cortisol levels there, you could certainly notice that kind of effect.
Erika
Awesome. And that leads into our next question from u/jcash2142 which is "It would be cool if you guys could talk about the negative reactions to Tongkat and any counters. It worked great for me in the past, increasing testosterone, muscle size, energy, but it also gave me insomnia. If I take it now, I end up feeling fatigued. I assume it's something to do with the anti-estrogen effects, but who knows?"
Emiel
It's likely, again, the cortisol. So I've looked into this a few times because a few different people have experienced this and I've kind of been at a loss. What exactly is going on? Because I've actually heard a similar thing from our marketing director yesterday. They've been taking the Tongkat 10% for about a month now, I think, and his sleep quality has really improved. So there seems to be two sides of the coin. And it does look like if your cortisol levels are really low, you might actually get this paradoxical issues with sleep. So perhaps your cortisol levels are a little bit too low, which would be worth checking into. It would be worth maybe taking cistanche instead, because cistanche doesn't have this much of an effect on cortisol levels. Or you could take something like ginseng because ginseng helps mimic cortisol. So it produces a very small controlled stress response, which is important because you actually do need some cortisol to stay motivated and alert and focused. So one thing you could do is maybe try taking Tongkat together with ginseng, maybe the ginseng leaf extract, because it's a little bit more stimulating than the other ones too. So this could help. And again, I really don't think it is necessarily related to estrogen. It's probably cortisol.
Erika
Awesome. And now moving on to another question. "I'd love to hear a discussion on possible supplements to stack with tongkat ali," and then quick interjection, we've done that at length, so you've probably got plenty of things to work with here, "in order to counter the reported anti-estrogenic effects. I've always taken five milligrams DHEA daily with it, which I'm not really sure is helping or not. It would be nice to know if this is a good strategy or if there are better ones out there." Emiel, you'd probably be the perfect person to ask.
Emiel
Yeah, because I actually take DHEA with it as well. And I also take pregnenolone, both in five-milligram doses. And I hope this is something we'll carry at some point in the future, too. And I do feel like it helps enhance the overall effectiveness of tongkat ali. Again, because one of the things that cholesterol turns into before it turns into testosterone is pregnenalone and DHEA. So they work as very efficient precursors. And taking those alongside things that help enhance overall testosterone production is a really good strategy. So, yeah, good intuition there and good intuition on sticking with the low five-milligram dose of DHEA, because most people way overdose DHEA. It's a similar problem that we see with melatonin, for example, where most over-the-counter products are dosed enormously high. You want those lower doses, they work better.
Erika
Awesome. And our last question in this realm of questions comes from u/eamonn123. And they ask pretty specific question, why would tongkat ali and cistanche cause brain fog? I noticed the 10% causes a lot more brain fog than the 2%.
Emiel
This may again, be a cortisol thing. Your cortisol may just be dropping a little bit too low and you're getting that unmotivated lethargy thing. So the fact that it's happening with cistanche, I don't really have an explanation for necessarily maybe elevated testosterone levels don't really work well for you. Or if it is cortisol-related, again, taking something like ginseng alongside with it might solve some of these problems.
Erika
Awesome. And now getting to the most exciting and controversial part of our podcast. We're going to talk about one question on Fadogia. And it comes from u/12ealdeal. And the question is, men in my social circle have been taking Fadogia and they all say their testicles have increased in size. Why is that? I'm skeptical of it. And after just preliminary digging around on Reddit and on the internet, it's on my not-yet list.
Emiel
And it's on my not yet list, too, because this testicle enlargement effect is being attributed to this effect on luteinizing hormone, which, as we talked about a little bit earlier, enhanced luteinizing hormone production will also enhance the density of leydig cells that may grow the testicles because of that. But in some of the studies I was looking at, the testicular increases or size increases may also be an indication of its potential testicular toxicity. So it seems to mess with some other enzymes in the testicles that might cause them to swell a little bit and get bigger. So, yeah, maybe your testicles are getting bigger and maybe this is what you want because we all want big balls, right? But at the end of the day, this might actually be a sign of toxicity. So another reason not to take Fadogia like we've talked about in the actual body of the podcast, there are some toxicity elements that have not been properly explained away yet by science. So it might have testicular toxicity, it might have liver toxicity, and it might have kidney toxicity. So before we know more, I'm going to keep this one on my not-yet list.
Erika
Awesome. And last but very not least, we have questions about other testosterone supplements. The first one coming from u/TheOptimizzzer who is asking great questions on a lot of our podcasts. And this one is "Also, are there any studies indicating that Shilajit actually increases testosterone? And, is washing down Shilajit with tap water actually concern at normal chlorine levels, or is that a myth?"
Emiel
So there is some evidence that Shilajit enhances steroidogenic enzyme activity, part of the thing that takes cholesterol and eventually turns it into testosterone. But this effect really seems to work the best in older individuals or individuals with impacted enzyme activity there. But in older individuals, there is actually human clinical data showing increases in testosterone, so there is some evidence for it. Whether or not this happens in young, healthy people is a bit of a question mark, but the evidence and the mechanisms are there for supporting testosterone synthesis, but not really at the same magnitude as something like Tongkat or cistanche.
Erika
And then for the remaining part of the question, "Is washing down Shilajit with tap water a concern on normal Chlorine levels?"
Emiel
Yes. So this is a bit of a question mark, too. And the data is there to show that chlorine interacting with Shilajit is potentially not good. So I would just say skip this and Shilajit tastes kind of gross anyway, so it's probably better to take it in a capsule or in an Oblate disk anyway. And then you would prevent this issue of potentially Shilajit interacting with Chlorine.
Erika
Good to know. All right, our next question comes from u/lewanay, and the question is, can you talk about the mechanism of Tribulus? Is there any synergistic effect with combining Tongat, cistanche and Tribulus?
Emiel
So Tribulus, a lot of people seem to think that it enhances testosterone levels, but I really don't think it actually enhances testosterone levels, but it might have an effect on mTOR, which will enhance muscle building and muscle protein synthesis. So I think that's where some of the strength benefits are coming from with Tribulus. And we're actually looking into some Tribulus extracts because we do think it is quite interesting, but we kind of need to set the record straight that it's likely not a testosterone enhancing thing, even though it's oftentimes promoted as that. That being said, because it is working through a different pathway, but it still seems to be enhancing overall muscular strength and endurance and things like that, recovery. It could be very good to stack alongside something like tongkat ali or tongkat ali and cistanche because of their potentially synergistic effects, since they are working through different mechanisms.
Erika
Awesome. Good to know. And another question about other testosterone supplements comes from u/cheddabob25. Love that name. "Would love your thoughts/research on ashwagandha for testosterone support, and also the combo of fenugreek and ginseng."
Emiel
Ashwagandha does seem to have some minor testosterone benefits, more so supporting testosterone levels not necessarily increasing testosterone beyond your normal baseline levels, but more maintaining it there and helping to enhance overall vitality through some research there. It seems to work well, so it is a good one. But again, if you're really looking to really optimize your testosterone levels, go with something like Tongkat or go with something like cistanche, or go with something like cistanche and then stack it with Shoden or Ashwagandha. I always say Shoden now because Shoden is just my all-time favorite. The other ones are really nice too by the way, but I really like Shoden. Anyways, if you take something like Ashwagandha alongside cistanche, you might have this nice stress-relieving effect, but also dropping cortisol levels in a similar way to tongkat ali, but maybe in a more controlled way too. So those could stack well together.
Erika
Awesome. And then the second part of the question about the combo of fenugreek and ginseng and we don't currently have a fenugreek extract, but I love fenugreek as an ingredient for food. I'm really curious what you think about this combination.
Emiel
There is some interesting research there that fenugreek may indeed help enhance testosterone synthesis. I haven't delved too deeply into it, so I still have to do this and I'll have to specifically do some research actually into the fenugreek and ginseng combo because this is one that's new to me. Ginseng is another one of those where it will probably help support overall testosterone levels, but it may not really boost testosterone levels to the levels that we're wanting to see and that we see with things like Tongkat. But it could again have a supportive role and ginseng would stack especially well with Tongkat because Tongkat is dropping cortisol levels, but then Ginseng is providing some of that more controlled stress response through its cortisol mimicking abilities, so having taken those together would probably make a really nice stack overall.
Erika
I love it. And our very last question comes from u/TheEternalTruth. What a great name to end with. And the question is "What about information on Turkesterone? This research chemical is all the rage now, especially since a few popular YouTubers brought it to the awareness of the fitness industry." Emiel thoughts on Turkesterone?
Emiel
So Turkesterone is not a research chemical, I'll just say that right away. It's actually something that is technically found in nature. I don't want to give away too much information yet, but we have been doing a lot of research into this and it's not looking all too great for Turkesterone, so it is something we're interested in. It is something that we don't necessarily think is realistically possible, and we'll talk more about this later when we are ready to present our research on this. But it is an interesting thing and I know actually Andrew Huberman has talked about it too, which is probably where some of the interest is coming from as well. But Turkesterone is also very similar to beta ecdysterone and that is something that's more realistically possible. And you may see from us in the future. In terms of your last question about SARMs or, I'm just reading it off the page here. Erika hasn't said it, but this is not something we will discuss or ever carry. They're not really allowed to be sold as supplements and they're a little sketchy, in my opinion.
Erika
So what an episode, right Emiel?
Emiel
Oh yeah.
Erika
We covered a ton of ground. Thanks to anyone who's still listening. Truly. Thank you. And thanks for your questions. And thanks for steering the In Search of Insight Podcast into these really interesting areas. We covered so much ground today, talking about testosterone and hormones in general, talking about tongkat ali and cistanche and fadogia agrestis and the way that we at Nootropics Depot approach testosterone supplementation. I'm really glad to have tried out Togkat Ali, the 10% and I'm excited at the effects that I've experienced over the last couple of days because I think when it comes to conversations about hormones, we can all be really sensitive and perhaps deterred by fear or misinformation to not dig a little bit deeper and find out for ourselves what's going to be beneficial for supporting testosterone and supporting these areas of our lives, like our workouts and intimacy in our lives and energy and motivation. But Nootropics Depot, we're all about pushing the boundaries. We want to research, we want to learn more. And that's really what drives the In Saerch of Insight podcast is our curiosity, your curiosity and your questions and the back and forth that we get. So, for anyone who's not aware who might be listening to this podcast, we have a really active subreddit where you can talk with us all the time, not just through questions in the podcast, but you can actually ask questions on our subreddit that's r/NootropicsDepot and get into conversations with other Nootropics geeks just like you every single day. So go and join our community on Reddit, r/NootropicsDepot and join the conversation and ask your questions and share your knowledge and research studies that you're finding. Because the more exchanges that we have, the more we all learn and the better able we will be to optimize our health and to push the nootropic supplement industry forward, which is our main goal and the thing that we're truly passionate about at Nootropics Depot. So thanks for participating. Thanks for coming on this very long podcast journey with us. Thank you, Emiel, for your wealth of knowledge and your answering of all these questions that we have and really guiding us along this super informative conversation.
Emiel
Of course, it's a lot of fun and it's a lot of fun to be able to talk about this at more length because this is what I really like doing and I don't often times have the opportunity to do so because this goes over a lot of people's heads. But you guys are very smart and I'm confident that you're understanding what we're putting out there.
Erika
Absolutely. And if you do have follow up questions or things you want to know about specifically from the podcast, write us a comment on YouTube, make a post on Reddit, interact with us on Instagram or Facebook. You can follow us on social media and as always you can listen to the In Search of Insight podcast on a host of your favorite streaming platforms so be sure to check it out, share it with your friends who might be interested and come back next month. That's going to be, the next month is going to be our 7th episode of In Search of Insight, for more information, new products that have been released and exciting conversations all within the world of supplements. So with that we will sign off and say thanks for listening and we'll see you next time. Bye!
Emiel
See ya.
Where To Listen Elsewhere
---
#005 | A Delicate Balance | The Science Behind Intelligent Supplement Stack Development | Natrium Health
Erika
Hi, and welcome to In Search of Insight, Nootropics Depot's monthly podcast. I'm your host, Erika or u/NootropicsDepotGuru on Reddit. And standing across from me is our product specialist, Emiel.
Emiel
Hey, everyone. And I'm called u/Pretty-Chill on Reddit.
Erika
So this month we are getting into a very exciting topic, which is stacking and stack development with Natrium Health.
Emiel
Yes, and Natrium Health. For those of you who are unaware of that brand, it's our sister brand of Nootropics Depot. So if you've been on Nootropics Depot and you've seen some of these products on our site, it's not a different company. Well, it is a different company, but it is us. These products are made by us, they're tested by us, and we develop them. And the development process is what we'll be talking about today.
Erika
Before we get into that complex process of talking about stacks and stack development, I want to know a little more about the history of Natrium Health and where the sister company actually came from and why it was started.
Emiel
Natrium Health started as our outlet for natural products and mostly natural products in stack formulations, which is what we'll be talking about during this podcast. The important aspect of this was Nootropics Depot and Ceretropic, the company that we still had around at the time, we were just doing single ingredient things in bulk so that you could just experience a single ingredient and you can make your own stacks. And it was more geared towards people who really knew what they were doing and very advanced users of supplements and users that could very easily put together effective stacks. But stack development is very complex, and we got more and more requests if Nootropics Depot could do their own stacks. And we realized at the time, at least Nootropics Depot wasn't necessarily the right platform for this. And that's why we developed Natrium, so we could have more creativity with the products that we do, different branding. So you'll see, with Natrium Health, our labels are a little bit flashier, and we had a lot of fun with that. And the stack development product is more interesting and dynamic. So the whole purpose of it was to have a refreshing young and fun brand with products that are easy to use and easy to understand.
Erika
And that makes a lot of sense because some of my favorite stack products that Natrium Health puts out are just standbys that I take every single day in my daily stack. But I don't want to get too far into that right now because there's a big question, and it's something that you all ask us a lot on Reddit and in emails, which is, what is a stack and how do I create an effective stack? And what all goes into putting together a stack that works for me.
Emiel
So I would say a stack is at least two ingredients, if not more combined, taken at the same time with the intention to have synergistic effects. A very good, simple example of this is caffeine L-theanine where caffeine is the focal point, and we want to change something about caffeine specifically, we want to change the edginess, the stimulation of caffeine, the jitteriness. When we add L-theanine, we shave off that jitteryness that edge, and now we have a synergistic stack.
Erika
Okay, that makes sense. So stacking is a way for us to combine ingredients, not just because they both have benefits, but also for those ingredients to be interacting within our bodies as they're being metabolized and absorbed, right?
Emiel
Yes. And there are two different types of stacks in that sense. One where the focal point is one ingredient and we are trying to enhance and another where we are trying to just achieve a single effect. So if you look on Natrium, we actually have two different categories of stacks. We have essential stacks, which basically are stacks that are developed around one focal ingredient, trying to make it better. So, for example, Optimala is enhancing and optimizing alphalipoic acid. Panamax is optimizing Panax ginseng and Dynamax, which we'll talk about a little bit more in depth later, it's kind of broaching that gap between the essential stacks and the comprehensive stacks, because there's a lot going on. But really, at its essence, the Dynamax stack's focal point is caffeine. And we just took it to the extreme.
Erika
Because I don't have a strictly scientific background. In fact, science was not one of my favorite classes in high school. I didn't take science when I was in college. I'm really curious to know, Emiel, what were some of your challenges and some of the obstacles that you experienced when you first started formulating stacks for Natrium health?
Emiel
My biggest issue was that I am a scientist and a little bit too hardline of a scientist when I started. So I would read 50-100 studies a day, and I still read a lot of studies a day, not as much as back then, but I would just pour through the research all day, and I would pull out all of these interesting ingredients and conceptually on paper think these two ingredients will go great together. And I had a bit of a reality check when I made Sleep Support, the first formulation of it. I was making the beta testing capsules myself. So in a very controlled environment, I was measuring out all the powders and blending it together in the V blender and creating basically small batch runs of capsules. So I was very excited. This was one of the first ones we'd really done a comprehensive stack. The capsule came together perfectly. I distributed all of them. We went home, we took it, and we had the worst sleep of our night.
Erika
This is the beta testing group, right?
Emiel
This is the beta testing group. So it's just people around the office and willing friends and family who say, hey, what's that funny looking capsule? Yeah. Okay. Here, take it and tell us what you think.
Erika
Okay, so then what happened?
Emiel
It's very internal. So after that, everyone had a terrible night of sleep. We all fell asleep perfectly fine. 2 hours later, we all woke up in a puddle of sweat. Turns out I was a little bit blinded by the science because I was reading papers in very controlled environments. So a lot of these papers on sleep studies, they're not doing them necessarily on humans. They're doing them on laboratory animals, mostly rats and mice who are fed the exact same diet at the same time every single day. They have controlled amounts of light and dark periods.
Erika
So nothing similar to what a human being might experience on a daily basis?
Emiel
No, not even close. Sometimes I wish I was a rat and I had such a predictable schedule. But the reality is humans don't really have predictable schedules. All sorts of stuff happens all the time. You can't get to sleep because there's a cat outside meowing too loud. Or there's
Erika
Changes in your diet, perhaps?
Emiel
Changes in your diet, changes in your emotional wellbeing, maybe you broke up with a girlfriend or a boyfriend and you're so emotionally distraught you can't sleep anymore.
Erika
Okay, so how does this have anything to do with Sleep Support though?
Emiel
Well, to bring it back with animals, they live in such a controlled environment that you can just give them something and it will pretty much work and you observe them and they have a perfect night of sleep and maybe it's a little bit better. There are certain aspects of it that get measured and those things end up in studies. And if you just read those studies and never try those ingredients out on yourself, then you'll only know what it does in an animal model. And we really appreciate animal studies. In fact, most of what we know about supplements and isolated compounds and neurotransmitters and things like that are because of animal studies, but we want real world results. So if we just pour through the research, slap a bunch of ingredients together that according to separate research studies should go well together, then the end result could be something like the disastrous first version of Sleep Support. It actually took seven versions before we got it right.
Erika
That was going to be my next question, but I really didn't know that it was that intense and long of a process.
Emiel
Very long. And then when we did arrive at our 7th version and we put it out into the world, it was very well received until a few months later, a couple of people popped up that were saying they were having adverse effects to Sleep Support and it was keeping them up and we isolated it to the micro zinc. So the zinc content. So early versions of Sleep Support contain zinc and now they don't contain zinc anymore because more and more people start popping up with this problem. But if you look at all the research that's out there. Zinc should help with sleep, and there is no known pathway by which it should impede sleep. Which brings up a really interesting question, why is this happening? And I think I found out why it's happening, but that's not really a topic for conversation in this podcast. Maybe I can talk about it on Reddit at some point.
Erika
Yeah, absolutely. So once you got to that final version of Sleep Support, but then you're still getting feedback that it wasn't having the effect that you were hoping for, what happened then? So you removed the zinc and then how's the feedback been since then?
Emiel
Perfect. Yeah. All the problems that people were having with it disappeared after we took the zinc out. And it didn't really seem to make it a less effective product for people that did respond well to the zinc. So it was a pretty good trade off to take it out, but it was unexpected. And I think this is one of the things that sets Natrium apart. We look at the science, we formulate based on the science, we try it out, but then we're not so rigid that we don't deviate from this at all. We want real world results. And this is why I've oftentimes said stack development is sometimes more of an art than a science, because you need to know what these ingredients do when you put them together. And the only way to know that is by having experience with it, building up the skills, and then relying on those skills to bring it all together into a stack and then validate that stack again with science. So the science is always there. But you need to know how to be skeptical of the science, how to manipulate the science to your liking. Similar to cooking, if you cook from a recipe book, maybe the salt you're using has a slightly lower sodium concentration than the salt that the author was using, and maybe that's going to change the salinity in your end result, and then it's not good. But if you're tasting your food as you're cooking, you can compensate for that, and that's where the art comes in.
Erika
Yeah, absolutely. And this is kind of this tasting aspect or this idea of continuing to refine a stack is something that I am aware that Natrium health and the Natrium products go through a lot. You take a lot of time to reformulate products and take out or add ingredients that might optimize the stack itself to a point where it can be more effective for people. And then, like in the example from Sleep Support, we're also taking the feedback from you people who are taking these supplements into account and considering what kinds of additions or subtractions might make the stack useful for even more people. And that exchange that we have and your reviews and your interactions, and you sharing your experience, whether it's on Reddit or a product review or in an email that really has a significant impact on the way that our stacks are formulated, because we also rely on your experience, too. Just as consumers and people who are educated and curious about finding the best ways to optimize your daily stacks.
Emiel
Yeah, it's important to realize that a lot of the people behind Natrium Health and Nootropics Depot and Ceretropic at the time, we all use these products ourselves. We are all biohackers, too, and we want safe and effective products. So this is a very good position for us to be in because we get to develop products for you, and we get to develop products for ourselves, kind of while we're doing that. But that also means that our stacks have real world results with real human beings in mind, not lab animals in a study or just some random people who came into a clinical trial and tried, like, caffeine L-theanine in together and then had to go through some terribly boring, arduous task where you're sitting around memorizing words and doing it.
Erika
Playing with blocks, or filling out a survey.
Emiel
Yeah, I have a degree in psychology, so I've run a lot of these studies myself and running the studies, I didn't like it. Interpreting the studies, I didn't like it. And talking to a lot of the people in those studies, they didn't really like it either. And I think if you're trying to develop a product that's supposed to be taken just in normal everyday life in such a setting, you get very boring, homogeneous products. And if you look around at all of the stacks that are out there, they're all pretty similar. And when you compare those stacks to our stacks, our stacks can seem a little bit weird sometimes. Like, why did they decide to do that? For example, something in Sleep Support that a lot of people always are confused about is the fact that we put Shilajit in it and we put Shilajit in it because Shilajit seems to have glycine-mimetic effects and through this can enhance sleep, but wrongfully so, for whatever reason, a lot of people think Shilajit is a very strong stimulant. So they're always confused why we put it in there, but because we actually had years of trying out Shilajit ourselves, we noticed that, hey, if I take Shilajit close to bed, I sleep a little bit better. So based on that personal experience and then validating that with science, we decided it was a good ingredient to use in Sleep Support. Actually, Sleep Support was pretty polarizing because another ingredient in there that is for some reason wrongly assumed to be a stimulant is Uridine. I even went along with it for a while until I started seeing some reviews on our website pop up that people were having great success with it for sleep. And then when I was digging into the studies, I found that, yeah, there is actual evidence for Uridine enhancing sleep, but relying on that humanizing aspect of all of this makes it so that we have very effective stacks.
Erika
And as opposed to your kind of dry and controlled experience of putting together experiments and testing, whether it's different compounds or different ideas in your College days, the process of bioassaying and the process of researching for Natrium stacks is pretty fascinating and exciting because like you said, with stack development being a little bit more of an art than a science, there's always some creativity included in art or in things that you're creating. I think that's something that I really enjoy about Natrium Health stacks is they're creative and they're innovative, but above all, they're super effective. And having that element of creativity and flexibility to really trust in your own experience of a single ingredient or your own experience of a stack is such an important part of the development as a whole, because we really rely on the feedback from customers and our own personal experiences when it comes to putting together an effective stack. Whether that's a stack in one product, in one capsule, or combining different single ingredients in our daily lives to make stacks for ourselves.
Emiel
Absolutely. And one thing that this highlights is we don't like to play it safe. We come out with polarizing products that have real world effects. We don't design products just because they will sell. We could very easily do that. If we came out with a spirulina and Chlorella capsule with maybe some collagen in it, we would sell a lot of it, but it doesn't work. Chlorella basically doesn't do anything. Spirulina is very interesting. We'll probably do something with that in the future. But there are a lot of stacks out there that just combine ingredients for the main fact that they might have good search engine optimization results or they might just be searched for a lot. Or if you just slap those ingredients together, yeah, you'll sell it.
Erika
People recognize them, so they seem kind of familiar and stuff.
Emiel
Exactly. And that's not what we want, and especially not with Natrium. We want novel, innovative stacks that work, and that kind of push the boundaries, and that maybe make some people a little bit uncomfortable. Like if you're looking at sleep support, you might look at the formula and go, there's no way that's going to work. It has uridine, a stimulant and it has shilajit, a stimulant. But having stacks there that kind of push the boundaries and have real world results is what we like. And this is probably due also to the personalities of a lot of us. We like to live on the edge a little bit. We like to really push the boundaries. We like to push each other's buttons. We're always challenging each other and challenging each other to be better and to further push the boundaries and to discover things that no one's talking about and to try out combinations that no one's talking about and to find effects that no one's talking about. That's our bread and butter.
Erika
Absolutely.
Emiel
And that's why these stacks work.
Erika
And one of those products that I know for a fact is the result of that push is one of the most recently released Natrium health products, which is Dynamax Plus because there's an original Dynamax which is super effective. It's our optimized caffeine supplement. But then we recently just released Dynamax Plus, which is our optimized caffeine supplement to the max turned up to eleven. That was one of our hints that we gave you when we were asking what you thought the next Natrium release would be.
Emiel
And it really is because the Dynamax Plus is intense and we're really tiptoeing the line of what's possible with caffeine, really pushing the limits here a little bit, but still trying to make sure that we have a safe and balanced product. And part of this is also there are a lot of extremely high caffeine products out there. I've seen pre workouts that have close to 800 mg of caffeine in it per serving, which is just insanity. And we've seen a lot of energy drinks like Bang Energy and Rain Energy and I'm sure there's others on the market now that have at least 300 milligrams, maybe even more at this point of caffeine in there. So sometimes we see trends like this happening and we realize that it's undeniable. People want high caffeine products and a lot of people started requesting that we came out with a higher energy Dynamax formulation because they really like the overall character of effects, but they wanted a little bit more. So we have in the past suggested people just drink a cup of coffee and then take Dynamax Plus, but that's kind of inconvenient and at the end of the day you want an all in one product. Especially I imagine people that consume high amounts of caffeine probably have the need for a lot of energy in their day because maybe they do so much that they're short on time and they just want to open a bottle and take a pill and be great for 8 hours. And that's exactly what Dynamax Plus is. But because it is such a high caffeine stack and especially for myself, I'm a pretty low caffeine user, so developing Dynamax Plus was kind of an adventure because I was taking super high doses of caffeine and that's really intense. But if I had shied away from that and went, no, I'm not a high caffeine user, I can't beta test this stack, then it wouldn't have worked because we need my input and we need MisterYouAreSoDumb the owner of the company that's his name on Reddit, by the way, for anyone who sees him popping up. We both work together and we talk a lot about the effects we experience. And one thing with Dynamax Plus is that the character of Dynamax is very important. Dynamax, the original formulation has a very specific effect and to dial that up a little bit more proved to be quite hard, which is why beta testing was important. But it was also important that I wouldn't shy away from high caffeine experimentation just because I was apprehensive about it. And maybe it wouldn't work well for me. I kind of sometimes have to just push through that to make good products, and I think that's what sets us apart. We really put ourselves on the line with testing, and we take up valuable time in our day to day lives to track these and make notes with sleep support. It's an interesting beta testing phase because you need 8 hours to beta test it at night. Outside of work, you don't get to do it in a controlled environment. So there are some sacrifices that need to be made, like exposing myself to slightly higher doses of caffeine than I'm comfortable with. But doing it that way means that we have a very broad understanding of how these products work in people with low caffeine sensitivity, high caffeine sensitivity, people that don't sleep well, people that sleep well, having a pool to pull from and make it work as well as possible for everyone else, which at the end of the day, Dynamax Plus actually works quite well for me. It is very nicely balanced. And even though I'm a one small cup of coffee a day drinker, subjecting myself to 400 milligrams of caffeine ish I was surprised that within the context of Dynamax it worked well because I've tried other high caffeine products that weren't very beneficial for me. So being able to take those aspects and make it work for everyone is a big thing that we try and do here.
Erika
Absolutely. And like you're saying, the formulation process, going through the experience of taking these maybe higher doses of caffeine, these early iterations of stacks is something that we do ahead of time, and it's sort of one side of the coin. So we push ourselves to test and to bioassay these products before we release them, because we want to know exactly how they feel, what their effects are, things that we might want to change, or things that might need to be adjusted within the formulation ahead of time. But then for you all, for you who are taking supplements and working on putting together effective stacks for yourself, we advise you to take one ingredient at a time.
Emiel
Yes, and this is extremely important, and it's something over almost a decade worth of experience that I've been able to build up for myself is a very good, functioning catalog of ingredients in my mind that I know how they work for me. And because of that, I can make stacks.
Erika
And when you take one ingredient at a time, you can have a better experience and probably better results in determining what exactly that ingredient is doing within your body, how it feels, its overall effects, whether it has an acute effect or not. And then once you have that experience and that knowledge, once you start combining the supplements, you can better determine what might be working well effects that you like that you're getting from these combinations, and then also effects that you're not so into and which product and which ingredient might actually be the culprit for those less than desirable effects. And this system of isolating and taking things one by one and then slowly combining them is something that we've also discussed a little bit in a previous podcast about mindfulness and bioassaying and just being aware of what supplements are doing within your body and how you can determine their effects for yourself, especially if you're not someone who's reading scientific studies all the time, or if you're a person who's really attracted to the stacks that you can easily take that are convenient for your everyday life.
Emiel
Yeah. And the difficult thing here is, like Erika was saying, sometimes things have acute effects. And when something has an acute effect, and especially if it has a pronounced acute effect, it's easy to know what it's doing. When it gets tricky is those subtle ingredients, those subtle little changes. And it's for any musician here or audio engineer or mixing engineer within music. It's similar like that, too. When you have a lot of experience, you start noticing really small micro details and things like that, and that adds a lot to the experience. Similarly, in a stack, there's a lot of micro details and very small things that change here and there. That within the context of a stack can get amplified, similar to maybe if there's some distortion in a recorded track and then you re amp it, then maybe you're re amplifying that distortion and it gets louder in the mix and you don't want that. Similar here, maybe if there's something in your stack that only causes a very minor alteration and effects that you don't like within the context of multiple ingredients that could get amplified and take over.
Erika
And that's not something that you'd want, because of course, you want the combination of ingredients and products you're taking to work together as best as possible, because at the end of the day, it's about improving your life, improving your cognition and bettering yourself and coming from this biohacking perspective. So in addition to this really interesting kind of personal experience of taking stacks and formulating your own stack, I had a recent experience with a newly released Natrium health product, OmegaTAU, which when I took it, the effect and the feeling of it overall, I wouldn't say is an acute effect, even though it was very noticeable. But the way that OmegaTAU kind of changed the overall feeling of my daily stack was really profound. And yet it was hard to put a finger on exactly what it was changing and what it was doing. But that has meant that adding it to my daily stack feels like a really nice combination and a really nice addition because it's not changing anything else I'm taking in a dramatic way. And it's not taking away from the beneficial effects from these other products I'm taking. But it's actually adding another element, a very detailed and subtle element to my daily stack that I really love. And I find that the cognitive benefits, the ones that I can feel and perceive, just give me this calming feeling and this kind of awareness of stressors without reacting to the stressors, which I think is a really cool aspect of OmegaTAU.
Emiel
Yeah. And within OmegaTAU, one of the ingredients, the sesame extract, was one of those ingredients where when we really paid attention to what it was doing because it came out of science, and then we put it in and we beta tested it. And when we beta tested it, we discovered that it was adding one of those little micro details, something like it was gelling things together. It was like taking a slightly bland tomato soup and adding just a sprinkle of extra salt, which just makes it pop and come together. So this is something we do in stacking a lot, too. And we keep making these analogies. And the reason why we keep making these analogies is because it is very analogous to a lot of these different aspects. Making a stack is just like cooking. It's just like making a cocktail. It's like working as a barista and developing your new themed fall drink. And maybe you decide within your pumpkin spice latte this year you're going to add a little bit of cardamom because it just makes some of those other flavors pop a little bit more. And just experimenting and being subtle with things is very important because with the pumpkin spice latte, if you put too much cardamom in it, all you're going to taste is cardamom.
Erika
And then it's no longer pumpkin spice. And who wants that?
Emiel
Exactly. But if you do a little bit, maybe it makes other things pop while not drawing attention to itself. And that's what we try and do in stacking. We want it balanced, we want it synergistic.
Erika
And this is the essence of all the Natrium health products. It's really about combining the right amount of different ingredients that will work together synergistically that will be the most effective for the most amount of people. And of course, there's always going to be an outlier here or there. Not all of us respond the same way to different products because we're human beings, we're full of variabilities, and we're not living in these vacuum controlled environments. But at the end of the day, we take your feedback and your experiences into account. And we also try and work and finesse and these really subtle ways to combine ingredients to be as effective as possible and also push those boundaries, because that's just a part of our passion with Nootropics Depot and with Natrium health is really pushing the boundaries and moving the supplement industry and the nootropic industry forward the best way we know how.
Emiel
And one of these new innovative things that we'll be doing is creating some more video content. So over the next few months, you'll see some more video content from us pop up. Actually, the first video content because we haven't really done a whole lot here. And one of our first projects that we thought would be interesting and would link up with this podcast is an instructional guide on how to make your own stack. So selecting all of the different ingredients for the stack, making sure that they make sense together, then blending those ingredients together and encapsulating them. This can be a really difficult process. And you'll see in this video content that it is indeed a very difficult process that takes quite a bit of experience and knowledge to pull off correctly. But this is a perfect topic to choose to do a video on, because we need more of that kind of information out there to show how are these things done, maybe not even as a purely instructional video on how to go and do this yourself, but to give more insight into some of the challenges that we as a manufacturer might have with making stacks and getting it all together and testing it, and just to show how complex this can be. And I think video content does a great job of that. In addition to these podcasts, and we want things to be easy and accessible for all of you. And this is part of the reason why we do what we do here.
Erika
Absolutely. And I think having the instructional videos that will show you, as well as tell you some of the processes that we go through as a manufacturer will give you a little bit of a different view of Nootropics Depot and give you an opportunity to see the products in action and how you might be taking them and experiencing them in your own lives. Here at Nootropics Depot, we like to keep things fresh and shake it up. So we're going to talk to you about new products that have been released since our last podcast episode. In the last month, we have released a handful of exciting new products for Nootropics Depot, the first of which is Panax Ginseng leaf capsules. Emiel, can you tell us a little bit about those?
Emiel
Yeah. Panax Ginseng leaf extract is a really unique one because, well, obviously we're extracting the leaves, and this is unique because normally Panax Ginseng only the roots are used. And there's a lot of mysticism about this as well. And it's a whole big thing that we're not necessarily as clued into here. But anyways, the leaf extract is a really interesting part of the plant because it contains a much higher concentration of ginsenocides than the roots, which means that when we make extracts, we can actually standardize to a much, much higher ginsenocide level. So if you look at our root extract, it's usually between 7% to 10% ginsenocides. These new capsules are a little bit higher usually, but the current root powder that we've had, it's always between 7-10%. And the leaf extract is 40%. So it's significantly higher. Not only is it higher in those ginsenocides, the ratio of the ginsenocides is also different. And we'll talk about this a little bit more in a second. But all the different ginsenocides produce different effects. Some of them are stimulating, some of them are calming. And it seems like in the ginseng leaf extract there's an abundance of stimulating compounds, and there's a relative lack of calming compounds. So the leaf extract is probably the least balanced Panax Ginseng product around. And it's very stimulating. It's very zippy. It's very clear headed. And this is one of the reasons why I really love it. And I'll actually be picking up some Panax Ginseng leaf capsules to take alongside my Panamax. So some Panamax early in the day, and then later in the day, a capsule of the Panax Ginseng leaf as a quick pick me up.
Erika
Nice. And that leads us into another ginseng product that we've released in the last month, which is our Panax Ginseng root capsules.
Emiel
Yeah. And these are actually quite interesting because they're made with white Panax Ginseng root. And this is kind of the most natural way in which you can experience Panax Ginseng because it's the Panax Ginseng form that has the least amount of processing associated with it. So a more common, actually v product is red Panax Ginseng. And red Panax Ginseng is made by steaming the roots at a pretty high temperature. And when you steam the roots, various reactions occur, including a pretty simple one, the Mayard reaction, which is the same reaction that browns your food. When it happens in the ginseng root, you get a red color, which is why it's called red Panax Ginseng. But red Panax Ginseng has a different composition of ginsenosides because the heat actually changes the natural ginsenosides into different ginsenosides. So with the white Panax Ginseng root, which is in our capsules, you get to experience more of the route in its most natural state. And in its most natural state, it's not as stimulating, actually, and it's more calming. So the white panic shining root capsules are a nice calming option. And it's actually the root extract that we use in our Panamax. And using the white panics ginseng root together with the panic ginseng leaf made for a really nice balance. When we tried it with the red panic ginseng root and the panic ginseng leaf, it was a little bit too stimulating and we didn't have the balance that we were looking for. So this ties in nicely with the topic of conversation of this podcast is that we really try and finesse our formulations using different forms of the same botanical maybe different extract ratios, different processing ratios, different extraction methods, and we really get down into the nitty gritty there and use everything to make good stacks. But anyways, now you can try that one out as a standalone, and it's a pretty interesting one.
Erika
Yeah, absolutely. I like the idea of the different parts of the Panax Ginseng being useful, perhaps at different times of day or for different needs. And if you did decide you wanted to combine them, you could even adjust your dose for one or the other of the standalone ginseng products to get more of the effects that you're looking for.
Emiel
Absolutely.
Erika
Cool. Okay. So next, we're going to move on to another kind of exciting product that Emiel and I have both been really into recently. We are releasing or we have released Taurine capsules. Taurine is an endogenous compound. It's present in the human body. This is news to me, relatively new. And it's also really exciting because I've been taking Taurine powder recently, and I think having capsules available for any of our standalone products is really great for those of you who are a little bit scale averse or for those of you who just prefer the ease of taking capsules. So, Emiel, tell us a little bit about Taurine and why it's exciting that we have it in this new format.
Emiel
So Taurine is an amino acid. And the interesting thing about it is that it is one of few sulfur containing amino acids, and this is partially because it's actually derived from another amino acid called L-cysteine. And L-cysteine is one of the primary sulfur containing amino acids. Taurine is also sulfur containing amino acid. And while that might just sound like a little bit of jargon, that doesn't really tie into anything, the interesting thing is that it can act as a sulfur donor, and specifically, it can act as a hydrogen sulfide donor H2S.
Erika
And this is something we talked about in our last podcast episode about reduced glutathione and N-acetylcysteine talking about hydrogen sulfide donors in the context of L-cysteine. But now we're talking about it in the context of Taurine because Taurine is also coming from L-cysteine.
Emiel
Yeah. And I discovered that Taurine was also a really good hydrogen sulfide donor by doing research for the last podcast. And when we were talking about glutathione and N-acetylcysteine, this kept coming up. And then I realized, hey, Taurine is a really good hydrogen sulfide donor. And hydrogen sulfide has a lot of different benefits. It is actually an endogenous neurotransmitter. It's one of few gaseous neurotransmitters, the other one being nitric oxide. And as a gaseous neurotransmitter, it has lots of different functions throughout the brain, controlling neuroplasticity, long term potentiation, blood flow. It seems to upregulate GABA B receptors, which in the context of Taurine is pretty interesting because Taurine has GABAergic effects to begin with. So Taurine as a whole seems like a very attractive amino acid. And unfortunately, one I think that's often overlooked, and it was often overlooked by me. I don't know why it took me this long to get interested in Taurine, but now I've been playing around with Taurine a little bit, and I actually really like the effects. And while I was playing around with Taurine we also developed Dynamax Plus, and we wanted to enhance the energy levels of Dynamax Plus. And we found that L-theanine could smooth out the effects of caffeine a little bit too efficiently sometimes. So we dropped a dose of L-theanine and now a lot more stimulation of the caffeine was coming through. However, now there was a little bit of like an uncomfortable physical feeling with this high level of caffeine and a lower amount of L-theanine. And so we discovered that if we combine a small dose of Taurine with L-theanine the two together complement each other very nicely. And Taurine takes care of some of that physical uncomfortableness jitteriness from caffeine and smooths that out nicely.
Erika
So this is like an example of stack development, kind of in real time, making adjustments to the initial Dynamax formulation for this new product, Dynamax Plus, and adding and changing the dosages of certain individual compounds or products that are in there to make a better stack that works well with this high caffeine content.
Emiel
Yeah.
Erika
We just mentioned another one of the exciting new products that we've released, a Natrium Health release, which is Dynamax Plus. So we talked about it a little bit earlier in the podcast and we were mentioning some details about the formulation process. But Emiel, give us just a general understanding of what is Dynamax Plus. Who is it for and why is it the awesome new caffeine super supplement on the market?
Emiel
So I would say it is the super new awesome caffeine supplement for a select few people. Dynamax Plus really is for seasoned caffeine users. You've tried everything you want to push the limits a little bit more. You can try something like Dynamax Plus, but keep in mind it has a very high caffeine content. So if you are a little bit sensitive to caffeine, this is not a good one. But if you are interested in the effects, you can actually try out our original Dynamax, which has a much lower content of caffeine and higher content of L-theanine. And it's a little bit smoother. But Dynamax Plus is for people who always wanted to experience Dynamax with more power behind it. And this is what it is. So it's very stimulating, very long lasting. But even though it's very stimulating, it's also quite smooth and balanced. So that's what we went for with Dynamics Plus. One of the main aspects of this is that it kicks in very quickly. So within about 15 minutes you can start feeling Dynamine, which is very interesting because normally you have to wait quite a while for the stimulating effects to kick in from caffeine. But with Dynamine, it kicks in very quickly. So Dynamax plus also kicks in very quickly. But then it gets a little bit more interesting because after the methyliberine, you get some just normal caffeine. And that kicks in in around 30 minutes. But methylberine actually potentiates caffeine a little bit. So the two together work synergistically to create an overall more stimulating effect. But it's kind of a twostage thing. In the beginning, you get this very quick rise with Dynamine, and then it seems to level out. But then you start progressing from a higher plateau a little bit above your baseline. Your energy levels are up already. Your system is kind of primed in that sense. And then the real ride starts. It starts getting more and more stimulating. But then as it starts getting more stimulating, the L-theanine and the Taurine also come in and help smooth that out. And then at around the two hour Mark, we put in some delayed release caffeine. So at the two hour mark, it just releases a small bolus dose of caffeine. And I find that at around the two hour mark, because the Dynamine kicks in so quickly and it also wears off somewhat quickly, the effects start to dip a little bit at the two hour mark, even though it's still quite stimulating but I like to in beta testing, all of us like a little bit of a bump at the two hour mark to get you back up a little bit more. And then after that, there's some extended release caffeine in there, which releases a small amount of caffeine throughout the whole eight hour duration of the Dynamax experience, as we like to call it. And this actually doesn't really add to the stimulation all too much, but it cushions your ride down, so there's not as much of a crash. Even though there's quite a high caffeine content, it lets you down slowly.
Erika
That's probably exactly what we're looking for with a high caffeine supplement, especially because that come down period can be a little rough sometimes, depending on if you have some lack of sleep or you really need to stay focused. Maybe you're on the road or doing long cognitively challenging activities where you need that stimulation, you need that caffeine, but you also don't want to find yourself in a moment where you're going ah! Nothing's working in my brain anymore. Kind of coming down, being let down easy as you said.
Emiel
Yeah. And caffeine come down. It's no joke. And it gets worse and worse the higher in does you go. So we wanted to put something in there which would pad the landing, so to say, and it does a really good job at this.
Erika
Awesome. So now we're going to talk about another exciting Natrium health release in the last month. And that is OmegaTAU. So Emil set the stage for us. Give us a nice understanding of what is OmegaTAU, what's it doing, what are the cognitive benefits and what are some of the reasons why you think it's an exciting new product for Natrium health.
Emiel
Yeah, we have to do a bit of time traveling, actually, to get a good feel of what this one is. So this is based on a very well, not very old about a decade ago on a forum called Longecity, which is where a lot of the early Nootropic talk happened as well. It's still alive. I do like going on there every once in a while. It's an interesting forum to check out. But on that forum, there was a user called Mr. Happy, and he was going through a bunch of research, and he found some research that if you combine DHA, fish oil and choline, you could enhance brain membrane synthesis. And it's neuroprotective and it helps with memory.
Erika
So quick interruption. Can you give a little explanation, what is DHA and where does it come from?
Emiel
So DHA comes from fish oil. It's also found in algae. And we actually just released a really novel algae based DHA product as well.
Erika
That we're going to talk about a little bit later.
Emiel
We'll talk a little bit later about it. But the interesting thing is the algae powder that we came out with, it's DHA complex to lysine, and it's called Availom. And actually what's in OmegaTAU is also Availom, but the Availom fish oil version to stay a little bit more true to the original stack, which used fish oil. So anyways, on this forum on Longecity, this user found this combination and determined that this could be a very good stack to look into and was kind of a community driven approach. And I think the whole thread is still there. And it's probably hundreds of pages long at this point of people talking about the initial development of how people took the stack and where they sourced the ingredients. And back then, it was a lot harder to source a lot of these ingredients. So there was a lot of crowdsourcing happening there. Where can I find these things? And then a lot of experience reports. And we kind of wanted to pay homage to this period of nootropic exploration, too, because there were a lot of unknowns back then and a lot of the forum users kind of laid the foundation for what Nootropics are today. So OmegaTAU is our take on the Mr. Happy stack with a few small tweaks and innovations. So one thing we realized while we were developing our first formulations of the Mr. Happy stack, because the way it was traditionally taken is you basically had to source a bunch of different products and then take multiple capsules of different things.
Erika
So putting your own stack together.
Emiel
Putting your own stack together. And everyone was doing this, and it's great. And we wanted something. And a lot of people always talked about this. We wanted a all in one product, but it never happened. So we kind of wanted to make it happen and one of the challenges we had is first and foremost we thought we'll develop a soft gel, but dissolving all of those different ingredients that are in the Mr. Happy stack inside of an oil and then getting that oil inside of a soft gel and then determining if it's stable and then taking the risk on a large run because soft gels can be a little bit tricky. We decided this is not really a realistic option for a product like this. And then the idea was shelved for a few years because there wasn't really a good alternative to making this. Then Availom came out and that was kind of our answer because we had five times higher bioavailability than regular fish oil. And it's a powder, so we can actually encapsulate it in a regular capsule machine and we can do that ourselves and at other facilities that we've worked together with for years. So this really opened up the door for a Mr. Happy stack for us using only powders. So Avalon is an innovation we put in because it is a novel formulation of DHA. It's basically fish oil complexed with the amino acid Lysine. And through this complexation process, you have a much higher absorption rate. Another thing we did a little bit differently was a slightly lower dose of Alpha GPC because higher doses of choline seemed to cause some mood issues for people. I'm actually one of those people. So in the beta testing, this was also the thing for me that I was mindful of. I always wanted to make sure that the product works well for a large amount of people, not just certain types of people or certain groups of people. So with this lower dose of Alpha GPC, the people that didn't have any sensitivities to Alpha GPC still had really good effects and they didn't really want a higher dose. And the people with Alpha GPC sensitivity, like myself, also had no issues with it and had good effects. So this was one thing we slightly changed and then we put in some sesamin, which one of the main reasoning behind this was that it can help a little bit with the fish oil absorption even further and it helps with vitamin E recycling. And vitamin E is also part of the Mr. Happy stack. So this made sense. But Furthermore, sesamin has some really interesting neuroprotective effects and effects on oxidation and inflammation and neuroplasticity and metabolic health and things like this. So it made sense to have it in there and also because it is something like choline that is found in our diets. But I guess I haven't really given a good concise overview of what exactly is in OmegaTAU, so I should do that. So going from the top, it contains the Availom DHA fish oil, which we talked about. It contains Alpha GPC, it contains vitamin E, it contains sesamin, it contains Triacetyluridine as the uridine source, and it contains vitamin B nine or folate. And that's the complete formulation. And the main purpose, really, of it is as the way I like to see it, is it's like a nootropic vitamin almost. It's something you just take every day. And it kind of gives you all of the building blocks that you need for cognitive health. And this is a really nice way to look at it, too, because most people want some fish oil anyways. And here you are getting some fish oil and you are getting some extra things tacked on there, which are popular nootropic ingredients anyway. So it's a nice comprehensive all in one, one you can take long term every day. And something that actually works well together with other stacks because it gives you a good foundation. Just like good nutrition, good sleep, good overall work-life balance, and things like that can really add to cognitive function. Something like this can provide a good base on which you can build other cognitive function enhancing stacks.
Erika
Absolutely. I agree. And I've been taking OmegaTau for the past week or so. And I have to say it goes really nicely with the rest of my daily stack and the effect that I noticed the most, it's not really an acute effect I would say. If anything, it's sort of a peripheral effect, perhaps because when I take OmegaTAU, when I have a moment that I'm feeling a little overwhelmed or I'm thinking about my to do list for the day, if at any point I start to go, what's going on? Okay, the list is starting to pile up. You know, there's a lot going on, and I might be feeling a bit overstimulated by my environment. Omega Tau has this kind of nice soft touch that goes, that's okay, you got it. You've got it under control. And so in terms of maintaining this sense of mindfulness and groundedness with the different cognitive enhancing supplements I'm taking, Omega Tau sort of smooth that out in a really interesting way and in a way that's different than with other cognitive focus nootropics that I've experienced myself.
Emiel
Yeah. And if you look at the longevity thread, these are the kind of effects that you see a lot of people experiencing as well, which is very unique set of effects and uridine hits a lot of interesting neurotransmitter systems that can help with these calming effects. But then also the stack as a whole is also quite famous for enhancing dopaminergic sensitivity. So that might also be something you're experiencing.
Erika
Yeah. That certainly is probably part of what I'm experiencing. And you have the technical language to describe it. I only have these kind of layman terms to describe the experiences that I have when taking OmegaTAU. But it is really cool that even though I'm using different language than you are, we're kind of talking about the same thing.
Emiel
And at the end of the day, your experience is the experience that matters. The most because this is why we make products. We don't make products to have a check in the box for the science. To a certain degree, we do because we want to have it scientifically validated. But what we want is that we are producing real world results, and you need to describe real world results, usually with real world language. So a report like yours is very important, which is why I think Reddit has always been such an amazing platform. And longecity, too, because people actually talked about what they experienced, not just translating what they're reading about in research.
Erika
Absolutely. So you had mentioned Availom fish oil earlier and our next new product and our last new product that we're going to talk about today. It's been released since the previous podcast episode is an Availom product, but it's exciting. It's a vegan friendly Availom DHA algae powder. And I'm really curious to hear a little more detail about this product. And it's vegan. This is really exciting. And algae is such a fascinating plant, so many nutrients and so many compounds in there. And I know that you've got some exciting information about it to share.
Emiel
Yeah. I've always been really interested in algae, partially because it grows really efficiently. So I think you can harvest algae after like 24 hours. So it's really sustainable. It's quick to produce. And you don't have to go farm fish because I take fish oil and I really love fish oil. But it's something that sometimes on the back of my mind is we do have to go out and fish for this. And sometimes I don't know how I feel about that. So even for myself, even though I'm not vegan, having an option like Availom DHA algae around is nice because I have an alternative to get my DHA from something that is not a living being, which is always nice. I think fish oil is a great source of Omega three fatty acids, especially because it has a much higher amount of EPA, which you don't necessarily find as often in algae and algae extracts. So there are still some benefits with fish oil that you don't get with algae. However, there are clearly some advantages to algae, too. So there's two sides of the coin there. And I think even for people who aren't vegans or vegetarians, it's interesting to consider taking an algae source DHA at some point, too, just to try it out and see what you think. And maybe also a way to try out a more streamlined DHA, more selective because the algae doesn't contain a whole lot of EPA. So you are just getting pure DHA, which is kind of unique because with most fish oils, you're always getting EPA and DHA.
Erika
So what would you say is the main difference between fish oil supplement and an algae DHA supplement in terms of effects?
Emiel
For the most part, they'll actually be pretty similar, which is exactly what we want. We basically want all of the same effects that we get from fish oil, but we don't want it from fish, we want it from algae. However, there are some subtle differences. So there's not huge differences I've experienced between EPA and DHA. But what I found is that DHA, and not only I found the whole conclusion of the longecity thread with Mr. Happy Stack was basically that you need a high concentration of DHA. That's really what's important for the cognitive effects. EPA, on the other hand, has some interesting mood enhancing effects and things like that. But in my experience and in others experiences, it seems like having just DHA provides a slightly cleaner cognitive enhancement effect. The differences are subtle of course. A fish oil by itself is not going to have a crazy huge acute impact often, but it's more of a long term thing that we all need those Omega three fatty acids, and especially DHA and EPA, and they're fairly hard to get through our diet. So supplementing them is a good idea. But in terms of teasing out acute effects that you can really feel the differences between EPA and DHA probably subtle, but you have a bit of a cleaner cognitive enhancement thing going on with just DHA, which is what makes the algae extract, in addition to it being a more eco friendly solution to a DHA source, quite attractive.
Erika
Absolutely.
Emiel
Especially in the case of Availom. Because not only is this just any regular old algae extract, which there are quite a few of, this algae extract is complexed to Lysine, similar to the fish oil Availom. So the same bioavailability enhancement technology is there, and we see higher levels of absorption with Availom algae than we do with normal algae, which is great.
Erika
Yeah, definitely. So there's a handful of exciting new supplements released. We'll just go over them one more time. So it's the vegan algae DHA Availom powder. We have Taurine capsules. We have our two exciting new Natrium Health Stack products that we released, Dynamax Plus and OmegaTAU. And then we also have Panics Ginseng leaf extract in capsules. And we have Panax Ginseng root extract in capsules for you.
Emiel
Yeah. And this is a pretty big release, but we're on fire. We're coming out with another big release. This podcast is releasing on Tuesday, and if you're listening to it on the release day, in a couple of days on Thursday, we will have a release of a few new products. So we're going to have NMN powder now. A lot of you have indicated that you want some powder, because some people actually pass the entire enteric coated NMN tablet. So the enteric coated NMN really helps with stability and absorption. But not everyone can take it, and they are also a little bit more expensive. So having the powder available means you can take higher doses of nicotinamide mononucleotide, NMN. We also have the powder in capsules for a convenient option for those that don't react well to the enteric coated tablets, we'll have Sabroxy in 500 mg tablets. So for people who want a little bit more stimulation and I actually thought, man, that's a really crazy dose, but it's a dose that the manufacturer recommends. So we thought maybe we should offer some 500 milligram tablets. And a lot of people on Reddit indicated that they would want a higher dose tablet. So I decided to try it out. And I was a little bit nervous about it because I'm sensitive to stimulants, but I actually had really good effects with it. So even for those that think they might be a little bit sensitive to a higher dose, I would still recommend caution, but it could actually be an interesting dose to try sometimes.
Erika
Yeah, definitely a 500 mg dose of Sabroxy. You never know. It might work actually better for you than a lower dose.
Emiel
Yes. I actually found that in lower doses, Sabroxy is maybe like a little bit zippier in the stimulation, where with the higher dose it became more stimulating, but it also became maybe a little bit more fullbodied in a sense. Like there was more calming, there was more smoothing going on. So I was more stimulated, but in an interesting way. It was also a little bit smoother, even though it was more stimulating. So that was interesting to try out. And for those that need the higher dose of Sabroxy, this is a really good option. And we'll be releasing two new mystery products.
Erika
So we're not going to tell you what those are right now because we do want to keep them a mystery, but keep your eyes peeled.
Emiel
We can give you the hints, though, because we've released some hints if you check out our new product mystery release page. So we put up a timer and you can see when these new products are coming. And sometimes we'll tell you what they are if they are already existing products.
Erika
And this is going to be on our website.
Emiel
Yeah. So one of the products, the hint was this is a Nootropic amino acid. And then the other hint was this has a 2-oxo-pyrrolidone base structure. So for those in the know, you probably know exactly what that is and exactly what it could maybe replace. But we won't get into that. The second one, it's a super critical CO2 liquid extract. Very exciting. I think you'll really like this one. But that's the first hint. And the second hint is this botanical is often made into a tea. And I'll give you a bit of an additional hint here. It's made into a tea in Ayurveda and in Ayurveda this herb starts with a T. These are some really good hints.
Erika
So I'm excited to see what you all think these new mystery products might be. You can add your thoughts and your guesses onto the thread that we have going on our Subreddit that's r/NootropicsDepot and let us know what you think might be coming your way. And then stick around and either visit our website or you can sign up for our newsletter. You'll get notified when new products are dropped to figure out what these new mystery products might be. So that concludes our new product segment of the podcast. Now we're going to go into my personal favorite part of the podcast In Search of Insight, which is reading and answering your questions from Reddit. So these questions are specific to stacking, stack advice. They're specific to Natrium Health products. And we're going to get started with this first question from u/Mcgrufer, who asks, "How are the stacks or blends for Natrium products decided upon?"
Emiel
Yeah, I think we kind of answered that question with this whole podcast. It's a very involved and complex process. And we go through a lot of different research studies and personal experiences with ingredients and even looking through forums and seeing what people had been combining and looking at traditional Chinese practices and Ayurvedic practices and looking at historically what was done, but then also looking at new research and new botanicals. And we always try to go for botanicals that are kind of a little bit more unknown, a little bit more novel or maybe a very well known botanical, but properly standardized or standardized for unique ingredients, like what we do with our Tongkat Ali. So we always try and focus on unique ingredients like that for our stack compositions.
Erika
Absolutely. And in addition to that, I think another important part of the stack development process for Natrium health is also the feedback that we receive from you, our customers and our listeners and what you're interested in in terms of stacks and in terms of just general wellbeing, things that you want to be improving in your daily life, whether it's your waking life during the day as you're working or going about the things you have to do or at night time with your sleep schedule, your workouts, your recovery, and these things that we get a lot of feedback on. So Natrium Health stacks are put together from many different perspectives, but a lot of it is also from the requests that you make and also the ideas and the requests that we within Nootropics Depot have for fun and exciting and boundary pushing stack ideas.
Emiel
Absolutely.
Erika
So there's a follow up question that u/McGrufer asks, which is, "I know the Natrium products pride themselves on using natural ingredients, but would the Natrium team consider using other lab developed ingredients in any of their stacks in the future? Or is that strictly a Nootropics Depot area? Great question. Yeah.
Emiel
And it's strictly a Nootropics Depot area, which is why for Natrium, our slogan is "Science Powered by Nature." We're really going for the most cutting edge things we can achieve with natural compounds.
Erika
And this is a great follow up question to finish u/Mcgrufer's contribution, which is "Without giving too much away, what kinds of stacks is the Natrium Health team excited about developing next?"
Emiel
Yeah, I'm not sure if I can answer that, actually, but maybe if I don't go into the details, I can give some small things away. So actually today, as I'm recording this, I'm actually beta testing one of our new Natrium Health stacks, and I can't tell you what it is, but I'm very excited about it. And I'm also currently working on developing another one that we're about to start beta testing and also very excited about that one. And I also can't tell you what that one is. You'll just have to wait for it, but it will be fairly soon. Don't quote me on that.
Erika
More like soon tm. For those of you who know on Reddit. But all joking aside, we are always working on exciting new ideas and stacks and approaches for Nootropics Depot and for Natrium Health. And right now, there's a lot of exciting activity going on that's under wraps. We can't tell you about it, but we promise as soon as we can, we will. And you'll know, if you're signed up for a newsletter, if you're following us on Reddit, and if you're active in the chat. So if you want to know more, you can always hang out, ask us questions, and we'll give you as much information as we can. But for now, it's just bait.
Emiel
And one thing I can promise is that you've probably noticed we've had a very solid output of new products, and we have absolutely no plans of slowing down. And I look every day and an enormous list of products gives me a little bit of anxiety sometimes because there's a lot and you'll be seeing a lot of new products coming in over the next few months, which is very exciting, though. And there's some very interesting and cool products on there that I'm sure all of you will be very excited by.
Erika
Absolutely. Okay, so moving on to another question that we have about the stack design process. This one comes from u/Unusual_Invite_5668. And the question is "The main problem I have with blends," and this is in parentheses, "(I haven't tried any of the Natrium Health ones, though) is that one ingredient can make me feel off, and I have no idea which one it is. So I just have to discard the whole bottle. How do you ensure to the best of your ability that your blends don't cause this problem?" Well, my first request for you is why don't you give a Natrium Health product to try and let us know how it goes for you? But now I'll let Emiel actually answer the real question.
Emiel
Yeah. And I'll counter that and say we can't design a product specifically for you. And that's unfortunate. It would be great if we could figure out exactly what works for you and what works and doesn't work for you or gives you adverse effects or something. So we can specifically develop something that will work well for you. But maybe it will work terribly for myself or for Erika, and that doesn't really work either. So to the best of our ability, we design smart stacks with ingredients in there that complement each other and are producing similar types of effects. So that is what we do to ensure that we have stacks that work well for people. Another thing that we do is we do beta tested with multiple people. First is Alpha testing. The owner of Nootropics Depot and Natrium Health and myself, we are usually the first people to test things. Erika actually recently came on board this Alpha testing team too because she has a very keen sense of what's going on with Alpha testing. So she's a very valuable asset there, too. But this means that the whole product development isn't hinged on just one or two people. A lot of people try it out, and we oftentimes find that in a group of ten people, a few people have different reactions, and then we can kind of try and smooth it out. So everyone has a similar reaction. So earlier in the podcast, I was talking about the Alpha GPC dose in OmegaTAU and deciding what worked well for people that were sensitive to it and people that weren't sensitive to it and finding a nice middle ground there. So we do do some things to ensure that on average, for the average person taking these, it's going to be a very well designed stack will do what it does. It doesn't have a bunch of random, crazy ingredients thrown together. It's well thought out, science based stacks, so that's what we do to ensure that. But unfortunately, there's no way to ensure that a stack will work well for you. And this brings us to an interesting point, too, with creating your own stacks.
Erika
Yeah, that's what I was going to say. If a stack product doesn't work well for you, because there might be one or two ingredients in there you can't take out. Specifically, you feel like you have to throw the whole product away. Why not start with a couple of the ingredients or the botanicals or compounds that you know you're interested in and take those individually and find out the best dosage for you for that product by itself, and then start to create your own stack modeled after a product that you're interested in just so that you can get a feel for, what is it like to combine these things at certain dosages? What is it like to take them by themselves? And then you might actually be able to figure out for yourself if there's anything that's in that stack that you wouldn't have a desired effect from, and then you can do it independently, too.
Emiel
Yeah. So a big thing here is isolating. And what I was going to quickly interject with while you were giving a very good explanation of this was that sometimes you might already be very familiar with ingredients. You probably have some experience with caffeine. Like a lot of us have maybe years of experience with caffeine. We know exactly what it does. So building a stack around caffeine is much easier than, say, building a stack around some sort of novel peptide that came out of spinach that no one knows what it does and you've never taken it before. No one has ever taken it before, and there's no data on it. And you really have to go out there as an explorer and determine what it does and then see how it can integrate with other things. But this is a hypothetical situation, but more realistically, we are at one point always new to an ingredient and we need to discover what it is. Similar in cosmetics, you don't just go and smear your face full of a new cosmetic thing. You do a little patch test and you see maybe do I have some breakout there or a rash? Am I sensitive to this product? Do the same with supplements to try each one out individually.
Erika
Take it slow.
Emiel
Take it slow, take some good notes, see what everyone does, then combine a few, see what changes do I lose something like with caffeine and L-theanine? You lose some stimulation, but you gain some smoothness. So keep track of what's changing in a stack, and then you can figure out what works well for you. Annoyingly, though. Sometimes, even though you are familiar with certain ingredients in isolation and they work well for you when you combine them, they don't work well for you anymore because there are interactions that happen. So this is not as common, but it's also something to keep in mind. Maybe you started with three ingredients that work wonderfully separately and then you combine them and now you're having bad effects. So I could imagine a scenario aware you take Gotukola by itself, it works great. You take Shoden Ashwagandha by itself, it works great. And you take some Bacopa by itself and it works great. Now you combine all three and you're hopelessly tired and lethargic and unmotivated all day. That can happen because all three interact in a way where they increase each other's effects on stress reduction and calming effects and things like that to the point where you get lethargic and demotivated. So this is something to keep in mind too. And this is why stacking is hard. And this is obviously something that we keep in mind when we are developing stacks that the combinations that we make make sense and aren't contradictory or producing unpleasant effects.
Erika
That was a great answer and really comprehensive too. So we're going to move on to another question related to the stack development process. And this one is from u/Zidatris, who's a regular listener and a regular asker of great questions. This one's kind of fun and I'll just go for it. So the question is, "Do you ever get some inspiration from big name stacks such as Neurohacker, Mind Lab Pro, Alpha Brain, et cetera. And there's an edit "Out of pure curiosity, really."
Emiel
Yeah. And I don't want to shoot those other brands down too hard, but I feel thoroughly uninspired by a lot of those combinations.
Erika
The simple answer is no.
Emiel
No, I do look at them because I'm curious and I want to stay aware of what the competition is doing and what else is out there. And if someone else came out a big brand, stack came out, and it made a lot of sense, then I would be very interested in picking it up. But as it stands, I've tried a few of these, and I've looked at a few of them, and they've never really excited me. They've never really had the intended effects that I necessarily wanted, which is why I started making just my own stacks at home. And then now I have the opportunity to create stacks together with a whole team of people where we're all chipping in ideas and research and testing it, and it's very collaborative, and we get to make these stacks, and we actually get to make them real products that all of you get to take. It's super exciting. But I wish I could take more inspiration from other companies, and I wish there was more creativity around. But I will say that while not a big name stack company or brand, I take a lot of inspiration from Ayurvedic practices and from traditional Chinese practices, because they spend thousands of years developing these systems and learning about different botanicals and plants and how to combine them and how to extract them and how to get the best effects out of them. And obviously, they are oftentimes linked up with spirituality and things like that. And this is where certain products, especially something like Panax Ginseng, actually takes on a life of its own, where it has its own spirit and there's some mysticism about it, and we don't have that here. And there's no place for it in, like, Nootropics Depot Products or Nitrium Health Products, because we're focusing on the science. But what I find really fascinating is that there's a big culture around it, and there's a lot of history around it. And if you look at these formulations and you look at the science behind them, somehow they got it very right. So now we guide a lot of our stack development and formulation with science, but back then, they just had to rely on experience. And clearly relying on experience and being an experienced person in this creates good stacks that lasts the test of time.
Erika
Absolutely. And that's something that I think is really amazing about Natrium Health. But nootropics people in general is that we're really focused on following the science and providing the absolute highest quality ingredients and products that are out there on the market. But we're also taking inspiration from Ayurveda and from traditional Chinese practices. We're taking inspiration from the challenges we experience in our own life and the challenges we hear our customers experience. And so there's a lot of different ways that we do get inspired to create stacks and products. And it's not only from research studies, it's also from cultures and from different places and people throughout the world. And I think that's something that's really cool to learn about as I've gotten a little bit more aware of the stack development process.
Emiel
And I would say if we dig into that a little bit deeper to everything we know about plants and that plants can have these effects in humans that are highly beneficial. The only reason we know these things is because over thousands of years, humans have taken massive risks, just trying out random herbs and plants at different doses and running their own bioassay and clinical trials, basically trying to figure out what's a good dose will this plant kill me? Will this plan heal me? What does this plan do for certain things? If one thing happens to me, what plan do I use to correct that? Or what plant can I use for preventative and a lot of Pharmaceuticals too today, it stems from that all to modifying those structures and creating manmade structures with more selective and highly specific effects. But there's a large history and culture behind all of this, and we can validate it with science now. But it's amazing that there's just thousands of years of human history showing that these plants can have very interesting effects. And specifically, what parts of the plant to use, how to extract them, how to use them, how to dose them, et cetera, et cetera.
Erika
And then how to combine them, with other botanicals, which is the whole point of this podcast. So excellent question from u/Zidatris. Loaded in more ways than one. Now we're going to move on to another question that we got from a regular listener and question asker u/Hormesis, who asks, "Would you ever consider editing existing formulas to improve them, or are they designed to be static in parentheses (I mean, aside from fixing, "bugs" like removing zinc from sleep support)"?
Emiel
Yeah, they're designed to be mostly static, so they should stand the test of time. We don't design stacks on the fly and have you guys be the beta testers like a lot of companies do. A lot of tech companies do this. A lot of supplement companies, I'm sure do this as well. We don't want you to be the beta testers. We take care of that. That's our job. The product has to be perfect when it leaves our facility and ends up in your hands. So if we went back and edited formulations, it would also mean that maybe we weren't as diligent as we could have been in the beta testing phase to make a stack that even 50 years from now may still be relevant. I would love to see a product like Panamax or Dynamax stand that test of time and see it still be available 10-20 years from now. That being said, our output certainly will never become static or boring or homogenous. We will always get new ingredients, and when we get new ingredients, we get new ideas for new stacks. And it would seem tempting to maybe take some of these new ingredients and revamp existing stacks, but then maybe we'll break a stack for a lot of loyal followers of that stack. So instead, what we want to do is when we get new products like that, we want to take our inspiration and creativity and just make new products with them, interesting products with different effects and different effect profiles and maybe more novel formulations.
Erika
The main idea is innovation, and that's really what I think Emiel is trying to get at. So we're going to move on to one more question that we got in this stack development process category, and this one comes from u/eamonn123 and the question is "How to know whether a stack is safe to take? Best way to research or things to look out for?" Great question.
Emiel
Yeah, I would say our stacks are safe. We wouldn't assign a dangerous stack. So I would say just go with one of our stacks. The thing to really look out for, even if a stack looks like it's properly formulated, you never know if it's properly tested. And this brings up an interesting thing with stacks is that they are very hard to test, because instead of just having a single ingredient that you test, you now have 8-10 ingredients, maybe in a single capsule, and you have to figure out a way to separate all of those different things and test if they're in there in the correct ratios, and we test each raw ingredient before that. So the testing costs become really high, and a lot of competitors who make stacks skip this process because it is too arduous. This is also why it takes quite a long time to come out with Natrium Stacks because it is such a lengthy process.
Erika
And Natrium Health stacks are tested, and they are held to an extremely high standard. And we provide Certificates of Analysis. And we really go to great lengths to make sure that everything that goes into a stack is safe and it's effective and it's working synergistically with the other ingredients that are there.
Emiel
Yes. And nothing leaves the shelf before I try it and the owner tries it. So with that in mind, we wouldn't make a product that would put us in harm's way, because at the end of the day, I'm the most important person for myself because I need to keep myself alive. I wouldn't design a product and then test it out on myself and inadvertently hurt myself. I want these products to be safe because I take them, my family members take them, my friends take them, and all of you take them. And we actually care about all of you. So we don't just want to make a quick buck. We actually want to ensure that you are getting safe, effective products that are enhancing your quality of life. Absolutely. I don't know what the philosophy is for other stack manufacturers out there, and we don't know what their testing is like. So I can't really say what to look out for necessarily, with other stacks outside of ours.
Erika
Yeah, absolutely.
Emiel
There are good stacks out there, probably. But you don't know. And there's not as much transparency usually.
Erika
Yeah, definitely. And I think that is something that really sets Natrium Health and Nootropics Depot apart is our transparency. It's something we really pride ourselves on and something that's really important to both companies. Nootropics Depot, and Natrium Health.
Emiel
Yeah. Honestly, it's the most important thing. It's what made us start the company to begin with. We wanted to see better testing in the industry because testing in this industry is very lackluster and it's very disheartening. And we could talk about it all day.
Erika
That's probably for a future podcast.
Emiel
Future podcast. But the state of the industry is pretty bad, and we've always been trying to change it. And Natrium was one of those things, too, where we want natural products naturally formulated, but also rigorously scientifically tested.
Erika
Yeah, definitely. So now there's some more follow up questions from u/eamonn123 and the first question is "General rules of thumb when stacking?" And we've answered this in many different ways over the course of the podcast, but we'll just reiterate it in a really short way now. To start, general rules of thumb. When stacking, if you're taking a couple of different individual ingredients and you're planning on putting them together, just take them separately first before you combine them, and then Emiel other general rules of thumb for stacking?
Emiel
Yeah. So I would say that's kind of your base, what Erika was saying. You need to get to know your ingredients well, if you don't know your ingredients well, it's hopeless. You're not going to make a good stack. You need to know what each ingredient does. You need to read up on them. You need to research, become intimately familiar with whatever you're trying to stack once you get there, there are some general rules of thumb, and this already leads into that first portion of research. The one general rule of thumb is combine ingredients that are synergistic. So if you're just combining ingredients because you think one ingredient looks cool and other ingredients look cool and you just want them in one thing. Yeah. It's just you're taking two ingredients. But if you want a stack, usually you want that the, how does the saying that the sum of its part is the greater than the equal or the whole?
Erika
Yes. So it goes "Greater than the sum of its parts."
Emiel
Yeah. Thanks for saving me there. Sometimes my English as a second language kind of trips me up.
Erika
Yeah. For those of you who don't know, Emiel speaks Dutch. So if there's any Dutch listeners out there or Dutch folks on Reddit send Emiel message, he might want to have a conversation with you about nootropics in Dutch.
Emiel
Yeah. We kunnen gewoon in Nederlands praten over nootropics en supplementen. Ik heb een beetje raar accent maar, we can do that.
Erika
Awesome. So we're going to move on to another follow up question from u/eamonn123 which is a little bit more specific to a mechanism kind of question. "Can you combine dopamine releasers and DRIs together, or do they have interfering mechanisms?"
Emiel
You could, and I've actually tried it recently with Sabroxy and a very exciting plant based dopamine releasing compound. The two together works quite well. But then we are talking about fairly mild. I mean, Sabroxy is not necessarily a mild dopamine reuptake inhibitor, but this other dopamine releaser was somewhat mild compared to some of the other stuff out there that's a dopamine releasing agent. So I think generally combining a reuptake inhibitor with a releaser is not necessarily a good idea, but it can be done in more subtle ways, it seems. So combining Sabroxy with this mild dopamine releasing agent actually worked quite well and rounded out the effects a little bit.
Erika
Nice. And one other question, or there's actually a few more questions, but this one's another mechanism question, "Nootropics that affect liver enzymes like the CYP2D6 enzyme, would these affect absorption of other nootropics?"
Emiel
Yeah. This is an interesting thing because the liver enzymes definitely apply to natural compounds and supplements, too. And you can have different interactions with liver enzymes and absorption. And it can get pretty complex, especially if a plant contains multiple different compounds that each have an effect on these cytochrome p-450 enzymes. So sometimes it can actually be beneficial, too. If we're looking at curcumin and piperine, for example, one of the reasons why piperine helps curcumin absorb better is because piperine is a pretty broad inhibitor of the cytochrome P-450 enzymes. And because curcumin is metabolized by some of the cytochrome P-450 enzymes, it enhances the absorption and how long the curcumin can stay in circulation. So sometimes it's a good thing. And sometimes certain compounds can actually induce certain cytochrome P-450 enzymes, which would mean that other compounds get metabolized a little bit quicker. So there are definitely some interactions out there. It's interesting to look at it. And another interesting thing that not a whole lot of people talk about, because the cytochrome P-450 enzyme system oftentimes gets oversimplified. But something a lot of people aren't aware of is that the cytochrome P-450 enzymes are actually under diurnal control, meaning that they respond to circadian rhythm. So I believe they are lower in the evening and higher in the morning, which means that depending on certain times of day, when you take certain things, you might have different interactions there with the cytochrome P-450 enzymes. So I think unfortunately at a certain point it gets a little bit hopelessly complex and it may be something that we don't have to concern ourselves with all too much, but being aware of it and being aware of the potential interactions that could happen is always good, especially when we can use it in our favor.
Erika
Definitely. So now we're going to move on to a new category of questions, which is stack suggestions or requests that we got on the Reddit thread asking what questions you had about stacks and stack development and stacks in general. And so the first one comes from u/Pentarriaza. Really cool username. The question is, "Will Nootropics Depot/Natrium Health consider releasing a digestive health stack? Maybe something along the lines of an optimized Psyllium Husk powder or capsules with ingredients focused on digestive support with pre and postbiotics, and perhaps ingredients with glucose/cholesterol management attributes? Someone who knows more than me can maybe comment below with some suggestions." So thanks for stimulating the conversation and thanks for asking this really interesting question. Emiel, how about a prebiotic probiotic postbiotic stack?
Emiel
Very interesting and definitely something we will do at a certain point and something I have a few ideas floating around with, and a few other people around the office have had a few ideas and I think we can come up with something really interesting.
Erika
Yeah, definitely. So while this might not go under the soonTM category, it is certainly something we're thinking about often.
Emiel
Yes.
Erika
Now we're quickly moving into another category of questions about stacks, which is questions about absorption and dosing of stacks. So this question comes from u/Lamanchin93, another regular listener and asker of great questions. And their question is "On the topic of combining supplements, I often wonder if I'm introducing negative interactions by taking my big morning stack, including over 20 Nootropics Depot products. Should I spread out my dosing over a couple of hours or is taking a large variety of products at one time fine?" Really good question. We get this all the time.
Emiel
Yeah. And I would experiment with a little bit and do some research on all the different things that you are combining. I personally take about 18 different things all at once in the morning. So I do take a large stack and I don't space it out because I like how all of the different ingredients interact together and have synergies together. And if I spread it out, I don't necessarily get that. There are some ingredients in my stack that I could separate out, like vitamin D and magnesium. It's not super critical when I take those, but it's just convenient to take them all before I leave the house. If I have to leave the house or if I'm just around the house, it's still convenient to just take them all and not have to remember to take another stack later in the day because I'm a pretty busy person so I can lose track of taking a second dose. So for me, if I don't get them all in at the same time, I'm liable to forget part of my stack. And I've had this happen a lot when I did try and separate it out. I have experimented, though, and taking certain smaller ones before I have some breakfast to give me some nice mental clarity and things like that and then taking the rest of the stack later, and I did this for a while, but currently I've been really, really busy, so I've just been taking it all at once.
Erika
Yes. So the short answer for Emiel is that yes, you can take the product all at once, and that should be fine. But do your research. And if you are feeling some negative or less than desirable effects, when you do combine all of those products at once, take it a little slow and maybe back off and you can take a couple at a time together and see what combinations work best for you. And I'm a little bit different than Emiel because I can be really sensitive sometimes when I take lots of capsules at one time, especially if I haven't had enough to eat. And so I like to take a handful of more of the cognitive benefit supplements early in the morning, which really helps to jumpstart my day. And then I'll wait a little while until I've had some breakfast and had a little bit of time for my stomach to settle and maybe digest some of that a bit. And then I'll take the rest of my supplements in the afternoon. So I'm still getting the benefits that I want, like earlier in the day. But I do like to break it up into two smaller groups. And that's just my preference. Our next question about absorption and dosing of stacks is coming from u/Mrfilip and the question is, "One of my stacking conundrums is based on timing. I've been a Tau user for nearly twelve years, and I have always stacked it with an oil MCT, omegas, et cetera. But I always felt that I needed to take the oil first. I assume, but I don't know that each supplement has different uptake times, and therefore to be efficiently synergistic based on its half life the timing of each supplement should be important. What's the science behind this?"
Emiel
Yeah, it gets pretty complex there too, with a lot of different ingredients that have different pharmacokinetic profiles and things like that. But one thing I will say is that you don't have to take oil with triacetyl uridine. You'll be fine just taking it on an empty stomach. Oils can sometimes enhance absorption. It could enhance absorption for not just fat soluble compounds but also water soluble compounds. And there is a lot of research we're doing in this area yet, and I'm not necessarily ready to share some of that data yet that we found. But there are some interesting things happening with lipids and absorption that can affect a lot of different supplements. So there might be some merit to taking an oil source beforehand. So it's already in your digestive tract before you take the supplements. And that would apply globally to all sorts of different supplements. If somehow the oil is having an absorption enhancing effect, but only if the oil is in the intestines, which is what our theory revolves around, then it would mean taking the oil maybe half an hour before you take the supplement or even an hour before even if you eat a fatty meal an hour before taking your supplements or something like that, then potentially you'll have some better absorption.
Emiel
But then maybe you'll also have some interactions with what's in your food with supplement absorption. So it gets pretty complex there. But if that works well for you, keep doing what works well for you, because that's what matters.
Erika
Definitely. And if you're really interested in learning more about the absorption process in general, we have a really informative blog on our website. It's called "When Should I Take My Supplements?" And it talks about-
Emiel
We can link that in the product description.
Erika
Yeah, definitely.
Emiel
Or the podcast description.
Erika
Yeah, definitely. And that blog talks about absorption, absorption times, it talks about some of the nitty gritty science of digestion. And I think you'll benefit a lot from checking this out if you feel like it, because it has some really good info in there that's specific to your question and that you can apply to all the different supplements you might be taking on a daily basis. So we have one final question. This one comes from u/TheOptimizzzer. Thanks so much for listening and for asking your thoughtful questions. So the question is "How digestive enzymes could impact the bioavailability of my stack if taken at or around the same time?"
Emiel
This is a very interesting question, because digestive enzymes, what do they actually do? And one of the main things they do is they break down carbohydrates and proteins, things that we consume through our diet. And that's why they're called digestive enzymes, because they help digest our food. But can a digestive enzyme break down a compound like caffeine or something like that? I don't think so. Maybe it could degrade some of the betaglucans or something like that in some of the mushroom products because those are polysaccharides, they're starches. I could conceivably imagine that there might be some sort of digestive enzyme interaction that could break some of those bonds, but it's hard to predict exactly what it would be doing because all of the different digestive enzymes have different effects and some act on proteins and some act on carbohydrates. And most supplements are not going to be proteins. I don't know, actually, if anything, at least that we sell that is a protein or contains any sort of active protein fraction. The one thing I could maybe see happening with some of the digestive enzymes is that peptide based products could be sensitive. So things like glutathione, which is a peptide, and L carnisine, which is a peptide. Potentially in the presence of protein digesting enzymes, those enzymes may be able to break some of the peptide bonds too, because that's maybe how they're breaking down some of these proteins. And if that's the case, then taking those sort of digestive enzymes together with specific products like glutathione or L carnisine could maybe impact absorption.
Erika
A follow up question from u/TheOptimizzzer is "The differences in taking stacks with or without fish oil and or MCT oil. And if this should be thought of differently than taking stacks with meals?
Emiel
It goes back to my first part of the answer is that it probably doesn't make a crazy huge difference, especially like one small fish oil capsule. It's not a whole lot of oil. It would be pretty... 1 gram of fish oil interacting with a few milligrams of an active compound coming together miraculously somewhere in your digestive tract is a little bit far fetched, maybe. So I wouldn't imagine that taking something like just a single capsule of fish oil would necessarily aid absorption. I would imagine taking 1020 grams of something like MCT oil. And especially maybe with a phospholipid like a phospholipid, like if you took some of our Smart PS, maybe with a larger amount of MCT oil, because Smart PS contains these phosphatidylcholine type things and phosphatidylserine, which is how they make liposomes too. But they act as emulsifiers. And in the presence of fats, they can cause some of that emulsification to happen during absorption. And that really helps. So maybe if you're playing around with higher amounts of fat like that and some of these phospholipids, then together, if you preloaded, like half an hour before you take it, and then you take your supplement or your stack, then potentially some things will work better. But again, maybe not everything or compound in that stack absorbed in intestines, maybe some of it absorbs in the stomach. And then maybe the fat thing doesn't matter as much. So it's hard to know what in a stack, how it would interact. But my advice would be just try it out, because I have actually noticed some pretty interesting interactions. I made an extract once of a plant, and when taken by itself, this extract, it worked fine. But then one day I had some Zing Zang Bloody Mary mix laying around that I needed to get rid of. So I thought, oh, I would just mix my extract in there because the taste will complement each other. And then when I drank my Virgin Bloody Mary mix, the effects were better. So I don't know what it is. Maybe there's something in Zing Zang. Maybe there's a specific emulsifier that they use to make it so it doesn't separate. And maybe that emulsifier also helped emulsify some of the compounds. So who knows, maybe take a shot of Zing Zang and then half an hour later, take your stack and maybe that will work. Who knows?
Erika
Yeah, exactly. And to get back to the second part of the question, if taking a stack with MCT oil, if that should be thought of in the same way or in a different way as taking a stack along with a meal, what would you say? The meal is going to be different because it will probably contain fats, proteins, carbohydrates, maybe different flavonoids. Like maybe you were eating some cabbage and you're getting some cabbage flavonoids, or maybe you were eating red cabbage. We're just on the cabbage train here. But maybe you're eating some red cabbage and you're getting huge amounts of anthocyanins. Then maybe those anthocyanins can bind to open binding sites, maybe the open binding site of something like magnesium. Maybe those anthocyanins could bind there and effect absorption. So I would say with a meal, it becomes more complicated because there are so many more different interactions that could happen. And I would say using just a simple oil just to test out oil content, maybe of a meal, or does just oil in general, enhance absorption? It's more streamlined to do it with an oil rather than eating a meal. Like eating a piece of salmon is going to be much different than taking a capsule of fish oil that gives you the same amount of Omega three as a piece of salmon. But in the salmon, there's going to be some interesting bioactive compounds, maybe some proteins and sugars and things like that.
Erika
Potentially even more interactions that might not have a strictly beneficial effect, but might just kind of complicate the process. Perhaps.
Emiel
Or maybe it's positive, like if we think about, for example, milk. There's a lot of proteins in there, and I've read some research that certain bioactive compounds can bind to those proteins in milk and then kind of get micro encapsulated in these whey proteins. And when that happens, they absorb better. And this is maybe why KSM 66 decides to use milk in their extraction process. But I haven't been able to completely confirm this. But maybe they're working with that. But that also means that within taking supplements and eating food with it, certain foods might be able to enhance absorption. For example, those phospholipids we were talking about earlier than help us emulsifiers and might help with absorption. Egg yolks are full of them. So if you ate breakfast with lots of eggs, then, yeah, maybe things will absorb better. Maybe if you just ate some scrambled eggs for breakfast with some MCT oil over it and you ate that, maybe you would have insane absorption. It would actually be something interesting to try out.
Erika
Awesome. And now our very last question or follow up question from TheOptimizzzer is "Which stacks or categories of supplements are best taken with fat/food or meals? And are the absorption differences significant?"
Emiel
Yeah, so I think at this point we've kind of exhausted this question because we've answered it through some different parts of the question already. So I think if I were to answer this part, it would just become a little bit redundant. But just keep in mind, it's hard to know exactly how something will interact. Your stomach might be a little bit warmer one day and might churn a little bit harder, might have more acid in there, and the PH is different that can affect absorption. And then you throw food in there and maybe you ate something really spicy and that's causing some different excretions of stomach acids or maybe the opposite. And how that interacts with supplement absorption is it's hard to predict, which is why my advice actually always is, if you can handle it, take it on an empty stomach, because that's the most controlled, variable free way of taking things and everything pretty much absorbs well on an empty stomach, and usually it absorbs faster. So if you can handle it, just try it on an empty stomach. Maybe try and add something simple like the MCT oil you're mentioning, and then see if that enhances absorption or if it doesn't do anything and it's just easier to take on an empty stomach.
Erika

That's a really great way to conclude this month's episode of In Search of Insight. So thanks so much to all of you for your insightful questions and for participating in that question and answer thread that we have going on Reddit.
Emiel
Yeah, always very interesting. And I like the places that can take us.
Erika
Absolutely. You ask us questions that we wouldn't think of ourselves, and we really love interacting with you on Reddit, and we love reading your questions and answering them on the In Search of Insight podcast. So if you want to have your question featured in a future episode, join us on our subreddit that's r/NootropicsDepot and keep your eye out for our podcast Q&A thread that we post two weeks before the release date of the podcast so you can ask your question and perhaps have it featured on a future episode. To conclude, thank you so much for listening and for your participation in In Search of Insight. You can listen to this podcast on a variety of streaming platforms, and we are now available to listen on Audible as well. Another handy feature that you might notice if you're listening on YouTube is that there are chapters for our podcast. You can scroll along the play bar of the video and see what categories and subjects we talk about. And if you wanted to go back to a really interesting section, you could just hop back. Or you can also hop ahead and get the exact information you need.
Emiel
Yeah, these podcasts can get pretty long. And if you don't want to listen to everything we have to say-
Erika
We totally understand.
Emiel
I completely respect that because it is quite a bit but use that functionality on YouTube to kind of get to the things that you want to know specifically about because Erika does a great job of splitting this up and they're very accurate.
Erika
And we try to make them as user friendly as possible, so if you ever have suggestions for different segments, different information that you'd like to hear in our podcast or different functions that would be really helpful to you for understanding the information we're providing, please let us know on Reddit or leave us a comment on YouTube. Another thing to mention is we have transcripts available for all of our podcasts and those are going to be available to read on the landing page for our podcast on our website that's nootropicsdepot.com/podcast. So to conclude this really nice, long, super informative episode we just wanted to say thank you and good luck in your stacking adventures and your stacking research and keep asking us questions, keep asking yourselves questions and we're excited to be releasing more podcast episodes on topics that you're interested in releasing more stacks and continuing to push the boundaries with Nootropics Depot and with Natrium Health in these really interesting and exciting ways. So, at long last, thanks for listening and we'll see you next time. Bye bye.
Emiel
Thank you. See you next time.
Where To Listen Elsewhere
---
---
Follow Us On Social Media
---