In Search Of Insight Podcast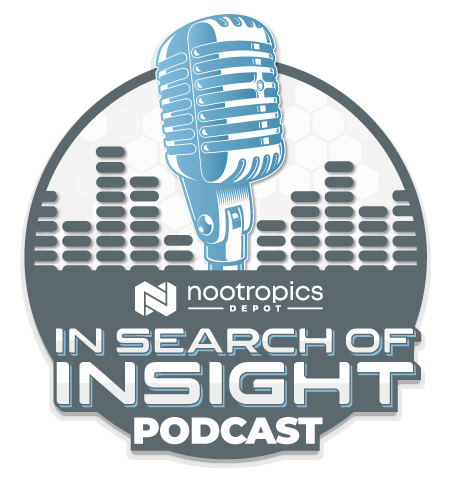 INTRODUCING THE NOOTROPICS DEPOT PODCAST
INTRODUCING THE NOOTROPICS DEPOT PODCAST
Click To Listen On Your Favorite Streaming Platform
---
---
#020 | Cyanidin 3-Glucoside | Stimulator Of The Body & Mind | Muscle Growth, Mood, Recovery, & Cognition
On this episode of 'In Search of Insight' (episode #20), we finally get to "meet" you, by way of video! From now on, the 'In Search of Insight' will also feature video, in order to create a more immersive experience in which we can learn more about supplements together. An episode about cyanidin 3-glucoside (C3G), seemed appropriate for our first foray into videoland, because of its mesmerizing purple color!
C3G is a purple pigment found in large quantities in various types of berries, red wine, vegetables like purple sweet potatoes, and grains such as black rice. In fact, black rice is probably one of the richest sources of C3G, and due to this, we derived our high-potency C3G from black rice. Within these food sources, C3G produces lots of different health benefits, most notably acting as an oxidation and inflammation regulating agent. However, in higher doses, as can be found in our C3G supplement, some very interesting properties appear!
One of the main uses of C3G has been as a body recomposition tool in the bodybuilding world. C3G pulls this off by reducing fat stores and maximizing muscle growth. This means that C3G can help us become leaner and more muscular, which is every bodybuilder's dream! For others, the body recomposition effects really come in handy to optimize our overall metabolic function, helping us to get the most benefits from our food by taking advantage of C3G's nutrient partitioning effects.
One aspect of C3G that is often overlooked however, is its nootropics effects. When we were first beta-testing C3G, this is the first thing that stood out to us. When the C3G started to kick in, we got a slew of classic nootropic effects, such as a widening and crisping of our vision, a sharp mental clarity, and a sense of focus and drive. This is due to C3G's effects on monoamine oxidase enzymes, PGC-1alpha, and blood flow. It even helps boost the effects of caffeine, which we show off in a fun and engaging manner during this podcast!
If you want to learn more about C3G's body recomposition and nootropic effects, while also getting to know us better, then tune into our first ever video episode of 'In Search of Insight'!
---
#019 | Fenugreek | The Triumphant Return Of An Ancient Mood Booster | From Mummies To Modern Supplements
On this episode of 'In Search of Insight' (episode #19), we explore the ins and outs of a spice called fenugreek. Many of us are likely familiar with this botanical, due to its incorporation into various foods, most notably curries and imitation maple syrup. Fenugreek is also famously used for its fitness boosting effects, with some claiming it enhances testosterone levels. Yet, the nootropic and mood boosting effects of fenugreek remain relatively unexplored, although murmurs of these effects are sprinkled all over the web. On this episode we dig deeper into these unique mood, cognition and fitness enhancing effects, finally getting to the root of what this wonderful botanical is capable of!
A big focus of this episode is on the bioactive compounds in fenugreek, specifically, trigonelline and protodioscin, two of the compounds we have standardized our fenugreek extract for. Trigonelline is a compound that is found in relatively high amounts in coffee, and appears to contribute to both the stimulating and mood boosting effects of this invigorating elixir! It's a compound we became intimately familiar with during our research for our take on a highly efficacious caffeine stack, which ended up materializing as DynaMAX. Although trigonelline never made it into DynaMAX, it's a compound we kept in the back of our minds, waiting for a chance to explore it further. Turns out, fenugreek was that chance! Combining the dopamine releasing properties of trigonelline, with the motivation, and confidence enhancing properties of protodioscin, resulted in a really unique effects profile. Imagine Tribulus, but tuned down in terms of aggressive energy, and tuned up in terms of mood brightening properties. Quite the winning combination in our books!
---
#018 | Everyday Essentials | Magnesium Glycinate, L-threonate, Sucrosomial, ClariMAG | Which Form Is Best?
On this episode of 'In Search of Insight' (episode #18), we explore one of, if not the most, important mineral in our body, magnesium! Magnesium plays a role in practically every process in our bodies, and unfortunately, the vast majority of us do not consume enough magnesium through our diets. There are multiple reasons for this, from our soils containing less magnesium due to over-farming, to the consumption of highly purified and mineral depleted water. Thus, the need to supplement magnesium is higher than ever, which brings us to the topic of this month's episode, magnesium supplements!
Unbeknownst to many, magnesium is a metal! In fact, if you have ever had one of those lightweight metal pencil sharpeners, you actually had a small piece of magnesium metal. It's easy to imagine then, that taking magnesium in its metallic form, which we refer to as 'elemental magnesium', is just going to pass straight through you without absorbing. In fact, getting magnesium to absorb properly, is quite a complex task! Luckily, there are lots of different options for high bioavailability magnesium on the market these days. This does however bring with it the question, which magnesium supplement is best? Tune in to this episode, to hear the answer to that very question!
---
#017 | Sabroxy | Oroxylum indicum Bark | Is Oroxylin-A Really as Good Of A Dopamine Booster As They Say?
On this episode of 'In Search Of Insight' (episode # 17), we explore the stimulating world of Sabroxy, a cutting-edge extract of Oroxylum indicum bark, which is also known by intriguing names such as the "tree of Damocles" and "midnight horror". We explore the traditional uses of this tree, but more importantly, how an extract of this tree was produced which acts as a dopamine reuptake inhibitor!
Before diving into the fascinating effects of Sabroxy however, we explore the personal stacks of your host Erika and product specialist Emiel. So, if you've ever been curious about what type of supplements have been powering this podcast series, then tune into the first half of the episode to get an in-depth look at a flexible and sensible stack, which Emiel and Erika have been fine-tuning over the years!
In the second half, we dive straight into the neuroscience of enhancing dopamine levels. Covering how to enhance dopamine levels via inhibiting the dopamine transporter, monoamine oxidase-B, and the VMAT transporters. We specifically focus on inhibition of the dopamine transporter, which is the mechanism of action of Oroxylin A, one of the primary bioactives found in Sabroxy. We discuss why enhancing dopamine in isolation provides a unique effects profile conducive to creative work, and how dopamine can enhance focus, motivation, and mood.
Last but not least, we explore the use of Sabroxy in multiple different stacks, challenging each other to come up with stacks on the spot for different scenarios. These scenarios are quite varied, ranging from performing a gig as a musician, to taking a fast bike ride through nature. All in all, it's a jam-packed and dynamic episode, so sit back, relax, and enjoy!
---
#016 | Pregnenolone | The Master Hormone Precursor | A Perfect Ally For Testosterone Boosting Supplements
On this episode of 'In Search of Insight' we explore the fascinating master hormone precursor, pregnenolone! Pregenenolone is right at the top of the steroid hormone synthesis process, and is a crucial precursor for the synthesis of testosterone, estrogens and even corticosteroids! Furthermore, pregnenolone acts as a neurosteroid, acting on sigma-1 receptors which produces nootropic and mood boosting effects, while also acting as a precursor for allopregnenolone which is a powerful neurosteroid that acts as a positive allosteric modulator of GABA-A receptors!
There is a lot to discover about this highly important hormone precursor, and due to this we are diving very deep into the science of hormone synthesis on this episode! We discuss how exactly pregnenolone bypasses the rate limiting step of steroid hormone synthesis, and how it eventually turns into highly desirable hormones such as testosterone and dihydrotestosterone. We also cover one of the most crucial aspects of pregnenolone supplementation, which is dosing! Unbeknownst to many, high doses of pregenenolone are not very beneficial, and the real benefits are found in the lower dosing range (5-10 mg). This is because higher doses of pregnenolone, practically only convert to progesterone, while simultaneously lowering androgen synthesis. With this in mind, if you are looking to optimize androgen synthesis, then sensible dosing is crucial!
---
Looking For An Older Episode?

---
Follow Us On Social Media
---