In Search Of Insight Podcast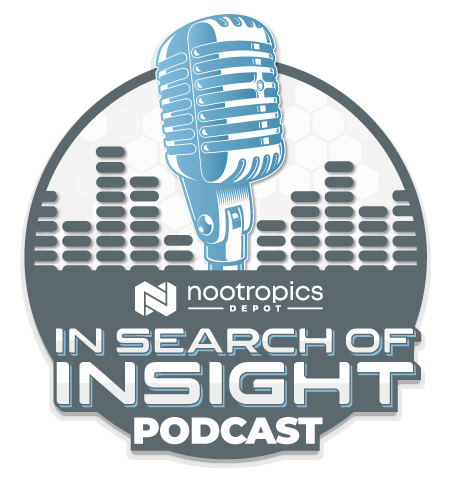 INTRODUCING THE NOOTROPICS DEPOT PODCAST
INTRODUCING THE NOOTROPICS DEPOT PODCAST
Click To Listen On Your Favorite Streaming Platform
---
---
#015 | Supercritical Coriander | Exploring The Novel Effects Of The Potent Seeds Grown By Ukrainian Farmers
On this episode of 'In Search of Insight', we explore one of our most exciting and well received new products, a very high quality super critical extract of Ukrainian grown Coriander! Coriander is high in a special form of linalool, S-(+) linalool which is the fruitier counterpart of the powerfully herbaceous linalool found in lavender, R-(-) linalool. Both of these linalools have powerful relaxing effects, for both body and mind!
We explore the unique super critical CO2 extraction methodology used to obtain this high quality coriander oil, with a whopping 25% linalool! It's a very interesting and "green" extraction process, which uses carbon dioxide in its liquid form, which can only exist under very stringent temperature and pressure parameters. This supercritical carbon dioxide fluid is then forced through large quantities of coriander seeds which yields a very clean and potent coriander extract!
Most importantly, we explore the unique pharmacology of our coriander extract, helping to explain why it has quickly amazed a big following. It's a gem amongst other relaxing supplements, producing powerful relaxing effects in almost anyone, even those who are classically non-responders to relaxing supplements.
So, without further ado, we invite you to kick back, relax and let us take you on a dreamy journey through the world of our super critical coriander extract!
Where To Listen Elsewhere
---
#014 | Cognance - Bacopa Reimagined | The Quest For Ebelin Lactone And A Natural Microdose Alternative
Buckle up for this month's exciting episode all about our new patented Bacopa monnieri extract, Cognance! Emiel (one of the inventors of cognance) will walk you through the storied history of this extract, and why it took so long to develop. It's an exciting story, resulting in potentially one of the most cutting-edge botanical extracts currently on the market!
Cognance is a dual-stage, hydrolyzed Bacopa monnieri extract. In layman terms, this means the Bacopa monnieri has been "pre-digested". This is very important, because the primary compounds in Bacopa monnieri, the bacosides, don't absorb well at all. Normally, when we take Bacopa monnieri orally, these bacosides are then quickly converted to their aglycone counterparts, jujubogenin and pseudojujubogenin. These aglycone compounds then can undergo further acid hydrolysis (which occurs naturally in our stomach too), which then yields a unique compound called ebelin lactone. This process is not very consistent or efficient within our bodies, so we decided to develop a method that would achieve this process outside of the body.
After inventing the method for "pre-digesting" Bacopa monnieri extracts, we put a very high bacoside Bacopa monnieri extract through this process. What we ended up with, is the first Bacopa monnieri product on the planet, that has been standardized to 10% ebelin lactone! Now you may be wondering, what's so special about ebelin lactone? For one, it is a positive allosteric modulator of the serotonin 5-HT2A receptor, which is a common target within the world of microdosing. Secondly, it also acts as a selective muscarinic acetylcholine M1 receptor positive allosteric modulator. This is a bit of a "holy grail" nootropic target, as it is very hard to target just the M1 receptors. The reason for wanting to modulate M1 receptor activity is due to the potent nootropic effects that are mediated through this receptor target.
In terms of what Cognance does, how it feels, and what it stacks with, we go incredibly deep into this topic on this episode. However, to sum it up, Cognance does wonders for focus, attention, motivation, mood and memory! When it comes to natural nootropics, this extract opens up a whole new world! What makes Cognance unique too, is its uncanny ability to synergize with a wide variety of other supplements. So, if you are wanting to get deeper into what Cognance is, and how to best utilize it, this podcast will be right up your alley!
Where To Listen Elsewhere
---
#013 | Ganoderma Lucidum (Lingzhi) | Creating the World's Most Potent Reishi Mushroom Extract
On this exciting episode of In Search of Insight (episode #13) we explore the fascinating world of Ganoderma lucidum, better known as red reishi. This mushroom has a very rich history of use, and is perhaps one of the longest used medicinal mushrooms. Historically reserved just for royalty due to its rarity, widespread use of this mushroom actually is somewhat recent since wild specimens are in short supply. However, in China and Japan, unique cultivation methods were developed which allowed for the cultivation of large amounts of reishi, making it more accessible to a wider audience. This method involves steaming logs of wood, cooling them, and then inoculating them with Ganoderma lucidum spores or mycelium. These logs are then left to inoculate for several months, after which they are moved to an outdoor grow chamber, where the logs are buried under soil. The soil then helps to hydrate the logs and the reishi fruiting bodies eventually start to grow out of the ground. It then takes several months for the fruiting bodies to become fully mature. All in all, this process can take up to a year, and this is where the story gets complicated!
While in China and Japan, reishi mushrooms have been grown in this painstaking manner, many Western and North America growers tend to take shortcuts. During the podcast, we cover what these shortcuts are and how they do not produce ganoderic acids, the main bioactives. We back this up with lab testing data, to show that in fact, many reishi products on the market are of very poor quality. In China, you would never get away with this, because reishi is consumed in its whole form, and is judged based on its color (uniform deep dark red) and patterning (rams horn pattern) which only occurs in high quality mature reishi. However, in the Western world, most reishi is consumed in powdered form, which gives opportunistic mushroom vendors a unique opportunity to sell immature reishi fruiting bodies, or worse yet, just reishi mycelium to uneducated customers. These lack the ganoderic acids, and thus, all the purported reishi benefits will be lacking.
Speaking of ganoderic acids, we recently worked together with expert Chinese reishi cultivators and extractors to make possibly one of the highest ganoderic acid reishi extracts currently available on the market. Clocking in at a whopping 9% ganoderic acids, this reishi extract will make you evaluate what you know about reishi. At least, it did for us, and we gained a whole new level of respect for this mighty mushroom! We hope that at the end of this podcast, you too will walk away with a sense of awe and respect for this phenomenal mushroom!
Where To Listen Elsewhere
---
#012 | Saffron | Shining Light on the Benefits of the World's Most Expensive Spice
On our special 1-year anniversary edition of the In Search of Insight Podcast (#12), we dive into the wonderful world of the most expensive spice, saffron! Crocus sativus, which is the plant from which saffron is derived, is a unique perennial plant that produces three tiny little stigmas. These stigmas are painstakingly isolated from the delicate Crocus sativus flowers, and gently dried to produce the spice saffron. It takes thousands of Crocus sativus flowers and many acres of specialized land, to produce very low yields of this precious spice. This is why it is so expensive, not only is it difficult and laborious to cultivate and process, but the yields are extremely low when compared to other spices.
A very fascinating aspect of saffron is that Crocus sativus does not grow in the wild and is entirely dependent on human intervention. Thus it is no surprise that the earliest mentions of saffron cultivation date back to at least 3,500 years ago! This also speaks volumes for saffron's unique array of benefits, because why go through the trouble of cultivating this finicky spice for thousands of years if it doesn't provide bountiful rewards?
Saffron contains a collection of highly unique compounds which only appear to occur in significant quantities in saffron and is not found in appreciable amounts in any other plants. These compounds are the crocins, which provide the beautiful crimson red color of saffron, crocetin, picrocrocin which provides saffron's unique bitter taste, and safranal which provides the unique sweet honey/tobacco aroma notes in saffron. These compounds are all considered to be carotenoids and are derived from the carotenoid zeaxanthin. As the stigma's mature, the zeaxanthin serves as the precursor for crocetin and 3-OH-cyclocitral. Crocetin then turns into the crocins and 3-OH-cyclocitral turns into picrocrocin. After harvesting the stigmas, the stigmas are dried and safranal is produced from picrocrocin during this drying stage.
Since the bioactives in saffron are all derivatives of the carotenoid zeaxanthin, it perhaps does not come as a surprise that they are very beneficial for eye health! In fact, saffron has been used traditionally for centuries as a way to enhance eye health. One of the most common traditional uses for saffron is as a mood modulator however, and based on its pharmacological profile this makes perfect sense! The bioactives in saffron can act as NMDA receptor antagonists and GABA receptor agonists, which provides a unique calming and mood boosting effect. In addition to this, saffron bioactives act as serotonin reuptake inhibitors, which will lead to higher levels of serotonin in the CNS. In addition to this, the saffron bioactives may block serotonin 5-HT2C receptors, which will lead to enhanced dopamine and norepinephrine release. Another mechanism by which saffron can enhance monoamine tone, is by non-competitively blocking both monoamine oxidase A and B. As the cherry on top, the saffron bioactives also help enhance neuroplasticity. No wonder one of its most prized traditional uses is as a mood brightener!
Dive into episode #12 of In Search of Insight, if you want to explore saffron cultivation, processing, bioactives, traditional uses, pharmacodynamics and saffron stacks in more depth!
Where To Listen Elsewhere
---
#011 | Maca | Can We Unlock The Secrets of this Ancient Traditional Medicine?
In episode #11 of in 'In Search of Insight' we dive into the fascinating world of Lepidium meyenii, which we all know and love as maca! Maca is a very unique brassica species, meaning it is related to plants like radishes, broccoli, horseradish, and even kale. If you take a look at what maca looks like, you will even see that it looks quite a lot like a radish! So what sets maca apart from the rest of the Brassica's? Altitude!
Maca grows at extremely high altitudes of around 3500-4000 meters above sea level. At this extreme elevation, temperature swings between day and night are drastic, solar radiation is much more intense, oxygen levels are much lower and soils don't function the same. What makes maca unique then, is that this is one of the only plants on the planet that can successfully be cultivated at these extreme altitudes. More interestingly, maca even helps the locals adapt to these extreme altitudes. Due to this reason, maca has enjoyed thousands of years of use!
In terms of the effects of maca, we see very unique modulation of the endocannabinoid system. The star effect here is inhibition of the fatty acid amide hydrolase (FAAH) enzyme. This enzyme is responsible for breaking down endocannabinoids such as anandamide and 2-AG. By blocking FAAH with maca we can increase the levels of these highly important endocannabinoids which can increase our overall endocannabinoid tone. In addition to this, maca can also block the reuptake of anandamide, while also directly activating CB1 receptors. In short, it is quite an endocannabinoid powerhouse! Most of these effects are mediated through a class of compounds called the macamides. These are very fascinating compounds, because they actually get created during the drying and processing stage of maca! This is why it is absolutely crucial to avoid raw maca.
Maca also produces a very interesting physical and mental stimulation that can revitalize a tired body and mind. This is likely one of the reasons it has seen such a long history of use at extreme elevations! Maca also contains glucosinolates and isothiocyanates, compounds that are found in other brassica species. These compounds may also contribute to the unique fertility promoting effects of maca!
So, if you want to learn more about the fascinating world of maca, then dive into this podcast, and let us take you on an adventure back in time at extreme altitudes!
Where To Listen Elsewhere
---
#010 | The Science Behind Pain | Can Supplements Really Help?
On episode # 10 of In Search of Insight, we got a little sensual! In this episode about pain, we talk about our senses, how we interpret the world around us and how when we dial up the intensity of these senses, we have a subjective experience of pain. We explore where pain comes from, how we interpret pain and how this interpretation influences our perception of pain, how neuroplasticity plays a role sensitizing us to pain and different strategies on how to dampen pain.
Throughout the podcast, a solid understanding of where pain comes from starts to materialize. One thing that becomes clear right away, is that pain doesn't necessarily exist, pain is simply our own interpretation of nociceptive signals that are traveling at breakneck speeds along our peripheral and central nervous systems. Only when these signals reach the brain, do we start to ascribe meaning to them. This is also where our perception of pain becomes quite complicated, because our mental state has a huge effect on how much pain we experience.
A big focus of this podcast is also on the dark side of neuroplasticity. Within our nootropic pursuits, we always are chasing more neuroplasticity for better mood, memory and overall cognitive function. However, this neuroplastic mechanism is also a massive regulator of pain. When we get injured, nociceptive neurons become more plastic, and by doing so can become sensitized which leads to stronger nociceptive signals, which then leads to stronger subjective pain experiences.
Another big topic that we cover on this episode is how to influence our perception of pain by utilizing different lifestyle factors. For example, exposing ourselves to cold water or warm-hot water, stretching, acupuncture, nail beds, electrical stimulation and even chemical stimulation of nociceptive neurons and receptors. Once we understand that our sensory systems are incredibly intertwined with our perception of pain, we can manipulate the sensory system in ways that allow us to better handle nociceptive signals.
Last but not least, we of course cover different supplementation strategies for dealing with pain. From simple inflammation regulating supplements, to complex endocannabinoid mechanisms, there is something here for everyone!
Where To Listen Elsewhere
---
#009 | Longevity | Is NAD+ the Secret to Longevity?
In this episode of 'In Search of Insight' we take an incredibly deep dive into the fascinating world of NAD+, sirtuins and AMPK! NAD+, also known as nicotinamide adenine dinucleotide, is a coenzyme that is used by hundreds of different enzymes throughout the body and is central to energy production and hormesis. The levels of NAD+ also tend to decline quite swiftly as we age, and it is thought that declining NAD+ levels underlie some of the negative effects of aging. With this in mind, NAD+ is also often seen as a holy grail longevity molecule, and we discuss this longevity topic at great length in this episode!
A big portion of episode 9 of 'In Search of Insight' is about the best strategies for raising NAD+ levels. We talk about lifestyle factors such as calorie restriction, fasting and sleeping according to a consistent schedule, and supplementation with direct NAD+ precursors like nicotinamide mononucleotide (NMN) and nicotinamide riboside (NR). We also discuss strategies of optimizing NAD+ levels by inhibiting an enzyme called CD38 which breaks down NAD+. By blocking CD38 with compounds such as apigenin and quercetin, NAD+ levels can increase even further!
Sirtuins also play a massive role in the effects of NAD+. In fact, without NAD+ the sirtuins cannot function, as they need to consume NAD+ in order to exert their beneficial actions throughout the body. With this in mind, increased sirtuin activity is one of the goals when raising NAD+ levels. This is why individuals often try to raise sirtuin activity while they are supplementing with NMN or NR. The most popular choice here is often resveratrol, made famous by David Sinclair, one of the foremost researchers on NAD+ and sirtuin activity. That being said, resveratrol supplementation faces some challenges and interestingly enough is not the only sirtuin activator and upregulator around. We discuss alternative activators and upregulators of sirtuins in great length in this episode!
Last but not least, we discuss in lots of detail what the positive effects of raising NAD+ levels can be. These effects include increased cellular energy, regulation of appetite, neuroprotection, mood enhancement and longevity.
Where To Listen Elsewhere
---
#008 | Horny Goat Weed | More Than Just A Libido Supplement
In episode #008 of the In Search of Insight podcast, we dive deep into the world of Horny Goat Weed extracts! We talk about different extraction techniques, the different species of Horny Goat Weed that exist, and we go in depth about the seemingly infinite list of benefits that Horny Goat Weed can produce!
In terms of the different extracts that were discussed, we took a look at our 10% icariin and 50% icariin extracts. Even though these extracts are both from the same plant, they both feel distinctly different. The 10% icariin extract is more mood elevating while the 50% icariin extract presents with a cleaner and more selective effects profile.
We also take a look at some of the earliest recorded uses of Horny Goat Weed, which are found in Shennong's Materia Medica. Horny Goat Weed has been used for at least 2,000 years and early traditional uses still are very representative of modern uses. This indicates a vast history of human use and knowledge surrounding this fascinating plant!
Horny Goat Weed, as the name my already suggest, is also often utilized exclusively as a sexual enhancer. This is a shame, because the benefits of Horny Goat Weed supplementation go far beyond the sexual health effects! We discuss some of these other effects throughout the podcast, which includes:
PDE-5 inhibition effects

Libido enhancement through a surprising estrogenic pathway

Blood flow enhancement

Enhancement of gut health, which has surprising longevity benefits

Sleep enhancement through novel mechanisms like PDE-5 mediated circadian rhythm regulation and elevation of IGF-1

Mood enhancement through novel flavones and hormonal mechanisms

Neuroprotective effects due to hormonal mechanisms

Cardiovascular enhancement via PDE-5 inhibition and estrogenic mechanisms

Hormone optimization effects that encompass testosterone, estrogen and IGF-1

Surprising estrogen mediated muscle hypertrophy effects
One of the more surprising findings that we discuss at length in episode #008 of In Search of Insight, is how the bulk of the effects of Horny Goat Weed, for both men and women, actually appears to be regulated via positive estrogenic mechanisms. This was quite a surprise to us, but the pieces fit together very nicely and it has drastically changed our perception of estrogen and all of the positive effects that it can exert!
We also chatted about some of our newest product releases, which covers DL-phenylalanine, L-carnosine and the full Availom line up. If any of these sound interesting to you, and you would like to learn more about them, then check out the beginning of episode #008 of In Search of Insight, where we take a deep dive into the benefits of these newcomers!
Where To Listen Elsewhere
---
#007 | Are Men and Women Different? Should Men and Women Treat Supplements Differently?
In Search Of Insight Episode #007
On this episode of In search of Insight, we dive into the fascinating world of hormones. We pay particular attention to female hormones, and how women can use their hormonal fluctuations throughout the month to their advantage! If you would like to get a brief summary of what Erika and Emiel discuss in this episode, then keep reading because we've condensed the podcast down into a brief summary.
Estrogens
A big portion of this podcast is about estrogens, a class of hormones which is abundantly present in both men and women. There are four different types of estrogens, however, in this episode we pay particular attention to one of the main estrogens, estradiol.
Estrogens have major effects on multiple critical systems throughout the body and brain. For example, estrogens control bone remineralization, blood flow, neurotransmitter balances and overall cognitive function.
The importance of the estrogens is further highlighted during menopause and in post-menopausal women. This is due to the fact that women loose most of the granulosa cells in their ovaries during menopause. The granulosa cells are highly important as they contain a large amount of aromatase, an enzyme which converts testosterone to estrogen. Since the majority of estrogen in women is derived from testosterone, it means a loss in granulosa cells leads to a massive decrease in estrogen production. In a lot of women, this estrogen deficiency then leads to issues with mood, blood flow, bone health and overall cognitive function.
One of the reasons a reduction in estrogens can cause these negative effects, is because under normal circumstances, estrogen is a major neuromodulator. For example, estrogen can upregulate tyrosine hydroxylase, increase dopamine receptor density, decrease dopamine reuptake, upregulate tryptophan hydroxylase and increase overall serotonin levels. These important cognitive effects of estrogen are clearly visible during the menstrual cycle.
The Menstrual Cycle
In the podcast, we discuss the following image of the menstrual cycle in great detail: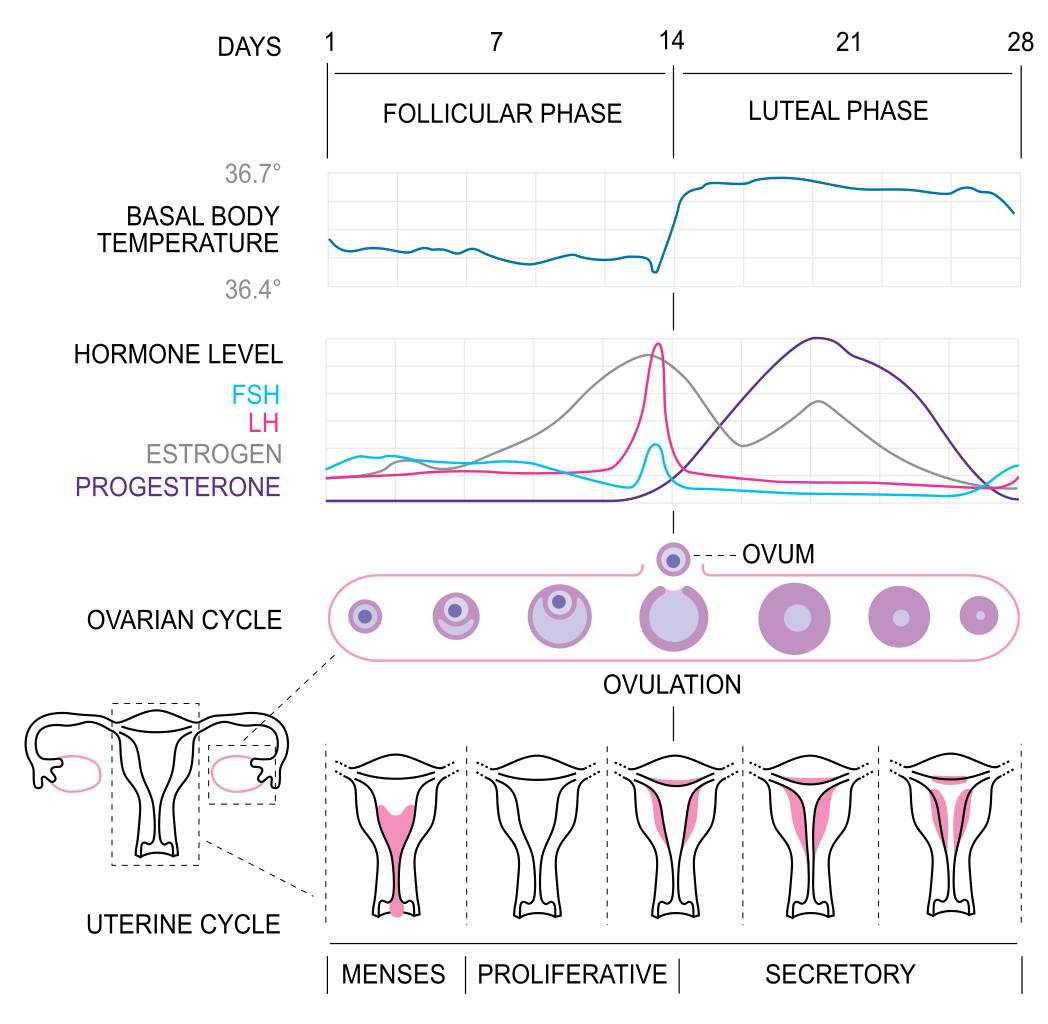 Figure 1. The Menstrual Cycle
While looking at the above image, it can be seen that estrogen levels spike in the late follicular phase. This peak in estrogen levels also often results in a peak in mood and cognitive function. This can be traced back to estrogen's neuromodulatory function.
It's also clear that progesterone levels peak significantly during the luteal phase. This brings with it quite a few problems. Progesterone is rapidly converted into allopregnanolone, which is a powerful neurosteroid. Allopregnenolone binds to the benzodiazepine site of the GABA-A receptor and through this pathway, causes an initial bout of pleasant relaxation. However, allopregnanolone also increases alpha-4 GABA subunit density, which does not respond to benzodiazepine site stimulation. The net result is that after 24 hours of allopregnanolone exposure, the relaxing effects fade and directly opposing effects take its place. This can lead to a short period of irritability.
The irritability then reverses, as long term exposure to allopregnanolone regains the relaxing effects. However, this also causes a big problem in the late luteal phase when progesterone levels plummet. This then causes a withdrawal type effect from the allopregnanolone, which can lead to major negative mood effects.
The Aging Hormone System
We also go quite in depth about how the hormonal landscape changes as we age. This hormonal aging can cause major issues for both men and women. For men, testosterone levels gradually decrease as we age, which can lead to issues with mood, energy levels, physical strength and libido.
For women, the changes in hormonal landscape are a little bit more extreme as age advances, leading to major reductions in both estrogen and testosterone levels. Interestingly enough though, due to the reductions seen in estrogen levels, the male and female hormonal profile actually starts to converge as we age.
Fertility
Another topic we cover on this podcast is female fertility and the aging ovaries. As we experience major socio-economic changes, and we finally see more equal opportunities for women in education and the workplace, many women are choosing to have children later in life. This can be somewhat problematic as fertility gradually declines in our 30's. However, we discuss some strategies of how to ensure healthier ovarian aging, which may help prolong fertility.
Where To Listen Elsewhere
---
---
Follow Us On Social Media
---