In Search Of Insight Podcast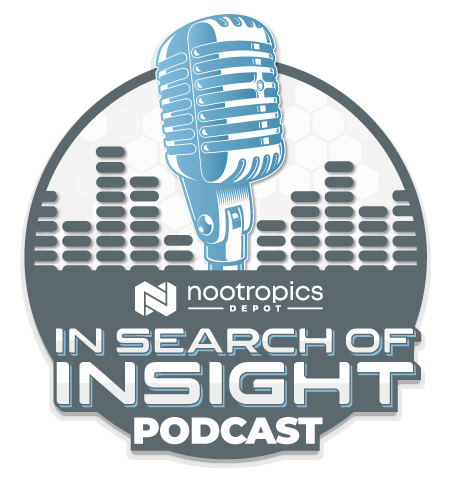 INTRODUCING THE NOOTROPICS DEPOT PODCAST
INTRODUCING THE NOOTROPICS DEPOT PODCAST
Click To Listen On Your Favorite Streaming Platform
#023 | Discovering Bacopa | What's Hiding In Plain Sight?
On this episode of 'In Search of Insight' (#23), we jump into the history and modern advancement of one of the world's most popular nootropic herbs, Bacopa monnieri! This nootropic herb has been in use by humans for centuries, especially in Ayurvedic practices where it is seen as an intellect rejuvenating herb, otherwise known as a Medhya-Rasayana. In the 1970's, big things were set into motion for Bacopa by the Central Drug Research Institute (CDRI) of India, when they developed one of the first standardized Bacopa monnieri extracts. This extract was called CDRI-08, and helped fuel an enormous amount of modern research into the mechanisms behind Bacopa monnieri's cognitive benefits. Fast forward to 2018, and Nootropics Depot starts an intensive R&D effort in order to further optimize the nootropic effects of Bacopa monnieri. This journey eventually materialized as our patented cognance extract. Needless to say, we are super passionate about Bacopa monnieri, and have a lot to say about it, and thus we felt that it was finally time for a dedicated Bacopa monnieri episode!
Throughout the episode, we look at all of the different Bacopa monnieri extracts we carry, from the most basic Bacopa monnieri 24% bacosides extract, all the way to our most novel pre-metabolized Bacopa monnieri extract, cognance! We take a deep dive into the phytochemistry of Bacopa, and how its bioactive compounds rapidly change once they interact with our gastrointestinal system. This leads to an in depth discussion about Bacopa pharmacokinetics, and lays a strong foundation to help explain why we wanted to develop cognance! We also cover the pharmacodynamics of Bacopa monnieri in depth, so if you have ever been curious about its GABAergic, serotonergic, HPA-axis and cholinergic modulating properties are, then be sure to tune into this special Bacopa monnieri episode!
All in all, if you are interested in becoming a Bacopa monnieri expert, or you just want to find the best Bacopa monnieri extract for yourself, then this is the perfect episode for you! An especially exciting development on this episode is also our new microphone setup. The 'In Search of Insight' podcast is now in stereo! This gives the podcast a much more natural and spacious feeling, which in our opinion makes the podcast more pleasant to listen to. However, we have heard that some people do not enjoy listening to podcasts in stereo, because they like listening to podcasts with just one earbud in, and thus, they have a hard time following both sides of the conversation. We wanted to be mindful of this, and tested out some different solutions. We found that you can actually tell your phone or computer to take a stereo signal and sum it to mono in your sound settings. When we tested this, it made it possible to listen to the podcast with just one earbud in, so fret not if you like to rock the single earbud!
#22 | Lion's Mane Mushroom | The Journey To Connect Modern Science With Traditional Chinese Medicine
On this episode of In Search Of Insight (Episode #22), we are going time traveling! Join us on an exciting journey to the early days of Nootropics Depot when the quest for erinacine A containing lion's mane mycelium started. It has been a fascinating 8 year-long adventure, filled with many highs and lows, but we've finally arrived! A few days before the launch of this podcast episode, we came out with ErinaMAX, the culmination of 8 years of intensive research and development, which was required to make the worlds first commercially available erinacine A standardized lion's mane mycelium! On this episode, we take you behind the scenes for the first time ever, and give you an in depth look at all of the work that went into the ErinaMAX project. Of course, this episode wouldn't be complete without another guest appearance by our lab director James Jursich, who will join us to talk about the nitty gritty science that made ErinaMAX a possibility.
ErinaMAX is incredibly unique in the sense that it is the output of a research project. When we first set out to make a genuine erinacine A containing lion's mane mycelium supplement, we had no idea just how difficult this project would be. Just like with any of our other products, we figured that we needed to lean on our sourcing expertise to obtain high quality lion's mane mycelium. After which we would source an erinacine A reference standard from one of our trusted reference standard manufacturers in order to perform the necessary analytical testing. However, at the start of our journey, an erinacine A reference standard didn't exist, nor did a high quality lion's mane mycelium. At the time, all lion's mane mycelium was simply cheap mycelium on grain, and we were quite dubious about it containing any erinacine A. Instead of throwing in the towel, which frankly any sane company would have done at this point, we took it upon ourselves to make our own erinacine A reference standard, while diving head first into liquid culture mycelium cultivation. To do this, we had to bring in an enormous amount of scientific expertise and equipment in house, and over the years we built out a bonafide mushroom research laboratory!
Skip ahead a few years, and many mad scientist moments later, and we had a few milligrams of pure erinacine A that could be used as a reference standard! We used this small amount of reference standard to determine what our next steps would need to be. Were we going to be able to get away with mycelium on grain, or did we have to go the liquid culture cultivation route? It didn't take long to determine that we needed to develop a liquid culture mycelium cultivation method, and so we jumped down yet another rabbit hole! We emerged at the other end of the rabbit hole with 100 kilos of high quality liquid culture lion's mane mycelium in hand, and started purifying it in our Buchi flash & prep HPLC system like our lives depended on it! A few weeks later, we were living like kings with a whopping 250 mg's of pure erinacine A in hand, ready to be certified as a reference standard! Not long after, we used this reference standard to test our first batch of ErinaMAX, and with glee we discovered that we had finally done it! Genuine liquid culture lion's mane mycelium, with 0.85% erinacine A!
Our lab director Jay, and our product specialist Emiel dive into this project with even more enthusiasm and excitement, so if you want to learn more about the beast of a research project ErinaMAX emerged out of, then be sure to tune into episode #22 of In Search of Insight!
#021 | Tiger Milk | Could It Be The New Lion's Mane? | This Rare Malaysian Mushroom Is Finally On The Prowl
On this episode of 'In Search of Insight' (episode #21), we explore Lignosus rhinocerus, better known as the tiger milk mushroom. This fascinating mushroom is a newcomer to the functional mushroom scene, and up until recently has been extremely rare. Most of the traditional knowledge about tiger milk mushroom comes from Malaysia, where the indigenous population has been using this mushroom for hundreds of years. Its rarity is due to the fact that tiger milk mushrooms do not tend to grow close to each other in the wild. In fact, according to traditional knowledge, the tiger milk mushrooms seem to grow many kilometers apart from each other. This makes gathering sufficient amounts of tiger milk mushroom in the wild extremely difficult! The logical answer then, is to cultivate the tiger milk mushroom in a controlled environment, but this proved to be very difficult too.
A little over a decade ago, Dr. Tan Chon Seng made major advances in the cultivation of tiger milk mushroom in a controlled environment. It took Dr. Tan Chon Seng and his team almost 8 years to come up with a viable cultivation technique. Talk about dedication to this wonderful mushroom! No wonder it is also nicknamed 'Malaysia's National Treasure'. Once a viable cultivation method was scaled up for production, research on tiger milk mushroom started to boom. For the first time in history, researchers now finally had access to sufficient quantities of tiger milk mushroom to do research with. In a short period of time, there are now even fully fledged human clinical trials coming out about the unique respiratory effects of tiger milk mushroom!
Despite the fact that tiger milk mushroom cultivation and research has started to blossom in the last decade, there are still plenty of knowledge gaps. For example, within the United States, there wasn't a botanical reference material (BRM) that could be used to verify whether a tiger milk mushroom product is actually Lignosus rhinoceros with species testing that we perform via HPTLC. This meant that we had to get our own BRM made for tiger milk mushroom, and this project was undertaken by our lab director, James Jursich (Jay)! With this in mind, and the hard work Jay put into this project, we thought it would be interesting to have Jay as a guest on our podcast. If you want to dive into the analytical science that went into our tiger milk mushroom project, then certainly do not miss Jay's guest section!
Now, for the most important part, the effects of tiger milk mushroom! This mushroom has an incredibly unique effect on neuroplasticity and cognition, by mimicking the effects of nerve growth factor (NGF). By mimicking NGF, tiger milk mushroom may be able to enhance cognitive function, memory and mood. Stack this on top of the prominent respiratory function benefits of tiger milk mushroom, and you've got quite the powerhouse of a mushroom on your hands. With us being the first major U.S. functional mushroom vendor to come out with a very high quality tiger milk mushroom product, we are sure to make some waves in the functional mushroom space! Tune into this episode to find out in much more detail why we are over the moon about this unique mushroom!
#020 | Cyanidin 3-Glucoside | Stimulator Of The Body & Mind | Muscle Growth, Mood, Recovery, & Cognition
On this episode of 'In Search of Insight' (episode #20), we finally get to "meet" you, by way of video! From now on, the 'In Search of Insight' will also feature video, in order to create a more immersive experience in which we can learn more about supplements together. An episode about cyanidin 3-glucoside (C3G), seemed appropriate for our first foray into videoland, because of its mesmerizing purple color!
C3G is a purple pigment found in large quantities in various types of berries, red wine, vegetables like purple sweet potatoes, and grains such as black rice. In fact, black rice is probably one of the richest sources of C3G, and due to this, we derived our high-potency C3G from black rice. Within these food sources, C3G produces lots of different health benefits, most notably acting as an oxidation and inflammation regulating agent. However, in higher doses, as can be found in our C3G supplement, some very interesting properties appear!
One of the main uses of C3G has been as a body recomposition tool in the bodybuilding world. C3G pulls this off by reducing fat stores and maximizing muscle growth. This means that C3G can help us become leaner and more muscular, which is every bodybuilder's dream! For others, the body recomposition effects really come in handy to optimize our overall metabolic function, helping us to get the most benefits from our food by taking advantage of C3G's nutrient partitioning effects.
One aspect of C3G that is often overlooked however, is its nootropics effects. When we were first beta-testing C3G, this is the first thing that stood out to us. When the C3G started to kick in, we got a slew of classic nootropic effects, such as a widening and crisping of our vision, a sharp mental clarity, and a sense of focus and drive. This is due to C3G's effects on monoamine oxidase enzymes, PGC-1alpha, and blood flow. It even helps boost the effects of caffeine, which we show off in a fun and engaging manner during this podcast!
If you want to learn more about C3G's body recomposition and nootropic effects, while also getting to know us better, then tune into our first ever video episode of 'In Search of Insight'!
#019 | Fenugreek | The Triumphant Return Of An Ancient Mood Booster | From Mummies To Modern Supplements
On this episode of 'In Search of Insight' (episode #19), we explore the ins and outs of a spice called fenugreek. Many of us are likely familiar with this botanical, due to its incorporation into various foods, most notably curries and imitation maple syrup. Fenugreek is also famously used for its fitness boosting effects, with some claiming it enhances testosterone levels. Yet, the nootropic and mood boosting effects of fenugreek remain relatively unexplored, although murmurs of these effects are sprinkled all over the web. On this episode we dig deeper into these unique mood, cognition and fitness enhancing effects, finally getting to the root of what this wonderful botanical is capable of!
A big focus of this episode is on the bioactive compounds in fenugreek, specifically, trigonelline and protodioscin, two of the compounds we have standardized our fenugreek extract for. Trigonelline is a compound that is found in relatively high amounts in coffee, and appears to contribute to both the stimulating and mood boosting effects of this invigorating elixir! It's a compound we became intimately familiar with during our research for our take on a highly efficacious caffeine stack, which ended up materializing as DynaMAX. Although trigonelline never made it into DynaMAX, it's a compound we kept in the back of our minds, waiting for a chance to explore it further. Turns out, fenugreek was that chance! Combining the dopamine releasing properties of trigonelline, with the motivation, and confidence enhancing properties of protodioscin, resulted in a really unique effects profile. Imagine Tribulus, but tuned down in terms of aggressive energy, and tuned up in terms of mood brightening properties. Quite the winning combination in our books!
#018 | Everyday Essentials | Magnesium Glycinate, L-threonate, Sucrosomial, ClariMAG | Which Form Is Best?
On this episode of 'In Search of Insight' (episode #18), we explore one of, if not the most, important mineral in our body, magnesium! Magnesium plays a role in practically every process in our bodies, and unfortunately, the vast majority of us do not consume enough magnesium through our diets. There are multiple reasons for this, from our soils containing less magnesium due to over-farming, to the consumption of highly purified and mineral depleted water. Thus, the need to supplement magnesium is higher than ever, which brings us to the topic of this month's episode, magnesium supplements!
Unbeknownst to many, magnesium is a metal! In fact, if you have ever had one of those lightweight metal pencil sharpeners, you actually had a small piece of magnesium metal. It's easy to imagine then, that taking magnesium in its metallic form, which we refer to as 'elemental magnesium', is just going to pass straight through you without absorbing. In fact, getting magnesium to absorb properly, is quite a complex task! Luckily, there are lots of different options for high bioavailability magnesium on the market these days. This does however bring with it the question, which magnesium supplement is best? Tune in to this episode, to hear the answer to that very question!
Looking For An Older Episode?

Follow Us On Social Media